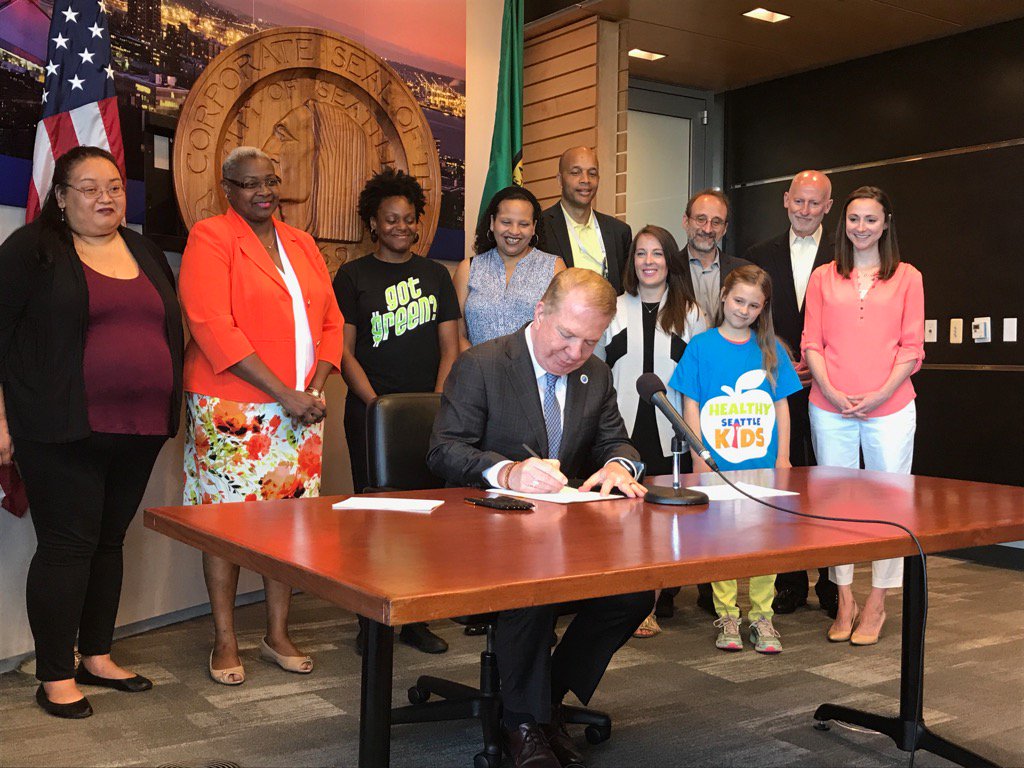 Support the campaign to close the Food Security Gap!
Come to our Food Justice Project Meeting on TUES JULY 18, 2017 at 6:30pm to learn about the campaign! We will do a mini-training on outreach and organize sign-ups for farmers market outreach shifts for those interested.
Join CAGJ at farmers markets across Seattle!
On June 5, 2017, the Seattle Sugary Beverage Tax (SBT) was passed by the Seattle City Council. Got Green led a campaign to ensure that the revenue from the tax will go back into low income households and communities of color, securing the reinvestment of at least 50 percent of the tax revenue toward programs aimed at closing the food security gap and enabling access to affordable, healthy food; creating an oversight Advisory Board with community representation; and growing the Fresh Bucks program . Read more here!
CAGJ is a member of Got Green's coalition to close the food security gap, and Got Green is a Food Justice Project solidarity campaign partner. We are continuing the effort to do community outreach and education about the SBT.
TUES, JULY 18 at 6:30 – 8:00PM
Food Justice Project Meeting & Mini-training
New volunteer orientation at 6pm! Please RSVP.
Meet at our office 606 Maynard Ave S, Room 102, Seattle. We will then walk to the new addition of Hing Hay Park, on the corner of 6th and King.
FJP Meetings are a great way to get involved in CAGJ! At this meeting, we will see who is interested in doing community outreach at farmers markets in support of Got Green's campaign to close the food security gap, and do a mini-training to prepare for those who are interested. We will also learn more ways to get involved for the July 29 Teach Out at Mother Earth Farm. All are welcome! For more info, email Food Justice Project Co-Chair, Christina.
FARMERS MARKET OUTREACH
Volunteers will go to farmers markets across Seattle to talk to shoppers about the SBT and pass out the one-pager. The time commitment is one to three hours, however much time you can give. Talking points are provided. Contact us if you are unable to make it to the FJP meeting on Tuesday, but want to get involved.
What is the Sugary Beverage Tax? An additional distribution tax on sugar sweetened beverages sold in Seattle. See this flier for more information!
Why is this outreach important? Seattle City Council passed the SBT in June, but citizen and consumer support is still essential. Big Soda didn't get enough signatures to get a counter-measure on the ballot, but they may still wage their top-down PR campaign to spread messaging against the tax so that they can keep more profit and continue pushing unhealthy beverages in our communities. That is why we are reaching out to people to show that this tax is a step in the right direction for Seattle, demonstrating a commitment to reinvest money into low-income and people-of-color communities through promoting and increasing access to healthy foods.