Through community education, political action, anti-oppressive organizing and community-building, the Food Justice Project seeks to challenge and transform the globalized, industrial, corporate-driven food system and promote existing alternatives.
Food Justice Project meetings are 3rd Tuesday of the month, 6:30 - 8:30pm at CAGJ's Office, 1322 S Bayview St., Seattle, WA 98144. Contact fjp@cagj.org for more info.
New to the Food Justice Project?
Volunteer orientations are held from 6pm-6:30pm on the 3rd Tuesday of each month, right before Food Justice Project (FJP) meetings. Come to learn more about the Food Justice Project, our current campaigns, and ways you can get involved. The 6:30pm FJP meeting directly after gives you an opportunity to meet current organizers and get involved straight away!
Please RSVP to a future orientation by emailing us first at fjp@cagj.org.
What we do
Community-based workshops and "teach-outs" educating people on food justice & sovereignty issues and encouraging people to take action.
"Our Food, Our Right: Recipes for Food Justice" is CAGJ's educational book in two editions, with recipes, how-to, and essays on food politics, justice, and sovereignty. A great teaching resource!
Mobilizing our members and the public for a fair food system.
Take action to support these campaigns and food sovereignty everywhere!
We organize and support campaigns in solidarity with local family farmers and food producers, farmworkers, for the right to good food, food chain workers, and food justice globally!
Add yourself to the FJP listserv and get meeting & event announcements, and a few food justice resources/articles from around the region and around the world (1-2 posts a week) by clicking here!
Still need to know more? Check out this YouTube video slideshow about Food Justice Project Teach-Outs and CAGJ's publication, "Our Food, Our Right: Recipes for Food Justice"
Recent updates and actions:
---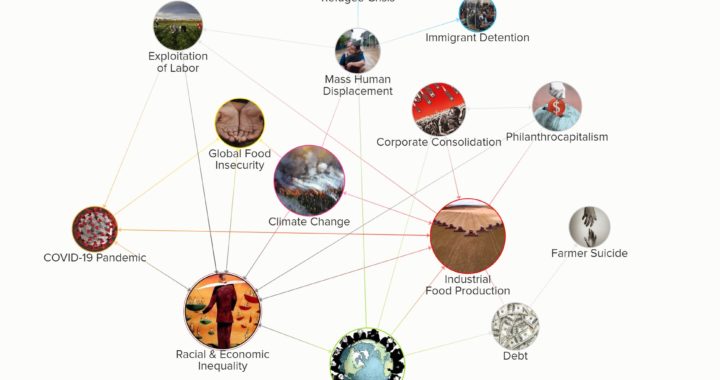 Rise Up! Summer School July Presentations: Current State of the Global Food System
At the July 2020 session of Summer School we focused on the current state of the global food system. This session featured 3 amazing presentations from members of the Organizing Collective. Enjoy!
Presentation Recordings from the July Session
Length of 3 Presentations – 50m 22s
Presentation #1 – Food Systems and You: A Mini Primer by Mary Purdy
What is the food system? What resources go into that system? What affects or influences it? What makes a food system "sustainable"? Mary Purdy gives a great overview of the current state of the food system and the impact of agribusiness on the climate crisis. Most importantly, you can find ideas of how you can make a positive impact on the food system you're a part of.
Length – 18m 22s
Presentation #2 (starts 18:31) – Overview of CAGJ's AGRA Watch Program by Heather Day
Each month of Summer School focuses on a different CAGJ campaign. The focus for July is AGRA Watch, CAGJ's campaign to challenge the Bill & Melinda Gates Foundation's role in African agriculture through AGRA, the Alliance for a Green Revolution in Africa. The Gates Foundation was a founding partner in AGRA. AGRA Watch was launched in 2008 specifically because Seattle is a strategic location for challenging Bill Gates, and in response to our relationships with Kenyan farmers.
Length – 14m 40s
Presentation #3 (starts 33:35) – Crisis Convergence in Globalized Food Systems by Noel Hutton, Lisa Colligan, and Sam Shafer
We are living in a time permeated by crises: from COVID-19, to climate change, to growing corporate power and intensified racial and economic inequality. In this presentation, we hope to show that food justice and food sovereignty work is not separate from these seemingly divergent issues, but through food we can actually come to understand more deeply the intersections and relationships of power and crisis which shape and are shaped by our global food system.
Length – 16m 47s
You can find all the resources from the July session here.