Through community education, political action, anti-oppressive organizing and community-building, the Food Justice Project seeks to challenge and transform the globalized, industrial, corporate-driven food system and promote existing alternatives.
Food Justice Project meetings are 3rd Tuesday of the month, 6:30 - 8:30pm at CAGJ's Office, 606 Maynard Ave S #102, Seattle, WA. Contact fjp@cagj.org for more info.
New to the Food Justice Project?
Volunteer orientations are held from 6pm-6:30pm on the 3rd Tuesday of each month, reight before Food Justice Project (FJP) meetings. Come to learn more about the Food Justice Project, our current campaigns, and ways you can get involved. The 6:30pm FJP meeting directly after gives you an opportunity to meet current organizers and get involved straight away!
Please RSVP to a future orientation by emailing us first at fjp@cagj.org.
What we do
Community-based workshops and "teach-outs" educating people on food justice & sovereignty issues and encouraging people to take action.
"Our Food, Our Right: Recipes for Food Justice" is CAGJ's educational book in two editions, with recipes, how-to, and essays on food politics, justice, and sovereignty. A great teaching resource!
Mobilizing our members and the public for a fair food system.
Take action to support these campaigns and food sovereignty everywhere!
We organize and support campaigns in solidarity with local family farmers and food producers, farmworkers, for the right to good food, food chain workers, and food justice globally!
Add yourself to the FJP listserv and get meeting & event announcements, and a few food justice resources/articles from around the region and around the world (1-2 posts a week) by clicking here!
Still need to know more? Check out this YouTube video slideshow about Food Justice Project Teach-Outs and CAGJ's publication, "Our Food, Our Right: Recipes for Food Justice"
Recent updates and actions:
---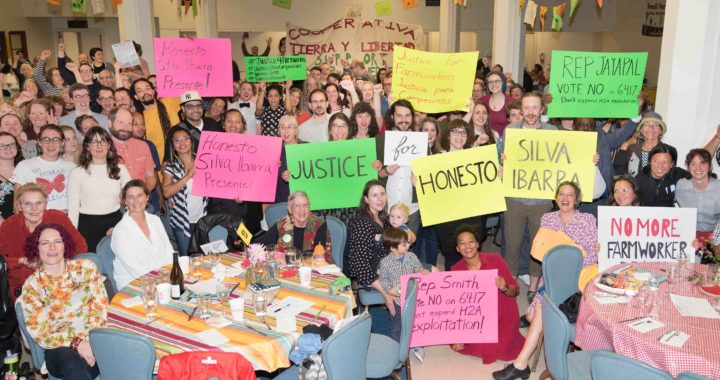 THANK YOU to everyone who made CAGJ's 12th annual SLEE Dinner such a success!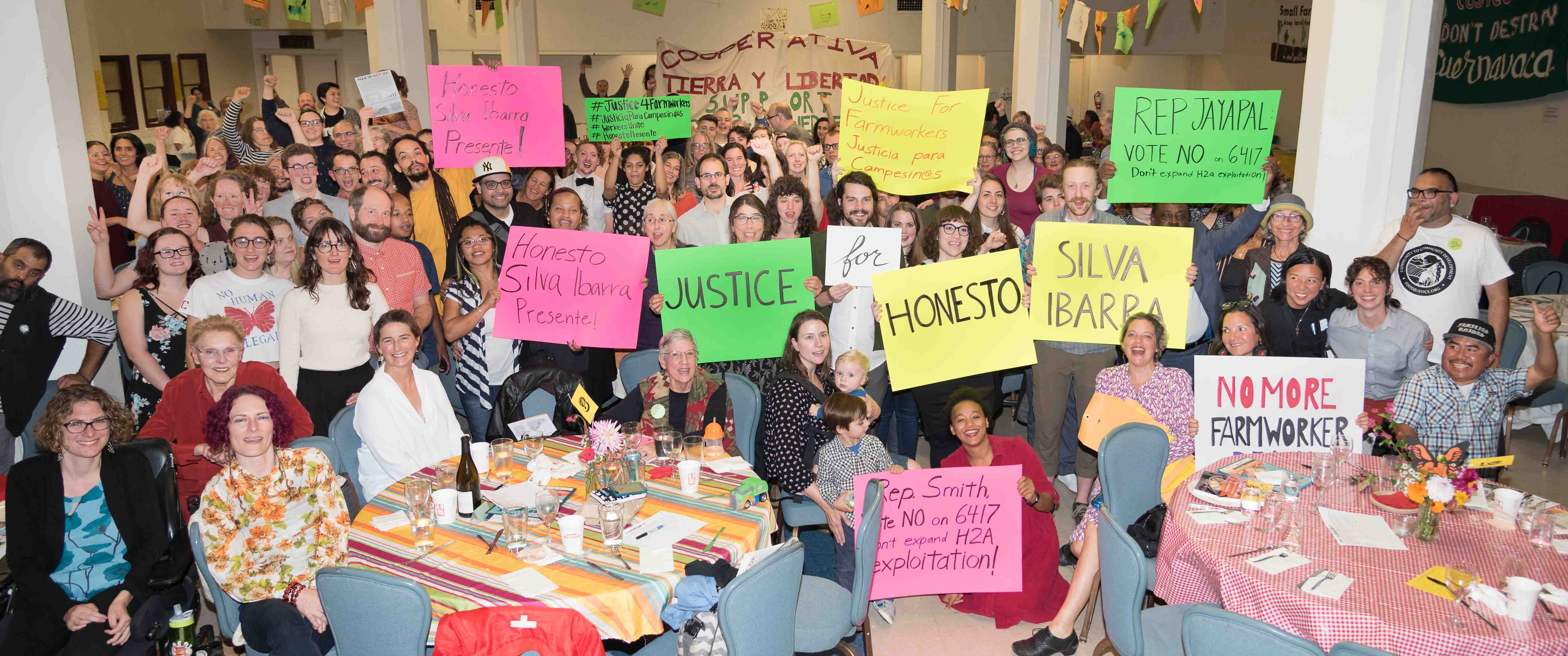 A special thank you to Edgar Franks, Farmworker organizer with Community to Community Development whose keynote, "The Legacy We Inherit: Luchando por una vida AgroEcologica" was a brilliant reflection on both what we are up against, and what gives us hope in this moment of struggle to make another world possible.
Check out Elliot Stoller's photos, and the video of Edgar's keynote (many thanks to Mike McCormick for capturing the speech)!
Our SLEE call to action included taking this group photo, to send a strong message to WA's Congressional delegation as well as statewide leaders to demand they vote against House Bill 6417, to prevent the expansion of the exploitative H2A visa program, and to pressure for an investigation into famworker Honesto Silva Ibarra's death.
We are so grateful to the literally hundreds of supporters and over 70 volunteers who showed up to make SLEE happen, and run so smoothly. We greatly appreciate our Sponsors, Community Partners, Dessert and Silent Auction donors, and the Farmers, Farmworkers, Fishermen, Fair Trade purveyors, Chefs and others whose bounty produced an unforgettable meal!
We will announce how much we raised, and if we reached our goal of $30,000 as soon as possible; If you were not able to come, you can help us reach our goal with a donation to CAGJ today – THANK YOU!