Through community education, political action, anti-oppressive organizing and community-building, the Food Justice Project seeks to challenge and transform the globalized, industrial, corporate-driven food system and promote existing alternatives.
Food Justice Project meetings are 3rd Tuesday of the month, 6:30 - 8:30pm at CAGJ's Office, 1322 S Bayview St., Seattle, WA 98144. Contact fjp@cagj.org for more info.
New to the Food Justice Project?
Volunteer orientations are held from 6pm-6:30pm on the 3rd Tuesday of each month, right before Food Justice Project (FJP) meetings. Come to learn more about the Food Justice Project, our current campaigns, and ways you can get involved. The 6:30pm FJP meeting directly after gives you an opportunity to meet current organizers and get involved straight away!
Please RSVP to a future orientation by emailing us first at fjp@cagj.org.
What we do
Community-based workshops and "teach-outs" educating people on food justice & sovereignty issues and encouraging people to take action.
"Our Food, Our Right: Recipes for Food Justice" is CAGJ's educational book in two editions, with recipes, how-to, and essays on food politics, justice, and sovereignty. A great teaching resource!
Mobilizing our members and the public for a fair food system.
Take action to support these campaigns and food sovereignty everywhere!
We organize and support campaigns in solidarity with local family farmers and food producers, farmworkers, for the right to good food, food chain workers, and food justice globally!
Add yourself to the FJP listserv and get meeting & event announcements, and a few food justice resources/articles from around the region and around the world (1-2 posts a week) by clicking here!
Still need to know more? Check out this YouTube video slideshow about Food Justice Project Teach-Outs and CAGJ's publication, "Our Food, Our Right: Recipes for Food Justice"
Recent updates and actions:
---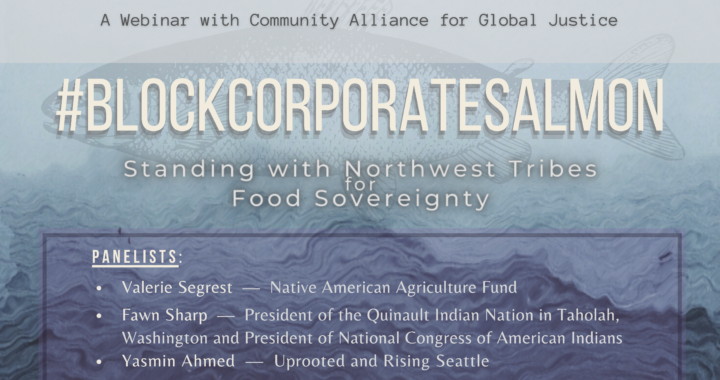 #BlockCorporateSalmon: Standing with Northwest Tribes for Food Sovereignty
DATE CHANGE: Webinar SAT  SEPT 23, 6-7:30PM PDT via Zoom
Registration is required: click here.  You will receive the Zoom link the day before the event.
Help us publicize! Share this post on social media and share the Facebook event.

2020 is a battleground for the ocean. Aquabounty, a generally unknown brand in the U.S., plans to release Genetically Engineered (GE) Salmon onto the U.S market within this year. In addition, Cargill, the largest private company in the U.S., is pushing for a federal bill (the AQUAA Act) that would expand offshore aquaculture into federal waters, confine hundreds of thousands of farmed fish, and forever change our last public commons, the ocean.
Please join us to hear from Valerie Segrest and Fawn Sharp, two indigenous women who have led efforts to block GE salmon in the Northwest, and globally. This is also an opportunity to connect with participants of CAGJ's Rise Up! Summer School as well as Uprooted and Rising organizers, when we co-present our campaigns to stop GE salmon, and uplift all of the incredible work being done around the country by Tribes to build indigenous Food Sovereignty.

Join us to hear a campaign update and learn how to take action to #BlockCorporateSalmon!
We are honored to be joined by the following leaders:
Register today! TinyURL.com/CorporateSalmonWebinar