Through community education, political action, anti-oppressive organizing and community-building, the Food Justice Project seeks to challenge and transform the globalized, industrial, corporate-driven food system and promote existing alternatives.
Food Justice Project meetings are 3rd Tuesday of the month, 6:30 - 8:30pm at CAGJ's Office, 1322 S Bayview St., Seattle, WA 98144. Contact fjp@cagj.org for more info.
New to the Food Justice Project?
Volunteer orientations are held from 6pm-6:30pm on the 3rd Tuesday of each month, right before Food Justice Project (FJP) meetings. Come to learn more about the Food Justice Project, our current campaigns, and ways you can get involved. The 6:30pm FJP meeting directly after gives you an opportunity to meet current organizers and get involved straight away!
Please RSVP to a future orientation by emailing us first at fjp@cagj.org.
What we do
Community-based workshops and "teach-outs" educating people on food justice & sovereignty issues and encouraging people to take action.
"Our Food, Our Right: Recipes for Food Justice" is CAGJ's educational book in two editions, with recipes, how-to, and essays on food politics, justice, and sovereignty. A great teaching resource!
Mobilizing our members and the public for a fair food system.
Take action to support these campaigns and food sovereignty everywhere!
We organize and support campaigns in solidarity with local family farmers and food producers, farmworkers, for the right to good food, food chain workers, and food justice globally!
Add yourself to the FJP listserv and get meeting & event announcements, and a few food justice resources/articles from around the region and around the world (1-2 posts a week) by clicking here!
Still need to know more? Check out this YouTube video slideshow about Food Justice Project Teach-Outs and CAGJ's publication, "Our Food, Our Right: Recipes for Food Justice"
Recent updates and actions:
---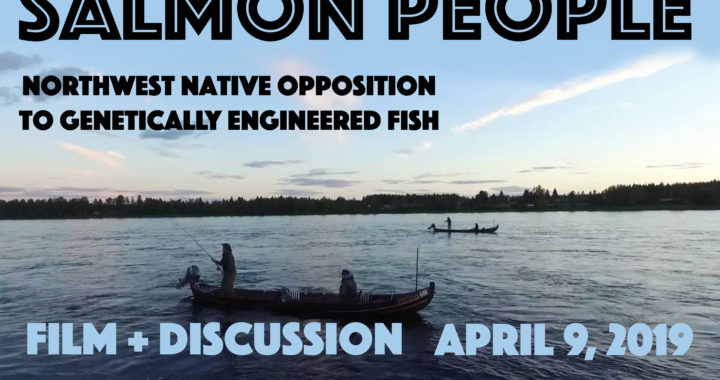 Town Hall Seattle and CAGJ present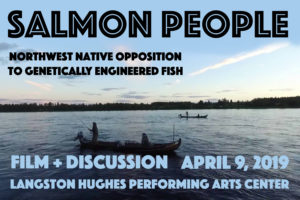 Salmon People: Northwest Native Opposition to Genetically Engineered Fish
Film Screening and Discussion   
Doors open at 6pm: Refreshments & Meet local organizations!
Program 7-8:30PM
Location: Langston Hughes Performing Arts Institute, 104 17th Ave S.
Tickets $5: Purchase online and at the door;​ No one turned away for lack of funds.
Help spread the word! Share the Facebook Event.
What are the risks from genetically engineered fish to the people and environments of the Pacific Northwest?
We tackled this question head-on with our short film Salmon People. Now Town Hall joins forces with CAGJ to screen this powerful new film and call together a panel of indigenous and advocacy perspectives—all key activists working on Northwest Native food sovereignty and justice in the Pacific Northwest. Sit in to hear from the voices across the Pacific Northwest who are speaking out about the risks of genetically engineered fish.
Speakers:
Valerie Segrest, Muckleshoot Food Sovereignty Project
Alan Stay, Office of the Tribal Attorney, Muckleshoot Indian Tribe
Fawn Sharp, President of the Quinault Indian Nation
George Kimbrell, Legal Director, Center for Food Safety
Sponsored by Town Hall Seattle and Community Alliance for Global Justice
Community Partners: 350 Seattle, Central Co-op, Chinook Book, First Nations at UW, Earthjustice, Go Wild Campaign, Green Plate Special, Health Alliance International, Indigenous Peoples Institute, LGBTQ Allyship, Loki Fish Company, NAMA-Northwest Atlantic Marine Alliance, Sierra Club NW, Sno-Valley Tilth, Tilth Alliance, Tulalip News, Union Cultural Center, UFCW Local 21, UW American Indian Studies, UW Anthropology, UW Center for Human Rights, UW Comparative History of Ideas, UW Geography, UW Nutritional Sciences, UW Program of the Environment, Washington Fair Trade Coalition, Washington State Unitarian Universalist Voices for Justice
For more info, contact CAGJ: 206-405-4600, fjp@cagj.org