Through community education, political action, anti-oppressive organizing and community-building, the Food Justice Project seeks to challenge and transform the globalized, industrial, corporate-driven food system and promote existing alternatives.
Food Justice Project meetings are 3rd Tuesday of the month, 6:30 - 8:30pm at CAGJ's Office, 1322 S Bayview St., Seattle, WA 98144. Contact fjp@cagj.org for more info.
New to the Food Justice Project?
Volunteer orientations are held from 6pm-6:30pm on the 3rd Tuesday of each month, right before Food Justice Project (FJP) meetings. Come to learn more about the Food Justice Project, our current campaigns, and ways you can get involved. The 6:30pm FJP meeting directly after gives you an opportunity to meet current organizers and get involved straight away!
Please RSVP to a future orientation by emailing us first at fjp@cagj.org.
What we do
Community-based workshops and "teach-outs" educating people on food justice & sovereignty issues and encouraging people to take action.
"Our Food, Our Right: Recipes for Food Justice" is CAGJ's educational book in two editions, with recipes, how-to, and essays on food politics, justice, and sovereignty. A great teaching resource!
Mobilizing our members and the public for a fair food system.
Take action to support these campaigns and food sovereignty everywhere!
We organize and support campaigns in solidarity with local family farmers and food producers, farmworkers, for the right to good food, food chain workers, and food justice globally!
Add yourself to the FJP listserv and get meeting & event announcements, and a few food justice resources/articles from around the region and around the world (1-2 posts a week) by clicking here!
Still need to know more? Check out this YouTube video slideshow about Food Justice Project Teach-Outs and CAGJ's publication, "Our Food, Our Right: Recipes for Food Justice"
Recent updates and actions:
---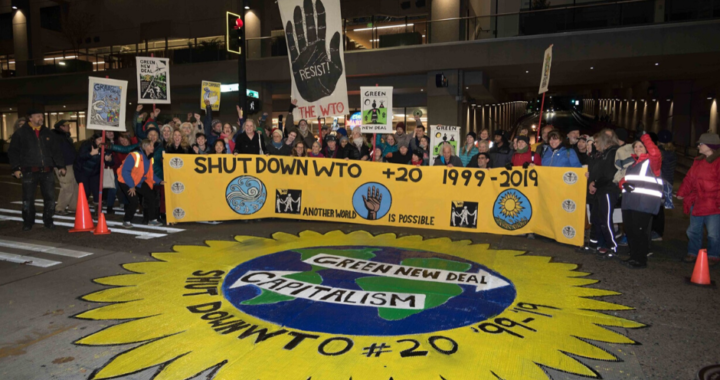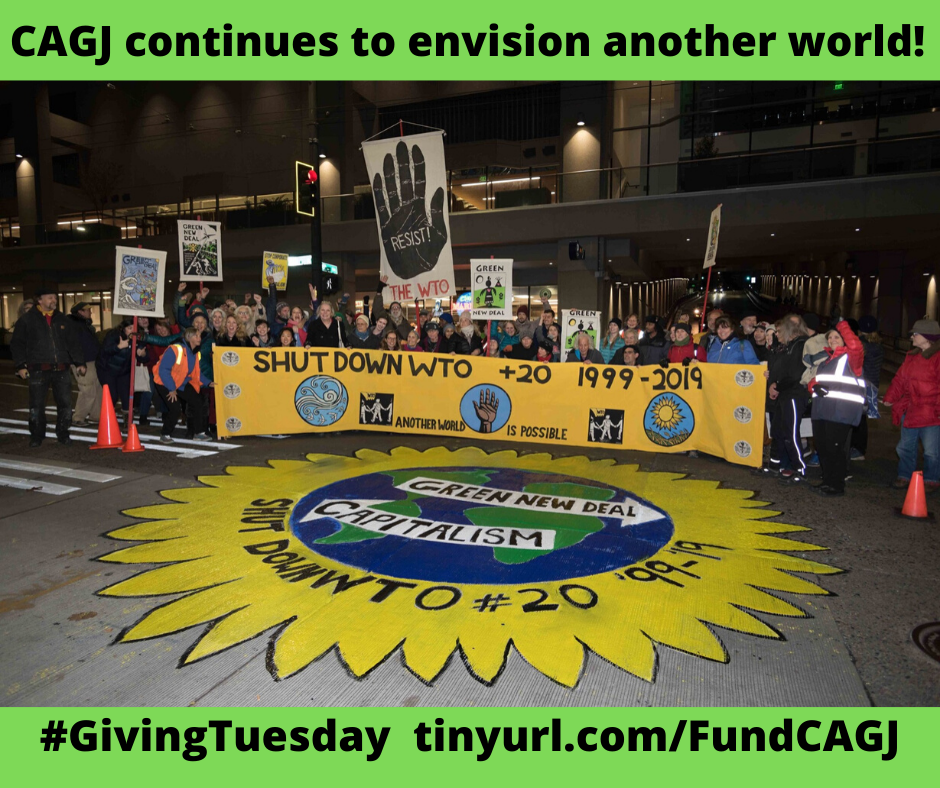 From Vision to Reality: To mark the 20th anniversary of the 1999 WTO protests, CAGJ had a vision: Host a forum with local and international partners to celebrate our victories, and strengthen today's movements, and channel that energy into an action. We are so grateful to everyone who helped make our vision a reality!
Saturday was truly a very special day, with hundreds of participants in our Town Hall Seattle forum, engaging in dialogues, story-telling, and workshops to make our vision of another world possible. David Solnit led us in screen-printing for a Green New Deal, weaving art into our organizing. Then we marched to one of the strategic intersections in front of the Convention Center, and took it over again, painting a giant mural. As Jim Page played his iconic song, "Shut It Down, Didn't We", we felt collective joy while watching footage from the 1999 protests projected onto the site we shut-down 20 years before! A longer report-back is coming; enjoy photos from Elliot Stoller & live-stream videos on CAGJ's Facebook page.
WTO+20 is about remembering, but it's also about celebrating that CAGJ is still here. As one person told me on N30, it's incredible that CAGJ still exists!
On this #GivingTuesday, we invite you to join the magic: Donate to CAGJ to ensure that we can continue to put our visions into practice!
 We have a big goal of raising $10,000 by the end of the year. We have worked hard this past year to ensure CAGJ will continue to grow for many years to come. And we can't do it without our Members, who donate 75% of our budget.
Your #GivingTuesday gift strengthens CAGJ and the global food sovereignty movement. Become a Monthly Sustainer at $20/month, or make a one-time donation today! Venmo us @CAGJ-Seattle, or mail a check to our office at 1322 S Bayview St, Seattle WA 98144.
Share our meme on facebook! #CAGJVision2020
Thank you! Never stop struggling to make another world possible!
-Heather Day, CAGJ Director