Through community education, political action, anti-oppressive organizing and community-building, the Food Justice Project seeks to challenge and transform the globalized, industrial, corporate-driven food system and promote existing alternatives.
Food Justice Project meetings are 3rd Tuesday of the month, 6:30 - 8:30pm at CAGJ's Office, 1322 S Bayview St., Seattle, WA 98144. Contact fjp@cagj.org for more info.
New to the Food Justice Project?
Volunteer orientations are held from 6pm-6:30pm on the 3rd Tuesday of each month, right before Food Justice Project (FJP) meetings. Come to learn more about the Food Justice Project, our current campaigns, and ways you can get involved. The 6:30pm FJP meeting directly after gives you an opportunity to meet current organizers and get involved straight away!
Please RSVP to a future orientation by emailing us first at fjp@cagj.org.
What we do
Community-based workshops and "teach-outs" educating people on food justice & sovereignty issues and encouraging people to take action.
"Our Food, Our Right: Recipes for Food Justice" is CAGJ's educational book in two editions, with recipes, how-to, and essays on food politics, justice, and sovereignty. A great teaching resource!
Mobilizing our members and the public for a fair food system.
Take action to support these campaigns and food sovereignty everywhere!
We organize and support campaigns in solidarity with local family farmers and food producers, farmworkers, for the right to good food, food chain workers, and food justice globally!
Add yourself to the FJP listserv and get meeting & event announcements, and a few food justice resources/articles from around the region and around the world (1-2 posts a week) by clicking here!
Still need to know more? Check out this YouTube video slideshow about Food Justice Project Teach-Outs and CAGJ's publication, "Our Food, Our Right: Recipes for Food Justice"
Recent updates and actions:
---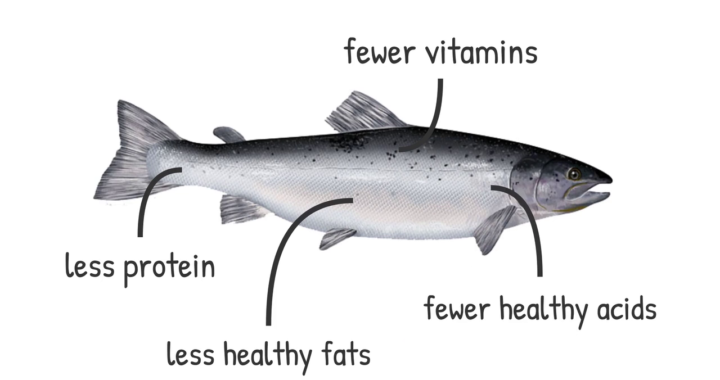 By Selden Prentice, 350 Seattle and WA Fair Trade Coalition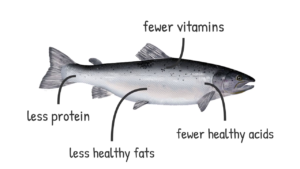 As we fight Big Ag, corporate power, environmental degradation, and climate change, here's another threat: genetically engineered (GE) salmon. Indigenous tribes, including the Muckleshoot and Quinault, have raised serious concerns about GE salmon now being sold in the US by AquaBounty Technology.  Addressing these concerns and the public's right to know the source of their fish, requires a look at the science behind these fish, FDA rules, a proposed federal law, and trade agreements.
AquaBounty Technology, a Massachusetts based company, has engineered genes from three different fish to create a new type of salmon that the company claims grows three times faster than wild salmon. Although the FDA approved GE salmon in 2015, the Center for Food Safety has raised concerns about the safety of such fish  including the possibility that the fish contain high levels of cancer-causing hormones. In addition, Food and Water Watch believes there is a chance of such fish escaping and breeding with wild salmon, thus threatening native populations.
Because of these concerns, in March 2016, the Center for Food Safety and a coalition of environmental groups (including WA state's Quinault Indian Nation) filed a lawsuit against the FDA challenging its approval of GE salmon. In the meantime, it's not at all clear that government rules affirm the public's right to know whether commercial fish has been genetically modified. According to Friends of the Earth, the recently issued USDA rules on GE labeling are vague and contain dangerous loopholes.  Senator Lisa Murkowski of Alaska agrees, stating,  "USDA's new guidelines don't require mandatory labeling, and instead allow producers to use QR codes or 1-800 numbers, which is a far stretch from giving consumers clear information. There's a huge difference between genetically engineered salmon and the healthy, sustainably-caught, wild Alaskan salmon."
For this reason, Senator Murkowski has introduced Senate Bill 1528, the Genetically Engineered Salmon Labeling Act, which would require that genetically engineered salmon be labeled, and which sets forth requirements for additional robust environmental analysis. Yet even the passage of this law would not guarantee the public's right to know the source of its fish. This is because World Trade Organization rules, and rules included in Trump's proposed new NAFTA (NAFTA 2.0) allow challenges of food labeling programs. For example, Mexico and Canada have already successfully challenged U.S. Country of Origin Labeling (COOL) policies pursuant to the WTO. Similarly,  Mexico successfully challenged the U.S. ban on tuna caught using nets that encircle and kill dolphins, leading to the elimination of an embargo on such tuna.
The NAFTA 2.0 text makes such challenges even more likely because it includes additional problematic labeling provisions not found in the original NAFTA text. For example, it requires countries to ensure that their "technical regulations concerning labels … do not create unnecessary obstacles to trade." Related language in the food standards chapter prohibits certification requirements concerning "the quality of a product or information relating to consumer preferences."  According to Public Citizen, these terms mean that if a regulated business believes that a labeling policy is based on consumer preferences rather than on safety (such as might be the case with organic labeling or GMO labeling), such labeling policies could be successfully attacked. Thus, a full reading of the NAFTA 2.0 text reveals that it is designed to promote agricultural biotech and limit policies that help consumers avoid exposure to such products.
It's possible that NAFTA 2.0 will be up for a vote later this spring or early summer. For this reason, Congress needs to hear from you!
TAKE ACTION
1. Please contact WA Senator Patty Murray and ask her to support SB 1528, Genetically Engineered Salmon Labeling Act: 206-553-5545
Senator Cantwell is a sponsor of this bill, but it would be helpful for her to receive phone calls thanking her for the bill and urging her to continue to push for it: 206-220-6400
2. Contact your Congressional Representatives and ask them to oppose NAFTA 2.0 as currently written. You can find your Congressional Representative here.