Through community education, political action, anti-oppressive organizing and community-building, the Food Justice Project seeks to challenge and transform the globalized, industrial, corporate-driven food system and promote existing alternatives.
Food Justice Project meetings are 3rd Tuesday of the month, 6:30 - 8:30pm at CAGJ's Office, 1322 S Bayview St., Seattle, WA 98144. Contact fjp@cagj.org for more info.
New to the Food Justice Project?
Volunteer orientations are held from 6pm-6:30pm on the 3rd Tuesday of each month, right before Food Justice Project (FJP) meetings. Come to learn more about the Food Justice Project, our current campaigns, and ways you can get involved. The 6:30pm FJP meeting directly after gives you an opportunity to meet current organizers and get involved straight away!
Please RSVP to a future orientation by emailing us first at fjp@cagj.org.
What we do
Community-based workshops and "teach-outs" educating people on food justice & sovereignty issues and encouraging people to take action.
"Our Food, Our Right: Recipes for Food Justice" is CAGJ's educational book in two editions, with recipes, how-to, and essays on food politics, justice, and sovereignty. A great teaching resource!
Mobilizing our members and the public for a fair food system.
Take action to support these campaigns and food sovereignty everywhere!
We organize and support campaigns in solidarity with local family farmers and food producers, farmworkers, for the right to good food, food chain workers, and food justice globally!
Add yourself to the FJP listserv and get meeting & event announcements, and a few food justice resources/articles from around the region and around the world (1-2 posts a week) by clicking here!
Still need to know more? Check out this YouTube video slideshow about Food Justice Project Teach-Outs and CAGJ's publication, "Our Food, Our Right: Recipes for Food Justice"
Recent updates and actions:
---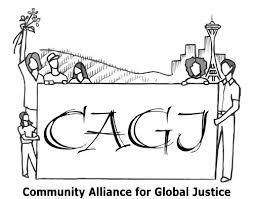 Big news!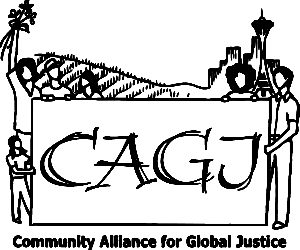 We are excited to launch our member survey as part of our Strategic Assessment & Planning Process, and we want your feedback!
Please take our short, anonymous survey, designed to take no more than 10 minutes. Your feedback about CAGJ's work and what is important to you will help us assess and strategize moving forward.
Not sure if you're a member? Don't worry! We want you take the survey anyway! Being a member of CAGJ means volunteering your time and signing up to be a member, and/or being a grassroots donor to CAGJ at any amount, one time or as a Monthly Sustainer. You can become a member by filling out this membership form, or donating and filling out the form. Please take our survey regardless.
Survey takers can be entered to win a drawing for a grocery store gift card or a CAGJ t-shirt! To enter the drawing, email contact_us@cagj.org with your name and the subject line "survey raffle". Bonus: if you respond by September 1, we will enter your name twice!
Survey deadline is Friday September 13.
Thank you for your feedback!
Simone & Heather
P.S. Join us at our Membership Gathering on Saturday September 21! Together, we'll reflect on the past, present, and future of CAGJ, and review analysis of this survey. Register today!