Through community education, political action, anti-oppressive organizing and community-building, the Food Justice Project seeks to challenge and transform the globalized, industrial, corporate-driven food system and promote existing alternatives.
Food Justice Project meetings are 3rd Tuesday of the month, 6:30 - 8:30pm at CAGJ's Office, 1322 S Bayview St., Seattle, WA 98144. Contact fjp@cagj.org for more info.
New to the Food Justice Project?
Volunteer orientations are held from 6pm-6:30pm on the 3rd Tuesday of each month, right before Food Justice Project (FJP) meetings. Come to learn more about the Food Justice Project, our current campaigns, and ways you can get involved. The 6:30pm FJP meeting directly after gives you an opportunity to meet current organizers and get involved straight away!
Please RSVP to a future orientation by emailing us first at fjp@cagj.org.
What we do
Community-based workshops and "teach-outs" educating people on food justice & sovereignty issues and encouraging people to take action.
"Our Food, Our Right: Recipes for Food Justice" is CAGJ's educational book in two editions, with recipes, how-to, and essays on food politics, justice, and sovereignty. A great teaching resource!
Mobilizing our members and the public for a fair food system.
Take action to support these campaigns and food sovereignty everywhere!
We organize and support campaigns in solidarity with local family farmers and food producers, farmworkers, for the right to good food, food chain workers, and food justice globally!
Add yourself to the FJP listserv and get meeting & event announcements, and a few food justice resources/articles from around the region and around the world (1-2 posts a week) by clicking here!
Still need to know more? Check out this YouTube video slideshow about Food Justice Project Teach-Outs and CAGJ's publication, "Our Food, Our Right: Recipes for Food Justice"
Recent updates and actions:
---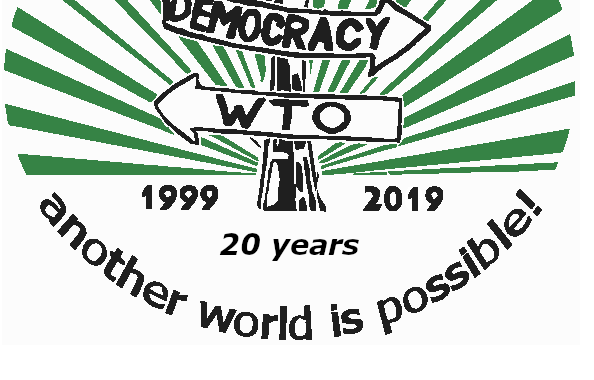 Community Alliance for Global Justice, UFCW 21 & Town Hall Seattle present:
Another World is Possible! WTO+20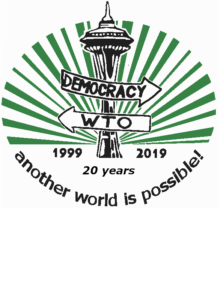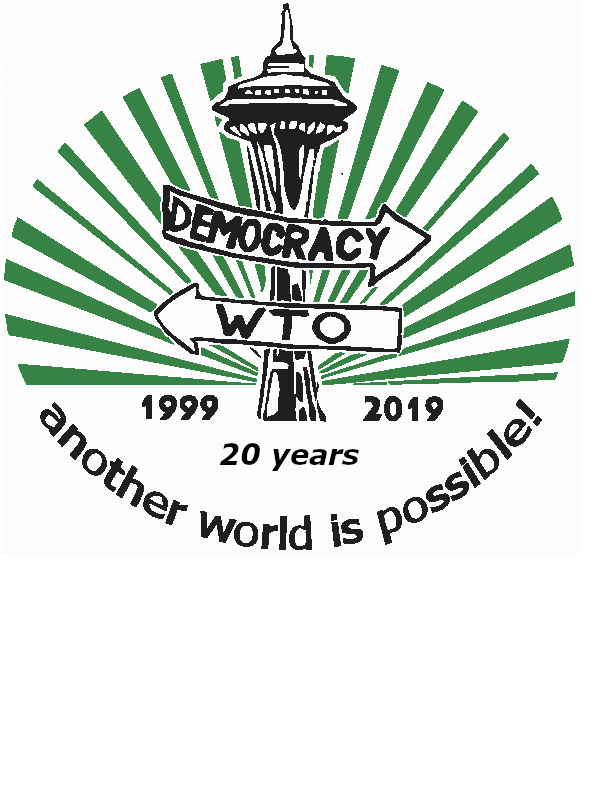 How a People's Uprising Shut-Down the World Trade Organization in '99 & Why it Matters for Today's Movements for Justice
SAT NOV 30, 2019: 10AM – 4PM; Doors open at 9AM
Location: Town Hall Seattle, 1119 8th Ave, Seattle, WA 98101
FREE EVENT: Please register today
HELP PUBLICIZE: Share the Facebook event
Today in Seattle, and around the world, social movements are taking to the streets, striking, locking down, and engaging in multiple forms of direct action. These tactics build collective power to transform the intersecting crises of our times into opportunities for equity, healing, and sustainability. Join the WTO+20 gathering for hands-on direct action training, arts workshops, story-telling, and opportunities to plug into local organizing! Let's inspire action to change the world!
Morning Program:
Opening Dialogue on significance of 1999 WTO protests, and stories of direct action, from 1999 to today:
Music with Correo Aereo
Ramon Torres & Edgar Franks, Familias Unidas por la Justicia
Paul Cheoketen Wagner, Founder of Protectors of the Salish Sea
Nancy Haque, Labor/Direct Action Network organizer in '99, Executive Director of Basic Rights Oregon
Maru Mora Villalpando, Founder of La Resistencia (NW Detention Center Resistance) and Latino Advocacy
Lisa Fithian, Author of Shut It Down: Stories from a Fierce, Loving Resistance
Afternoon Trainings & Movement-building workshops (simultaneous)
Trainings:
Escalating Resistance, Mass Rebellion Training with Lisa Fithian
Screen-printing with David Solnit, Direct Action Network organizer in '99, North American Arts Organizer, 350.org
Workshops:

Seattle's Green New Deal with Matt Remle (Lakota) Co-founder of Mazaska Talks, and Alec Connon, 350Seattle
Campaign to permanently shut down the Northwest Detention Center in Tacoma, Washington, with La Resistencia
_________
Please register today, and contact us to get involved in organizing!
Town Hall Parking & Transit info. Town Hall Access info.
Checkout all of the WTO+20 events taking place in November and on SAT Dec 7!