Through community education, political action, anti-oppressive organizing and community-building, the Food Justice Project seeks to challenge and transform the globalized, industrial, corporate-driven food system and promote existing alternatives.
Food Justice Project meetings are 3rd Tuesday of the month, 6:30 - 8:30pm at CAGJ's Office, 1322 S Bayview St., Seattle, WA 98144. Contact fjp@cagj.org for more info.
New to the Food Justice Project?
Volunteer orientations are held from 6pm-6:30pm on the 3rd Tuesday of each month, right before Food Justice Project (FJP) meetings. Come to learn more about the Food Justice Project, our current campaigns, and ways you can get involved. The 6:30pm FJP meeting directly after gives you an opportunity to meet current organizers and get involved straight away!
Please RSVP to a future orientation by emailing us first at fjp@cagj.org.
What we do
Community-based workshops and "teach-outs" educating people on food justice & sovereignty issues and encouraging people to take action.
"Our Food, Our Right: Recipes for Food Justice" is CAGJ's educational book in two editions, with recipes, how-to, and essays on food politics, justice, and sovereignty. A great teaching resource!
Mobilizing our members and the public for a fair food system.
Take action to support these campaigns and food sovereignty everywhere!
We organize and support campaigns in solidarity with local family farmers and food producers, farmworkers, for the right to good food, food chain workers, and food justice globally!
Add yourself to the FJP listserv and get meeting & event announcements, and a few food justice resources/articles from around the region and around the world (1-2 posts a week) by clicking here!
Still need to know more? Check out this YouTube video slideshow about Food Justice Project Teach-Outs and CAGJ's publication, "Our Food, Our Right: Recipes for Food Justice"
Recent updates and actions:
---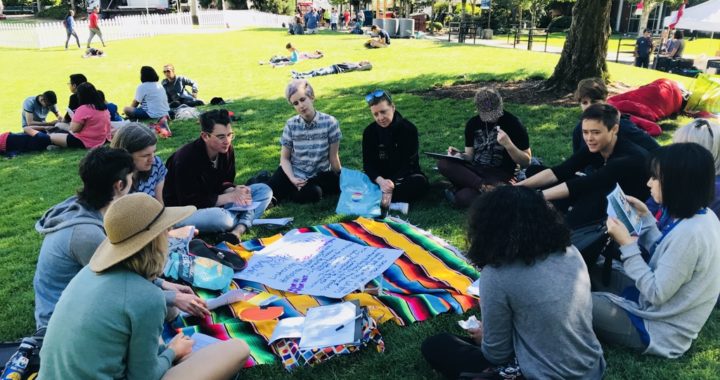 Rise Up! CAGJ Summer School 2020
The people have spoken – and we've heard you! Summer School is back by popular demand for 2020!
We are excited to launch our second iteration of Rise Up! Summer School, a 3-month political education and leadership development program to build anti-oppression analysis and learn about food sovereignty. This year's topics are to-be-determined by the organizing collective!
Sign up to here to participate or help plan with us! More info on the organizing collective below.

Details for 2020:
Summer School will take place in June, July, and August, and meets twice a month: on the third Tuesday for a group discussion, and on a weekend date for a field trip.
Summer School Discussion dates: Tuesdays 6:30-8:30pm June 16, July 21, and August 18.
Weekend field trip dates: will be determined by the collective.
This program is for folks 18 and older.
From February to May, we will use the second half of our monthly FJP meetings to organize and plan Summer School. Join us as we launch for 2020, develop the theme, and plug into roles!
We want to organize this successful program again for Summer 2020 – but we need a team to make it happen!
Invitation to join the Summer School 2020 Organizing Collective
We hope for 5-8 people to join an Organizing Collective – will you be one of them?
 Expectations:
Meet third Tuesdays of month, 6:30-8:30pm (regular monthly Food Justice Project meetings)

Planning Feb – May (2/18, 3/17, 4/21, 5/19)
Attend Summer School Jun – Aug (6/16, 7/21, 8/18)
Debrief Sept (9/15)

Show up for your role and communicate about the organizing tasks.

We will use Slack (most likely) as a communication platform between meetings.
Coordinate with sub-committees or partners between meetings.

Time commitment: 2 hours at meetings on third Tuesdays plus 1-5 hours/month on other tasks, depending on the role.
All organizing committee members will participate in visioning, mapping out the program, and planning the themes at the first meeting in Feb.
Organizing roles:
Recruitment: Help recruit Summer School members through outreach to CAGJ members and community
Curriculum curation: find materials (readings, videos, etc.) and develop in line with themes
Logistics: food, meeting locations, carpooling, corresponding with partners
Facilitation of sessions: co-facilitate discussions and activities; plan agendas
Communications: Maintain communication with participants throughout Summer School – reminders for meeting dates and follow-up to confirm participants' attendance
About Rise Up! Summer School in 2018:
Rise Up! CAGJ Summer School is an anti-oppression leadership development program exploring food sovereignty movements situated in our local contexts. We prioritize perspectives and voices of people of color and queer activists in the materials and discussions. By deepening our connections and building community, we hope to create a safe space to explore learning edges and encourage newer activists to rise up in leadership.
The 3-month program in 2018 delved into our campaign-related themes of African food sovereignty, Farmworker solidarity, and Northwest Native Resistance to GE Salmon through community discussions and site visits. Perspectives of people of color were prioritized in the materials and discussions as we focused on an anti-oppressive and intersectional analysis. We developed the leadership of members involved in the organizing and facilitation and worked to create a safe space that encouraged newer activists to explore learning edges and rise up in leadership.