SLEE Dinner 2017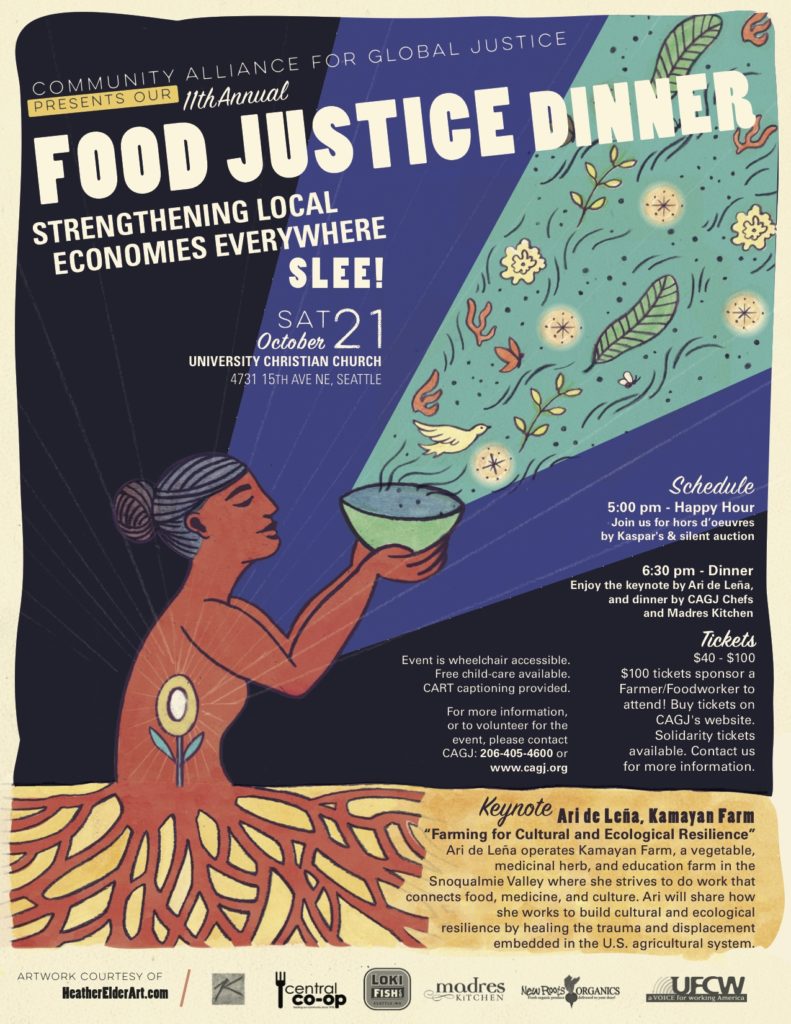 Join us! October 21st, 2017, 5pm at the University Christian Church, 4731 15th Ave NE, Seattle, WA 98105. See below for accessibility info. 
Community Alliance for Global Justice grew out of a mass people's movement that shut down the World Trade Organization in 1999, and continues to work toward transforming unjust trade and agricultural practices. CAGJ's 11th annual SLEE Dinner (Strengthening Local Economies Everywhere) aims to nurture the seeds of resistance once again, to mobilize for food justice around the world.
This year, SLEE brings together over 300 foodworkers, farmworkers, and people curious about food justice, to share a Fair Trade and locally sourced meal and learn from local community partners how to take action.
Our keynote, "Farming for Cultural and Ecological Resilience" will be given by Ari de Leña. Ari operates Kamayan Farm, a vegetable, medicinal herb, and education farm in the Snoqualmie Valley where she works to build cultural and ecological resilience by healing the trauma and displacement embedded in the U.S. agricultural system.
Support our work by bidding on items from fabulous local businesses at our silent auction, and team up with your table for our dessert dash, where donating gives you a head start to race to delicious sweets prepared by local chefs.
Event tickets will go on sale August 21.
We are now seeking Sponsors and Table Captains! Sponsors give a financial or in-kind donation to help make this event happen. Table Captains fill a table for 10 people, and provide CAGJ with important seed funds for our organizing. You can choose between buying a table for your 10 guests, or asking your guests to buy tickets individually. If you have questions or would like to become a sponsor or a table captain, please email Andrea, or call us at the office: 206-405-4600.
Interested in volunteering? Alongside foodworkers, farmworkers, and food justice fighters; alongside sponsors, table captains, and community partners; it takes volunteers to make the SLEE Dinner all that it is. Are you interested in volunteering? Wanna learn more? Click here or email andrea@cagj.org.
Schedule for the event:
Happy Hour 5:00-6:30: Enjoy libations, live music, complimentary hors d'oeuvres, a silent auction, and the opportunity to acquaint yourself with featured food justice organizations and groups promoting urban agriculture, food sovereignty and Fair Trade.
Dinner 6:30-9:30: Enjoy a scrumptious locally sourced and Fair Trade meal. Feast on incredible treats during the Dessert Auction!
Tickets:
Purchase on CAGJ's website starting August 21
Sliding scale $40-$100: Please be generous in your support! We want to make this event accessible to everyone while also recognizing the need for us to raise crucial funds.
Support a Farmer/Farmworker/Organizer: By purchasing a second ticket (at $50 or $100), you ensure that local farmers, farmworkers and food organizers can be honored guests at our event. Look for this purchasing option when you register.
Solidarity Tickets: We are committed to making this an accessible event for all. If you are unable to afford a full-price ticket, please contact Andrea for Solidarity Tickets.
Volunteer:
Volunteers needed to help organize SLEE, and the day-of! If you are interested in volunteering before, or at the event, please check out our SLEE Volunteer Opportunities, and email Andrea.
Accessibility Info:
Child Care Offered: Free child care will be available for kids aged 2-11 from 

6:30-9pm

. Include names and ages when registering.
Bus Information: We encourage people to carpool, ride their bikes, and take public transit to this event! Bus routes 48, 49, 70, 71, 72 stop in front of the church.
Please be Fragrance Free: For the health and safety of community members with chemical sensitivity, please abstain from using scented cosmetics, lotions, or hair products and please do not wear clothes that have recently been smoked in. There will be scent-free soap in the multi-stalled bathrooms. Read here for more info on how to be fragrance free.
Wheelchair Accessibility: Entrance off of 15th is wheelchair accessible. Happy Hour takes place on the same level as entrance, and is wheelchair accessible. The dinner takes place in the basement of the church. Elevators are located in the main hall of the church, to the right of the main entrance. There is a ramp leading from the elevator downstairs to the dining room.
Restrooms: In order to provide a welcoming and inclusive space for trans folks and to make sure that everyone is comfortable and safe, we will provide gender-neutral bathrooms and gender-specific bathrooms at the SLEE dinner. There will be clear signs designating which is which and where they are. Bathrooms are located near the elevators on both levels. The upstairs bathrooms are ADA compliant. The downstairs bathrooms are not fully ADA compliant, but may be wheelchair accessible.
Dining Room info: Every effort will be made to ensure wheelchairs can access all tables, however the space is tight, thus it is preferred that CAGJ be notified in advance to ensure a table that is easily wheelchair accessible. We will provide air purifiers in the case they are needed for people with chemical sensitivities. There are low-lit rooms people can retreat to if needed.
Interpretation: We will do our best to provide interpretation services if requested. Contact slee@cagj.org to arrange.
CART captioning provided
Please join us to dine, learn, and come together.