Through community education, political action, anti-oppressive organizing and community-building, the Food Justice Project seeks to challenge and transform the globalized, industrial, corporate-driven food system and promote existing alternatives.
Food Justice Project meetings are 3rd Tuesday of the month, 6:30 - 8:30pm at CAGJ's Office, 1322 S Bayview St., Seattle, WA 98144. Contact fjp@cagj.org for more info.
New to the Food Justice Project?
Volunteer orientations are held from 6pm-6:30pm on the 3rd Tuesday of each month, right before Food Justice Project (FJP) meetings. Come to learn more about the Food Justice Project, our current campaigns, and ways you can get involved. The 6:30pm FJP meeting directly after gives you an opportunity to meet current organizers and get involved straight away!
Please RSVP to a future orientation by emailing us first at fjp@cagj.org.
What we do
Community-based workshops and "teach-outs" educating people on food justice & sovereignty issues and encouraging people to take action.
"Our Food, Our Right: Recipes for Food Justice" is CAGJ's educational book in two editions, with recipes, how-to, and essays on food politics, justice, and sovereignty. A great teaching resource!
Mobilizing our members and the public for a fair food system.
Take action to support these campaigns and food sovereignty everywhere!
We organize and support campaigns in solidarity with local family farmers and food producers, farmworkers, for the right to good food, food chain workers, and food justice globally!
Add yourself to the FJP listserv and get meeting & event announcements, and a few food justice resources/articles from around the region and around the world (1-2 posts a week) by clicking here!
Still need to know more? Check out this YouTube video slideshow about Food Justice Project Teach-Outs and CAGJ's publication, "Our Food, Our Right: Recipes for Food Justice"
Recent updates and actions:
---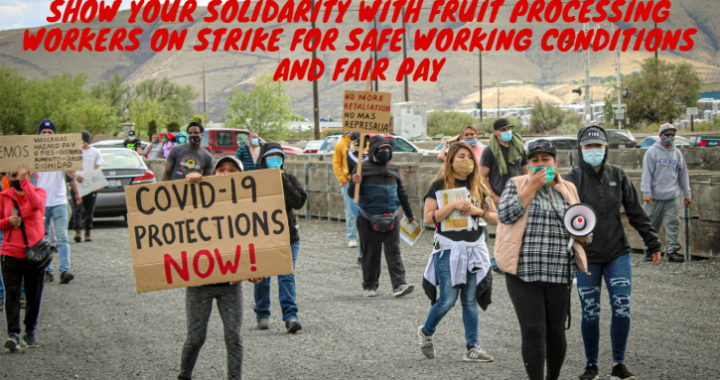 Thank you to everyone who attended the webinar!
The recording is available on our YouTube channel:
---
YOU ARE INVITED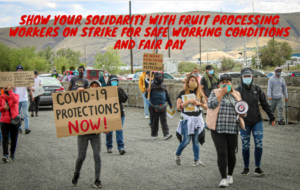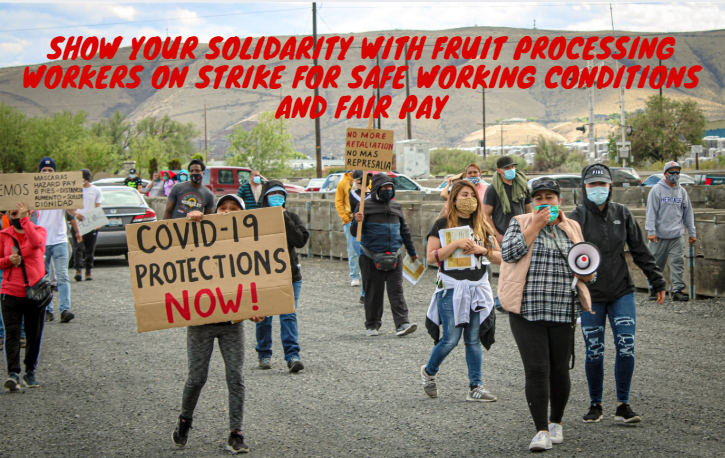 SAT June 27, 3 – 4:30PM PST
Farmworker Organizing in the Face of the Pandemic:

Update from Familias Unidas por la Justicia Farmworker Union
Please join us this Saturday to hear an update from FUJ President Ramon Torres and Organizing Director Edgar Franks! We hope to be joined by women who led the recent Yakima County strikes as well.
Registration is required: https://tinyurl.com/FUJWebinar
**We will email you the Zoom link before the call.
Help publicize! Share the Facebook event and please forward widely.
Familias Unidas por la Justicia (FUJ on Facebook) is an independent farmworker union of indigenous families located in Burlington, WA, representing more than 500 Triqui, Mixteco, and Spanish speaking workers at Sakuma Bros. Berry Farm. FUJ is an affiliate member of the Washington State Labor Council, AFL-CIO.
Community Alliance for Global Justice has stood in solidarity with Familias Unidas por la Justicia as they support Farmworkers and fruit packers to improve on-the-job and migrant worker housing safety amidst the Covid-19 pandemic. Due to the lack of emergency measures in place to protect Farmworkers, the pandemic continues to peak in rural areas. As of reports this month, Yakima County in Eastern WA has the highest single-county infection rate of coronavirus on the West Coast.
Recently, FUJ President Ramon Torres and other FUJ organizers supported striking workers at six fruit packing plants in Yakima County, for almost a month. These historic strikes were ultimately successful, with companies agreeing to recognize worker committees and negotiate in good faith. Amidst the strikes, FUJ also filed a lawsuit against the state of WA seeking to revise the emergency rules regarding farmworker housing, after months of advocating that the State Departments of Health and Labor and Industries ensure rules were enforceable and in accordance with CDC guidelines.
Registration is required. Please register online with this link.
Contact Heather Day/CAGJ with any questions: heather@cagj.org