Through community education, political action, anti-oppressive organizing and community-building, the Food Justice Project seeks to challenge and transform the globalized, industrial, corporate-driven food system and promote existing alternatives.
Food Justice Project meetings are 3rd Tuesday of the month, 6:30 - 8:30pm at CAGJ's Office, 1322 S Bayview St., Seattle, WA 98144. Contact fjp@cagj.org for more info.
New to the Food Justice Project?
Volunteer orientations are held from 6pm-6:30pm on the 3rd Tuesday of each month, right before Food Justice Project (FJP) meetings. Come to learn more about the Food Justice Project, our current campaigns, and ways you can get involved. The 6:30pm FJP meeting directly after gives you an opportunity to meet current organizers and get involved straight away!
Please RSVP to a future orientation by emailing us first at fjp@cagj.org.
What we do
Community-based workshops and "teach-outs" educating people on food justice & sovereignty issues and encouraging people to take action.
"Our Food, Our Right: Recipes for Food Justice" is CAGJ's educational book in two editions, with recipes, how-to, and essays on food politics, justice, and sovereignty. A great teaching resource!
Mobilizing our members and the public for a fair food system.
Take action to support these campaigns and food sovereignty everywhere!
We organize and support campaigns in solidarity with local family farmers and food producers, farmworkers, for the right to good food, food chain workers, and food justice globally!
Add yourself to the FJP listserv and get meeting & event announcements, and a few food justice resources/articles from around the region and around the world (1-2 posts a week) by clicking here!
Still need to know more? Check out this YouTube video slideshow about Food Justice Project Teach-Outs and CAGJ's publication, "Our Food, Our Right: Recipes for Food Justice"
Recent updates and actions:
---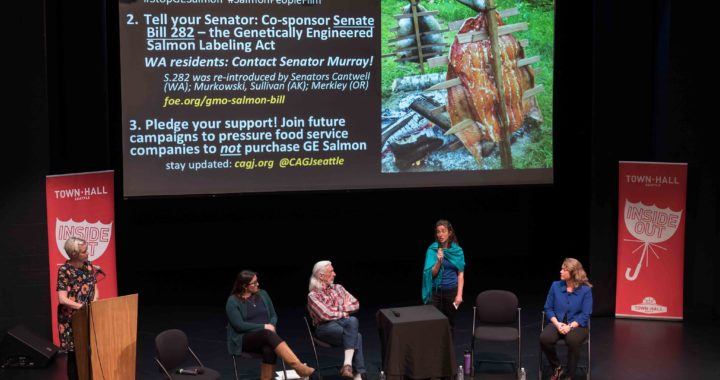 By Noël Hutton
On Tuesday April 9, CAGJ partnered with Town Hall to hold a screening and panel discussion regarding our recently released short film, Salmon People. The film was produced in partnership with New Canoe Media and the Muckleshoot Food Sovereignty Project. Over 100 people attended the event.
We were fortunate to host the voices of four influential leaders on this subject, including Valerie Segrest, Coordinator of the Muckleshoot Food Sovereignty Project; Alan Stay, Tribal Attorney for the Muckleshoot Indian Tribe; Fawn Sharp, President of the Quinault Indian Nation; and Dana Perls, a Senior Food and Agriculture Campaigner at Friends of the Earth.
As explored in the film, salmon are essential to Coast Salish culture, the entire Pacific Northwest ecosystem, and our local economy. Not only is the habitat of wild salmon being disrupted and their populations diminished, but the introduction of a new genetically engineered species poses an entirely new threat to local tribes, the environment, and public health.
Despite the fact that the development and commercialization of GE salmon heavily impacts native communities, the FDA and AquaBounty Inc, the biotech company that is developing GE salmon, have failed to consult tribes in this process. Attorney Alan Stay shared some background on the legal history leading up to this present day issue.
In the 1850s, six treaties were created between the United States government and indigenous tribes. While the U.S. was granted 64 million acres of territory, tribes reserved the right to hunt, fish, and gather on their ancestral lands—a simple condition which has come under threat numerous times. Through the destruction of wild salmon habitat, and with the green light given to GE salmon which threatens the livelihood, culture, and food supply of native tribes, the U.S. is failing to uphold its end of the deal.
Approved by the FDA in 2015, AquaBounty's GE salmon is the first genetically engineered animal approved for human consumption. In March of this year, the USDA lifted the ban on the importation of the GE salmon eggs, currently produced in Panama and Canada.  AquaBounty markets their product as "the world's most sustainable salmon"— arguing that it uses less water and feed than conventionally farmed Atlantic salmon. They grow two to three times the size of wild salmon in less time. "Efficiency" is the name of the game.
However, "the world's most sustainable salmon" is a dubious claim: this GE species does not uphold the nutritional density for which wild salmon are so revered, and consumption of farmed salmon attempts to overlook our duty to protect wild salmon habitat. As the Coast Salish have known for thousands of years, salmon are part of a much larger interconnected web of human health, culture, and Mother Nature. Perhaps most disturbing, particularly from the indigenous perspective, is reducing the existence of this salmon to an object for human ownership and exploitation as mere commodities.
"We simply do not know enough about genetically engineered salmon to introduce it into our food system. Operating by any other way puts humans, the environment, many species and several economies at very high risk. It especially puts tribal communities at risk. We are a fishing culture and our keystone species since time immemorial has been the salmon. We organize our lives around salmon. Our ancestral wisdom tells us that when the salmon are gone everything else will disappear," Segrest stressed. "So what happens when GE salmon escapes and interbreed with our ancestral salmon? As native people we operate by the laws and the wisdom of nature and the combination of genes and viruses and eel like fish would never occur naturally. Are we really going to allow an immature science to replace the work and of an innate wisdom of nature?"
With the risk of their escape and cross-breeding with wild populations lingering as a reasonable prospect, native and nonnative fishermen alike could end up under the purview of a corporation due to patented genes.
"Despite the predictable, irreversible food system damage and lack of research on potential poor health outcomes, it still reached our shelves. And these foods that we eat, and us eating them, is the research. We are the experiment," Segrest shared during the event.
Dana Perls brought the perspective of how this is a market issue, and one in which we as consumers hold a great deal of power. People are rejecting GE salmon. So long as we make our voices heard, we have the ability to keep it from reaching the market. We must continue pressuring retailers and other food service establishments to say no to GMO salmon.
"Salmon cannot get out of the rivers and walk through the halls of Congress. They cannot get out of the rivers and argue cases before the Supreme Court. We have that sacred responsibility," declared President Sharp. "We truly are the last line of defense in this system."
We must speak out for the salmon people who cannot speak up for themselves. And the time is now.
In case you missed it, watch the full video here on YouTube, recorded by Ed Mays of PirateTV.
Learn more about CAGJ's campaign to Stop GE Salmon! Here's what you can do to take action today:
Raise Awareness by sharing the film
#StopGESalmon #SalmonPeopleFilm
Speak Out by promoting clear GMO labeling laws
Tell your Senator: Co-sponsor Senate Bill 282 — the Genetically Engineered Salmon Labeling Act
Stay Involved by joining future campaigns against GE salmon
cagj.org @CAGJseattle