Through community education, political action, anti-oppressive organizing and community-building, the Food Justice Project seeks to challenge and transform the globalized, industrial, corporate-driven food system and promote existing alternatives.
Food Justice Project meetings are 3rd Tuesday of the month, 6:30 - 8:30pm at CAGJ's Office, 606 Maynard Ave S #102, Seattle, WA. Contact fjp@cagj.org for more info.
New to the Food Justice Project?
Volunteer orientations are held from 6pm-6:30pm on the 3rd Tuesday of each month, right before Food Justice Project (FJP) meetings. Come to learn more about the Food Justice Project, our current campaigns, and ways you can get involved. The 6:30pm FJP meeting directly after gives you an opportunity to meet current organizers and get involved straight away!
Please RSVP to a future orientation by emailing us first at fjp@cagj.org.
What we do
Community-based workshops and "teach-outs" educating people on food justice & sovereignty issues and encouraging people to take action.
"Our Food, Our Right: Recipes for Food Justice" is CAGJ's educational book in two editions, with recipes, how-to, and essays on food politics, justice, and sovereignty. A great teaching resource!
Mobilizing our members and the public for a fair food system.
Take action to support these campaigns and food sovereignty everywhere!
We organize and support campaigns in solidarity with local family farmers and food producers, farmworkers, for the right to good food, food chain workers, and food justice globally!
Add yourself to the FJP listserv and get meeting & event announcements, and a few food justice resources/articles from around the region and around the world (1-2 posts a week) by clicking here!
Still need to know more? Check out this YouTube video slideshow about Food Justice Project Teach-Outs and CAGJ's publication, "Our Food, Our Right: Recipes for Food Justice"
Recent updates and actions:
---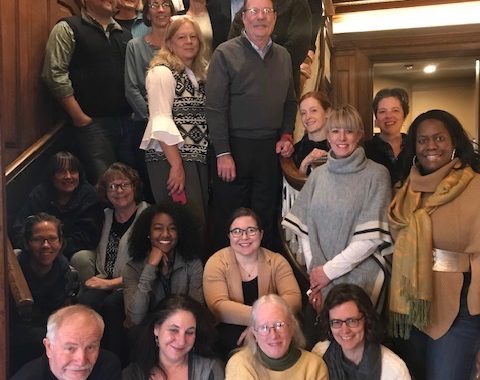 By Heather Day, CAGJ's Director
This past week-end I had the honor of traveling to DC to participate in the annual board meeting of the National Family Farm Coalition. CAGJ has been a member of NFFC since 2010, and participated in the meeting two years ago which came on the heels of the untimely death of Kathy Ozer, NFFC's longtime leader. At that gathering, we grieved the loss of Kathy, and started laying the groundwork for the future of the organization without her. It has been challenging, but staff and dedicated members developed a new strategic plan, with an updated mission, vision and guiding principles to guide the work going forward. Guided by the excellent facilitation of Jeremy Phillips, participants of this year's meeting approved the plan, and worked on developing specific strategies for each of the 4 goals. We discussed how to expand the Coalition, particularly with the goal of reaching our principle of increased equity and diversity, and I hope to reach out to WA farmer groups later this year about becoming members. A real sense of urgency pervaded the meeting, given the
crisis facing many farmers
, especially but not only those in the dairy sector. The
supply management system
, as practiced by Canada's dairy industry for the past several decades, was discussed as a model that could provide a much-needed fix for the volatile markets and lack of fair prices causing many farmers to go out of business. We also had the opportunity to meet NFFC's new DC-based Policy Coordinator, Jordan Treakle, who comes to the job after seven years at the Food and Agriculture Organization in Rome, and previous work with RAFI-USA. Lisa Griffith remains as NFFC's National Program Director, Siena Chrisman acts as part-time Communications staff, and Cynthia Bush is the finance and operations coordinator for both NFFC and NAMA under the new shared leadership model while Niaz Dorry acts as ED for both NAMA and NFFC. In addition, leaders from Rural Coalition, Institute for Agriculture and Trade Policy and Food and Water Watch briefed us on the 2018 Farm Bill and NAFTA 2.0 negotiations as well as other issues such as industrial aquaculture, and many members met with their Congressional Representatives on Tuesday. I always gain energy from the comradery of old friends, and greatly enjoyed making new friends as well. We look forward to participating in future meetings. Stay tuned for the location and dates of the summer meeting soon.