Solidarity Campaigns
The Food Justice Project works in solidarity with allies, organizations, and people on the "front lines" of the food movement and struggling for food justice in our region. While there are dozens of food sovereignty issues we would love to support and mobilize towards, our members decided to focus our efforts to some specific areas of the food system and stand in solidarity with our allies.
CAGJ mobilizes our members and the public for a fairer food system by supporting small-scale farmers and food producers, farmworkers, the right to good food, food chain workers, and food justice everywhere.
Current Campaigns
Stopping Genetically Engineered Salmon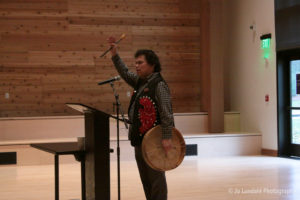 Since 2015, CAGJ has been committed to working in solidarity with the struggle against genetically engineered (GE) salmon. After partnering with Friends of the Earth in a successful campaign to pressure Costco to commit to not selling GE salmon, the FDA approved the fish, making it the first ever genetically engineered animal approved for human consumption.
In 2016 CAGJ began its solidarity work with the Muckleshoot Food Sovereignty Project, amplifying the efforts and voices of Northwest tribes in rejecting GE salmon and it's direct affront to tribal, cultural, ecological and economic well-being.
We are continuing to organize with the Muckleshoot Food Sovereignty Project and have begun to strategize with other Northwest Tribes and a coalition of environmental groups towards a Washington state resolution to oppose the FDA's approval of GE salmon and call on Congress to require GE labeling. We are also working on a short educational film co-produced by The Muckleshoot Food Sovereignty Project and New Canoe Media on Northwest Tribal resistance to genetically engineered salmon. Stay tuned for updates and learn more here!
Recent Campaigns

Working with local fisherfolk and Friends of the Earth to ask Costco to reject GE Salmon
Costco, thanks to pressure from CAGJ and other activists across the country, has said it has no plans to sell GE salmon. We plan to continue monitoring Costco's seafood sourcing, and are deepening this work by continuing supporting tribal food sovereignty, healthy fishing ecosystems, and more.
Familias Unidas por la Justicia, an independent AFL-CIO-endorsed farmworker union based in Burlington, WA, was formed in 2013 out of a series of strikes in response to inhumane production standards, wage theft, racial harassment and other labor malpractices endured by farmworkers at Sakuma Brothers berry farm in Skagit Valley. FUJ continues demanding a union contract with Sakuma Bros. Berry Farm, and CAGJ sits on the Seattle Boycott Committee, coordinating pickets & mobilizing support. FUJ is also working in solidarity with over 80,000 workers in San Quintín, Mexico who have joined in calling for the boycott of Driscoll's products, demanding better pay and working conditions and highlighting the exploitation of farm workers by Driscoll's growers, the largest berry distributor in the world.
To learn more about the history of the worker's struggle at
Sakuma
Brothers berry farm, check out this
blog post
and this
resource list
.
CAGJ, Washington Fair Trade Coalition, 350.org and others working to halt the Trans-Pacific Partnership
Eaters, farmers, retailers, and food organizations alike are asking our legislators to vote "no" on the proposed Trans-Pacific Partnership trade agreement. This agreement promotes the interests of large corporations, while ignoring the interests of farmers, food safety, and our democracy.
Past and Ongoing Campaigns
We work to support Got Green's campaign to make Fresh Bucks and Access to Healthy Food a reality for all people.
We support UFCW Local 21's Grocery Contracts Campaign in 2016, including a minimum wage increase statewide, paid sick leave, and increased union representation at local grocery stores. We also work to support Making Change at WalMart and OUR WalMart
In 2013, we supported the passage of I-522 for farmer seed sovereignty and the right to know what's in our food.

Take action today to support these campaigns and food sovereignty everywhere!