Food Justice Project
Through community education, political action, anti-oppressive organizing and community-building, the Food Justice Project seeks to challenge and transform the globalized, industrial, corporate-driven food system and promote existing alternatives. Meetings are 3rd Tuesday of the month, 6:30 – 8:30pm at Central Coop's Rochdale Room. 1900 E. Madison St, Seattle. Contact fjp@cagj.org for more info.
What we do
Community-based workshops and "teach-outs" educating people on food justice & sovereignty issues and encouraging people to take action
Mobilizing our members and the public for a fair food system.
Take action to support these campaigns and food sovereignty everywhere!
We can always use more help if you'd like to be a part of our work! Email fjp@cagj.org for ways to get involved or attend an upcoming meeting.
New to the Food Justice Project?
Volunteer orientations will be held from 6pm-6:30pm on the third Tuesday of each month, before Food Justice Project (FJP) meetings. Orientations are a great way to learn more about the Food Justice Project, our current campaigns, and ways you can contribute. The 6:30pm FJP meeting will build off this momentum, providing an opportunity to meet current members and get involved.  If you would like to attend an orientation please RSVP by contacting fjp@cagj.org.
You can add yourself to the FJP listserv and get meeting & event announcements, and a few food justice resources/articles (1-2 posts a week) by clicking here!
FJP Volunteer Opportunities
Teach-Out Committee
Help reach out to potential Teach-Out sites, recruit participants, and help coordinate logistics and program
Our Food, Our Right Committee
Support the publication of the second edition of CAGJ's publication "Our Food, Our Right" featuring essays, analysis, growing, cooking, and eating skills, and more.
Educate for Action Committee
Help develop and present a popular education series that will inform and activate the public about food justice and food sovereignty.
Solidarity Campaign Point Person
Track developments and actions for one of the campaigns we support, develop fliers, print pieces, newsletter articles, blogposts, or email alerts about the campaign, help mobilize members and organize actions to further campaigns led by allied organizations.
Food Justice Project Intern
We are currently looking for a Food Justice Project intern to work throughout the project by and large. Main intern projects may include organizing Teach-Outs/Ins, outreach for events and meetings, tracking participation at Teach-Outs/Ins, updating the webpage, prepping for meetings, and representing CAGJ at events in the community.
The intern will work with a team of CAGJ activists and directly with the two project co-chairs.  Some office hours may be required, and the ability to work well independently will also be very important.  In general, the CAGJ work environment is casual and friendly, but expects accountability and dependability from its volunteers to get things done! CAGJ is a volunteer run organization with two part-time staff.  Interns play critical roles within and outside of the organization.
Many more opportunities available!  Contact fjp@cagj.org for more info or attend an upcoming FJP meeting to get signed up.
See a YouTube video slideshow about Food Justice Project Teach-Outs and CAGJ's publication, "Our Food, Our Right: Recipes for Food Justice"
CAGJ is proud to be a Central Co-op Community Partner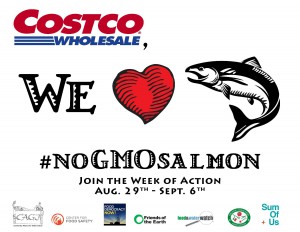 On Aug 29th – Sept 6th, join thousands of people across the U.S. to deliver letters to Costco stores! (more…)