AGRA Watch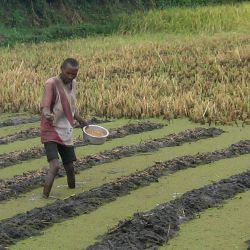 AGRA Watch is a grassroots, Seattle-based group challenging the Bill and Melinda Gates Foundation's questionable agricultural programs in Africa, including its Alliance for a Green Revolution in Africa (AGRA). The Gates Foundation and AGRA claim to be "pro-poor" and "pro-environment," but their approach is closely aligned with transnational corporations, such as Monsanto, and foreign policy actors like USAID. They take advantage of food and global climate crises to promote high-tech, market-based, industrial agriculture and generate profits for corporations even while degrading the environment and disempowering farmers. Their programs are a form of philanthrocapitalism based on biopiracy.
_______________________________________________________________________________________________________________
CAGJ was excited to participate in Seattle's March Against Monsanto rally at Westlake Park this past Saturday- May 23, 2015- to say NO to the terrible biotech/bigAgra models presented by Monsanto. Heather Day, CAGJ's ED, spoke to the crowd about the strong ties between the Gates Foundation and Monsanto. From her speech,
" In 2010, AGRA Watch helped expose the Gates Foundation's  $23.1 million dollar purchase of Monsanto stock. We all know from our experience with Initiative 522 getting defeated, the referendum that would have meant GMO's were labeled in Washington, that Monsanto will spend its billions whenever they feel threatened by our ever-growing food sovereignty movement globally. The Bill and Melinda Gates Foundation is committed to the same anti-democratic processes in Africa. Monsanto is a hard target to influence, but we are seeing a dent in their profits, forcing them to have PR campaigns – let's force the Gates Foundation to change their ways too.  Join us to pressure them to cease all partnership with Monsanto!  If they must support agriculture in Africa, they must support agroecology and food sovereignty!"
The Seattle Rally and March joined folks from all over the world in the streets for the same reason! Here are some pictures from Ghana: The Seed Belongs to Us, Not To Monsanto! And photos of the march in Capetown.
See beautiful photos of this festive and powerful event at Alex Garland's website.