Volunteer for CAGJ's SLEE– Strengthening Local Economies Everywhere- Virtual Gala! Help organize now, or sign up to volunteer on October 17th!
Volunteer power makes the SLEE gala possible!
Are you are interested in volunteering, interning or helping coordinate? Last year we had 75 people that helped make the dinner happen. Click here to see pictures of SLEE 2019!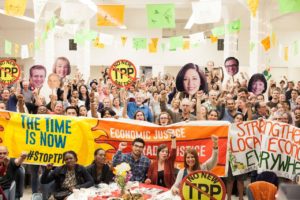 ABOUT THE SLEE GALA:
CAGJ's 14th Annual SLEE Gala will take place VIRTUALLY on October 17th, 2020. The SLEE Gala will highlight the hope embodied by youth on the front lines of the food justice movement.
SLEE is a community gathering in which we aim to raise awareness and educate about how to build healthy food systems as a community-based alternative to corporate-led globalization, make connections across sectors and issues, inspire the community to take action and ensure the long-term sustainability of CAGJ by expanding our membership, developing leadership, and raising significant funds.
There will be an online silent auction! All items are donated by local food producers, businesses and CAGJ Members. CAGJ is running our online Silent Auction and live event through Panorama. New for SLEE 2020 is the opportunity for CAGJ Members to raise funds for CAGJ from your community through Panorama's Peer-to-Peer fundraising platform. All funds raised are used for CAGJ's food justice organizing.
CURRENT VOLUNTEER NEEDS
We need organizers, interns, & volunteers for SLEE 2020! The hard work and dedication to the food sovereignty movement of SLEE volunteers does not go unnoticed! Come learn about CAGJ and the network of food justice organizing in the Northwest and around the world!
If you are interested in volunteering, please email us at volunteer(at)cagj(dot)org. We will work with your schedule to our best ability!
INTERNS: Come help make SLEE (and other work at CAGJ) happen! We're looking for new interns to start ASAP. Is this you or do you know anyone who might be a good fit? More info here!
ORGANIZERS: At this time, we need to find a few fabulous volunteers or interns to help starting now, and until the October 17th dinner, with the following roles. In accordance with state and local healthcare guidelines, this work will be done from home until further notice. We will work with our interns to schedule online group gatherings such as Zoom meetings, and one-on-one check-ins via Zoom (or Skype) or phone calls :
— Volunteer Coordinator: Using established systems, recruit volunteers to help the week of and especially the day of SLEE. Coordinators will publicize volunteer opportunities widely in the community, seeking new strategies to spread the word; create or improve clear tracking systems; and provide volunteers with support and orientation materials relevant to their role(s). Opportunities may arise to participate in project development as well. Volunteer Coordinator must be available to co-coordinate volunteers the day-of the event as well.
— Table Captain/Peer-to-Peer (P2P) Fundraising Coordinator: The Coordinator will help provide education/training on shifting the event to virtual setting, provide resources and answer questions, and support anyone doing a peer-to-peer fundraising page. There will be opportunities for developing communication strategies about P2P fundraising and encouraging our community to participate; and create or improve tracking systems.
— Live Stream Coordinator: Ensure that all speakers have adequate resources/set-up to run the event and they know how to interact with our system of choice (e.g. decent mics and webcams, clear instructions on using Zoom/etc). The Coordinator may be asked to moderate text chat, or to oversee volunteer moderators.
All Coordinators need strong attention to detail, great communication skills, and experience with Google apps (Sheets and Docs especially).
VOLUNTEERS for the WEEK and DAY of SLEE: Check back soon for volunteer positions available for the Day-Before and Day-Of SLEE!
Are you ready to volunteer? email us at volunteer(at)cagj(dot)org.
Thank you!