Volunteer for CAGJ's SLEE– Strengthening Local Economies Everywhere- Dinner! Help organize now, or sign up to volunteer on July 13th!
Volunteer power makes the SLEE dinner possible!
Are you are interested in volunteering, interning or helping coordinate? Last year we had 75 people that helped make the dinner happen. Click here to see pictures of SLEE 2018!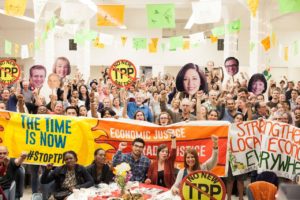 ABOUT THE SLEE DINNER:
CAGJ's 13th Annual SLEE Dinner will take place on July 13th, 2019 at St. Demetrios Greek Orthodox Church in Montlake. The SLEE Dinner will highlight the role of food sovereignty and agroecology in leading us to a Just Transition to address the climate crisis. Doria Robinson, a leader in both the food sovereignty and climate justice movements, will deliver the keynote: "For the Love of Soil: Dismantling the Extractive Economy with Justice and Food Sovereignty." Doria is the Executive Director of Urban Tilth, a community-based organization rooted in Richmond, California, dedicated to cultivating urban agriculture to build a more sustainable, healthy, and just food system. She serves as one of the coordinators for our region of the US Food Sovereignty Alliance.
This event is more than just a delicious dinner; it is a community gathering in which we aim to raise awareness and educate about how to build healthy food systems as a community-based alternative to corporate-led globalization, make connections across sectors and issues, inspire the community to take action and ensure the long-term sustainability of CAGJ by expanding our membership, developing leadership, and raising significant funds.
There is a silent auction and a dessert auction at the dinner. All items and food for the dinner are donated by local food producers, businesses and CAGJ Members. All funds raised are used for CAGJ's food justice organizing.
CURRENT VOLUNTEER NEEDS
We need organizers, interns, & volunteers for SLEE 2019! The hard work and dedication to the food sovereignty movement of SLEE volunteers does not go unnoticed! Come learn about CAGJ and the network of food justice organizing in the Northwest and around the world!
If you are interested in volunteering, please email Noël at volunteer(at)cagj(dot)org. We will work with your schedule to our best ability!
ORGANIZERS: At this time, we need to find a few fabulous volunteers or interns to help starting now, and until the July 13th dinner, with the following roles. Some of this work can be done from home, but ideally you would be able to come to our office in Beacon Hill for a few hours each week:
—Volunteer coordination: Using established systems, recruit 70 volunteers to help the week of and especially the day of SLEE. Ideally the Volunteer Coordinator is available to co-coordinate volunteers the day-of the event as well.
—Dessert Auction Co-Coordination: Contact CAGJ Members, bakeries and restaurants with a history of donating to SLEE to procure 35 desserts for the SLEE Dessert dash. Ideally at least one of the coordinators is present the day of SLEE to receive and set up desserts.
—Silent Auction Co-Coordination: Work with our interns who are procuring items to create packages, and prepare materials for SLEE including package descriptions and bid sheets. Co-coordinators must be able to assist with running the auction the day of SLEE.
INTERNS: Come help make SLEE (and other work at CAGJ) happen! We're looking for new interns to start ASAP. Is this you or do you know anyone who might be a good fit? More info here!
VOLUNTEERS: See below for the Day-Before and Day-Of volunteering positions available.
FRIDAY 7/12 Day Before at St. Demetrios Greek Orthodox Church
– Food Prep- 12pm-4pm (10 people needed)
Come for whole time, or just for a couple of hours. No experience needed! Come and help chop!
– Dining Room Prep- 11am-4pm (10 people needed)
Come for all day or just for a few hours. Help set table and chairs and decorations.
SATURDAY 7/13 Day of Dinner at St. Demetrios Greek Orthodox Church
– Set up 2-4PM (10 people needed)
Help set-up the Dining room and other spaces, make them beautiful!
– Food Prep – 2 Shifts: 10am-3pm (10 people needed), 3pm-9pm (10 people needed)
No experience needed! Come and help chop!
– Registration 3:30pm-7pm (10 people needed)
Come early to get oriented and start welcoming guests at 5pm when Happy Hour starts. Finish by 7pm, and you can enjoy dinner.
– Servers 4pm-10pm (20 people needed) THIS IS WHERE WE NEED THE MOST PEOPLE THE NIGHT OF! No experience needed! No fancy outfit needed either! Come early – at 4pm – for orientation. Stay to help serve dinner- you will have 2 or 3 tables, and will be serving the same platters of food to every table.
– Bartenders – 2 shifts (4 people needed)
Shift one: Set-up and Happy Hour, 4pm – 7pm
Shift two: Dinner and clean-up, 5:30 – 10pm
Seeking volunteers *with license*, to serve wine, beer and non-alcoholic beverages.
– Child Care 6 – 9PM (2 people needed)
2 people needed to help with small group of kids, ages 2 – 11.
– Clean Up 9-11PM (10 people needed)
Are you ready to volunteer? Email Noël at volunteer(at)CAGJ(dot)org.
Thank you!