October E-News:
Food Sovereignty Prize at Town Hall Seattle Oct 15!
CAGJ HAPPENINGS
CAGJ NEWS & UPDATES
TAKE ACTION
COMMUNITY CALENDAR
Get Involved! Upcoming CAGJ Meetings:

Food Justice Project: 3rd Mon/month, 6:30 - 8:30, at CAGJ's office - for more info email us.

AGRA Watch:
time varies, for more info email us

Contact us with any questions!

Join us on Facebook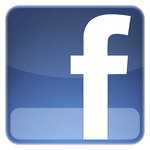 Follow us on Twitter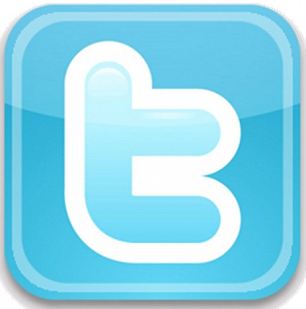 Blogs
CAGJ's blog
AGRA Watch's Blog


SAT October 15, 5:30 - 8:30PM
Food Sovereignty Prize Award Ceremony at Town Hall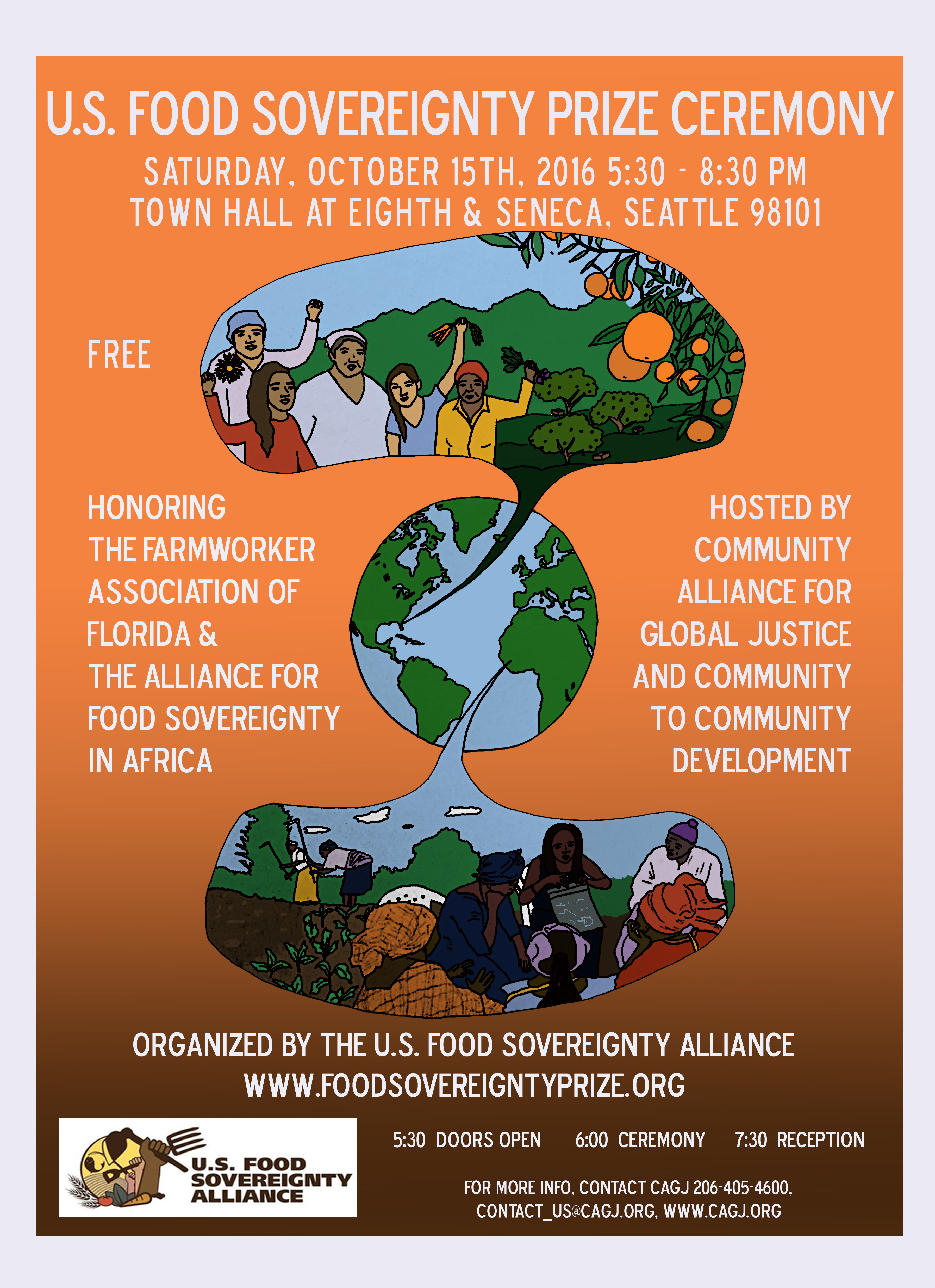 We invite you to celebrate the 8th Annual Food Sovereignty Prize, awarded by the
US Food Sovereignty Alliance
(USFSA) to frontline organizations transforming our food system by building power and creating real community-led solutions to poverty, hunger and climate change. CAGJ is proud to co-host the prize for the first time in Seattle with our partner Community to Community Development (C2C). We will host 25 members of the USFSA for several days of events next week!
OCT 15: 5:30 Doors Open, 6:00 Ceremony, 7:30 Reception
Town Hall Seattle
(Downstairs) at Eighth & Seneca
This event is FREE, but
please register
.
Volunteers needed -
email us
! Help spread the word -
Share the Facebook event
.
Join activists, organizers and community-based organizations from WA and throughout the US for a ceremony and reception to honor this year's winners:
Alliance for Food Sovereignty in Africa
and
Farmworkers Association of Florida
. In the face of increased corporate agribusiness interests threatening their food systems, this year's honorees address critical needs for farmers and farmworkers by strengthening alliances and advancing food sovereignty through the dissemination of agroecological practices.
The USFSA is an alliance of organizers, scholars and working families, dedicated to food justice and food sovereignty in the US. The Prize – an alternative to the Big Ag-sponsored World Food Prize - will be awarded in Seattle for the first time since its 2009 inception. CAGJ was awarded Honorable Mention in 2009, the first year the prize was awarded, and La Via Campesina won; C2C was awarded the prize in 2014.
Learn more about the prize
, and come celebrate with the winners on Oct 15!
---
CAGJ HAPPENINGS
CAGJ is proud to be attending the UN Convention on Biological Diversity meetings held in Mexico this December. We are grateful to Swift Foundation for providing part of the funding, and we will hold a fundraiser in November to support our members -
Donate to CAGJ online
if you wish to support our delegation! AGRA Watch will host a side event titled, "Biodiversity Under Threat: The Gates Foundation, Philanthrocapitalism, and the Capture of African Agricultural Biodiversity". AGRA Watch member Phil Bereano will speak, as well as representatives from the African Center for Biodiversity and Kenya Food Rights Alliance; the event is co-hosted by ENSSER and Third World Network. CAGJ hopes to send our staff - Heather Day and Simone Adler – as well as Food Justice Project Co-Chair Ross Kirshenbaum, and AGRA Watch members Phil Bereano and Johanna Lundahl. Stay tuned for a report-back in early 2017!
New volunteer orientation at 6pm! Please RSVP.
All are welcome! Come find out how to help us organize against the TPP and GE Salmon, for farmworker and food worker rights! FJP's monthly meetings are held the third Monday of every month, however in October we will meet on Monday the 24
th
, due to the Food Sovereignty Prize events the week before. Meetings are held at CAGJ's Office in the ID, 606 Maynard Ave. S. Rm 102, Seattle. For more info,
email Food Justice Project Co-Chairs
, Ross and Jenny.
Location: WA State Labor Council, 321 16th Ave S, Seattle, WA 98144
FREE Reception; Donations accepted for future FUJ organizing support!
Please RSVP
! Join us to celebrate the recent vote for independent farmworker union, Familias Unidas por la Justicia, supported throughout their struggle by Community to Community Development. Representatives of both FUJ and C2C will share their perspectives on this victory, and the struggle to come. Organized by Community Alliance for Global Justice, UFCW 21 and WA State Labor Council.
---
CAGJ NEWS & UPDATES
With deepest respect and admiration, we are excited to share the amazing news that
Familias Unidas por la Justicia
(FUJ) was elected last month to represent farmworkers at Sakuma Bros. Berry Farm in negotiations for a union contract! This is a historic moment in FUJ's long history of courageous and persistent organizing, and gives strength to the broader farmworker justice and labor movements. FUJ was formed in the summer of 2013 to fight for fair wages and dignified working conditions for their workers, and in the last three years they have spearheaded a truly inspiring campaign for justice, rallying supporters both locally and nationally around their cause, with many important gains along the way. Against many odds, FUJ pressed on until some of their key demands were met: a union election and negotiations for a union contract. In a historic secret ballot election on Monday, September 12, farmworkers at Sakuma Bros. Farms overwhelmingly voted for FUJ to represent them, with a 77% majority. FUJ is the third independent farmworker union in Washington state and the first union led by indigenous workers, representing over 500 Triqui, Mixteco, and Spanish speaking workers. Now FUJ has entered a union contract negotiation process and has called off their boycott of Driscoll's and Sakuma products. We applaud Familias Unidas por la Justicia for this remarkable victory that comes as a result of their powerful and tireless organizing, and we stand behind them as they negotiate a contract to secure better pay and working conditions for generations of farmworkers to come. For updates on FUJ's work, visit their
new website
and follow them on
Facebook
. And join us for our celebration woth FUJ and C2C on Nov 18 (see details above)!
By Tammy Morales, UFCW 21
Community advocates are working hard to make sure that grocery workers in the region are protected from poor labor practices and that grocery customers are protected from unsafe food handing. As redevelopment of commercial corridors begins, advocates are asking what kind of business is coming to their neighborhood. Dina Burnstein is concerned that grocery workers are able to keep the high labor standards they have now. "I'm worried that developers are partnering with anti-union grocers instead of courting the local stores we have here in Seattle," says the Capitol Hill resident. One example is New Seasons Market, a Portland-based private equity-backed chain expanding into Seattle's "natural foods" market. New Seasons has a history of unsafe food handling practices, union busting, and workplace safety violations. Worker rights advocates and food justice advocates (including CAGJ) have been waging a public fight since January to keep New Seasons out of the transit-oriented development project next to the Capitol Hill Light Rail Station. "We have to stop that kind of business from coming into our communities. We want to support good corporate neighbors who treat workers fairly," Burnstein says. An action is planned for the grand opening of the Mercer Island New Seasons store November 10
th
. Join in the fight by coming to Mercer Island and telling New Seasons their anti-union practices aren't welcome! To learn more about how you can get involved, contact
Joe Solorio at UFCW 21
.
CAGJ's longtime Treasurer is stepping down – thank you Emma for your years of service to CAGJ! Please help us find the right person for this vital volunteer role in CAGJ! The Treasurer supports our book-keeper to ensure accurate accounting, supports our annual budgeting process, and assists with quarterly and annual taxes.
A full job description can be found here
, and
contact Heather
if you are interested! Thank you!
---
TAKE ACTION
Opposition to Trans-Pacific Partnership is growing, but Corporate lobbyists are hell bent on forcing a vote on the Trans-Pacific Partnership (TPP) during the "lame duck" session of Congress immediately after the election – when politicians' accountability to constituents is at its absolute lowest. If passed, this back room deal would pit workers around the world against each other for the lowest standards, undermine environmental and public health regulations, threaten access to traditional seeds, and undermine local sustainable food systems for decades to come.
That is where we come in.
Let's show Congress that the public is ready to fight back against any attempts to push the TPP through after elections. Take the Lame Duck Pledge of Action! Say NO to any undemocratic attempt to sneak through Congress the biggest Free Trade deal ever negotiated.
Want actual pledge cards to get signed around your community?
Email Gillian
with your address, how many you need, and when you need them by.
---
WED Oct 5, 12:30 - 1:30
Climate Change and Land Rights in Mexico with Indigenous Rights Activist Bettina Cruz
Location: UW Gates Hall Room 127. Join us for a conversation with Bettina Cruz (Mesoamerican Women Human Rights Defenders Initiative) as she discusses the fight against climate change and land rights in Mexico. Bettina Cruz is a defender of Indigenous land rights in Tehuantepec, Mexico. As a binnizá Indigenous woman and member of the Assembly of Istmo of Tehuantepec Indigenous Peoples in Defense of Land and Territory, Bettina works to counter the impact of private companies operating wind farms on Indigenous lands, without obtaining free, prior, and informed consent (FPIC). Bettina is also a member of the National Network of Women Human Rights Defenders in Mexico. In response to her activism, the Mexican Federal Government launched criminal charges against Bettina in 2012. Bettina demonstrated inspiring resilience throughout the course of her trial, which brought threats, assault, and arbitrary detainment against her. These charges were finally dismissed in February of 2015. Sponsored by: Latin American and Caribbean Studies, American Ethnic Studies, American Indian Studies, Center for Human Rights, The Channel Foundation, International Human Rights Clinic. For more info.
THURS OCT 6, 7:30-9pm
Jose Antonio Vargas: My Life as an Undocumented Immigrant
Location: UW Kane Lecture Hall. As a Pulitzer Prize-winning journalist and undocumented immigrant, Jose Antonio Vargas has simultaneously lived a life in the shadows and in broad daylight. Join Vargas as he shares his personal journey, from arrival in America to his role as an activist. There will be a $5 fee for this lecture. This event is open to the public. If you are experiencing a financial hardship to access this lecture, please contact the UW Alumni Association at 206.543.0540. You must register in advance to attend. For more information about Jose Antonio Vargas.
THURS OCT 6, 6:30-9pm
Beacon Food Forest: An Evening with Pandora Thomas
Location: El Centro de La Raza on Beacon Hill #307 2524 16th Ave S. Pandora Thomas, acclaimed permaculture designer, author, teacher, creator of the Black Permaculture Network, speaks about her work in California for transformative social justice and environmental change. This workshop will give you tools for inviting and creating cross-cultural dialogue within the permaculture movement and beyond. Snacks provided. For more information.
SAT Oct 8, 5-8 p.m.
Seattle Tilth's Food Lust
5 PM: Silent auction, drinks & appetizers; 7 PM: Live auction & dinner. Please join us for this fun and exciting evening! Your attendance will support sustainable farmers and make healthy food more available for more people. We look forward to a wonderful evening with you and your guests! Purchase tickets online now. Location: Historic Hangar 30 at Magnuson Park, 7400 Sand Point Way NE, Seattle. For more information, email us

[email protected]

or call (206) 633-0451 ext. 129.
SAT OCT 8, 7:30-10pm
Standing Rock Solidarity Fundraiser
Location: OmCulture, 2210 N Pacific St. The intention of this evening will be to sit in sacred space, sending our love, healing and prayers to the waters and to the people at Standing Rock. We will share information, and ideas on how we can all participate in our own way to help change the patterns here on Earth. This is the time to activate our community and reach out to our brothers and sisters in Solidarity. We will be joined by Coast Salish Native American flutist, storyteller and activist Paul Che oke' ten Wagner. He will offer a prayer in the language of our Salish Sea bioregion for the protection work we are all doing at this important time, also sharing stories from the Coastal Canoe Journey to Standing Rock as well as a prayer song on Native American flute.
The majority of funds raised for this event will go toward sponosoring Indigenous peoples who want to participate in the movement. For more info.
FRI Oct 14
UW Human Rights Conference
Join CAGJ at a human right's conference at the UW, "Human Rights Abuses: Expose the Cover-ups". Help us support human rights cases that are in the midst of litigation by lawyers and human rights activists around the world. There will be a morning panel, bringing together activists, victims, and representatives from various movements/organizations coming together to strategize for justice. A break out session will look at how technology and social media can be an effective tool to broaden human rights efforts. Web conferencing is an option for people who can't attend. For more information, click here to learn more about speakers, the agenda and to register.
OCT 14-25
Social Justice Film Festival
Screening Locations: University Christian Church 4731 15th Ave NE; UW Ethnic Cultural Theatre 3931 Brooklyn Ave NE; NW Film Forum 1515 12th Avenue.Through dozens of strategic partnerships with Pacific Northwest organizations working on issues of social justice, the Social Justice Film Festival exhibits a series of short and feature-length documentaries and narrative films broadly related to social justice, with a special focus on prisoner justice in the US. As a movement, social justice promotes a global culture where equality is achieved on all levels. This includes issues pertaining to incarceration, the environment and sustainability, oppression, race and racism, the arts, animal rights, alternative currency and lifestyles, corruption within the system, and so much more. The festival will showcase works that challenge societal structures all over the globe on a macro and micro level as well as works that challenge the medium. Season passes and tickets are available here.
TUES OCT 25, 7pm
Film Screening -- Seed: The Untold Story
Location: SIFF Cinema Uptown, 511 Queen Anne Avenue N Seattle, WA 98109. Few things on Earth are as miraculous and vital as seeds, but in the last century, a staggering 94% of Earth's seed varieties have disappeared, and many more are near extinction. This harrowing and heartening documentary follows passionate advocates – including farmers, scientists, and indigenous seed stewards – who are waging a David and Goliath battle against the biotech industry in order to defend a 12,000 year food legacy and protect the diversity of our agricultural heritage. Buy tickets here.
THURS OCT 27, 6:30pm
Third Annual UW Farm to Table Dinner
Location: NHS Hall at the Center for Urban Horticulture, 3501 NE 41st St., Seattle, 98195. Do you like good food? Sustainable agriculture? Temporary vegetable tattoos? We hope so! Because that's what the UW Farm's Third Annual Farm to Table Dinner is all about.So come join us at 6:30 PM, October 27th at the NHS Hall at the Center for Urban Horticulture (near the U-Village). The meal will be cooked by the amazing chefs at Chaco Canyon Organic Cafe with vegetables grown by us, along with other local producers such as Nash's Organics, Ralph's Greenhouse, and many more! Funds go to the farm's operating budget, allowing us to increase our capacity as a place of community and learning for students and locals alike! Libations will be available, Vegan and gluten free friendly! Space is limited - register here.
NOV 11-13
Tilth Conference
Location: Wenatchee Convention Center, 121 N Wenatchee Ave, Wenatchee, WA 98801.Every year, the Tilth Conference brings together hundreds of farmers, producers, researchers and food system professionals to network and learn. This is a great way to meet others in your field, enjoy locally sourced meals and participate in fun evening events around Wenatchee. More info.

Thank you for reading CAGJ's e-newsletter!
Forward this E-mail | Unsubscribe | View E-mail in a Browser
CAGJ is funded by the community - Become a Member today!