October E-News:
SLEE Dinner
SAT October 21!
CAGJ HAPPENINGS
TAKE ACTION
CAGJ NEWS & ANALYSIS
COMMUNITY CALENDAR
Get Involved! Upcoming CAGJ Meetings:

Food Justice Project:
3rd Tues/month, 6:30 - 8:30, at CAGJ's office - for more info email us.
 
AGRA Watch:
time varies, for more info email us

Contact us with any questions!
 
Join us on Facebook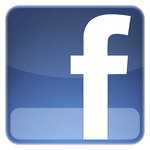 Follow us on Twitter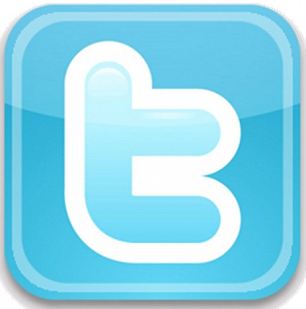 Blogs
CAGJ's blog
AGRA Watch's Blog

 
Join CAGJ for 11th Annual SLEE Dinner!
SAT Oct 21, 5pm Happy Hour, 6:30pm Dinner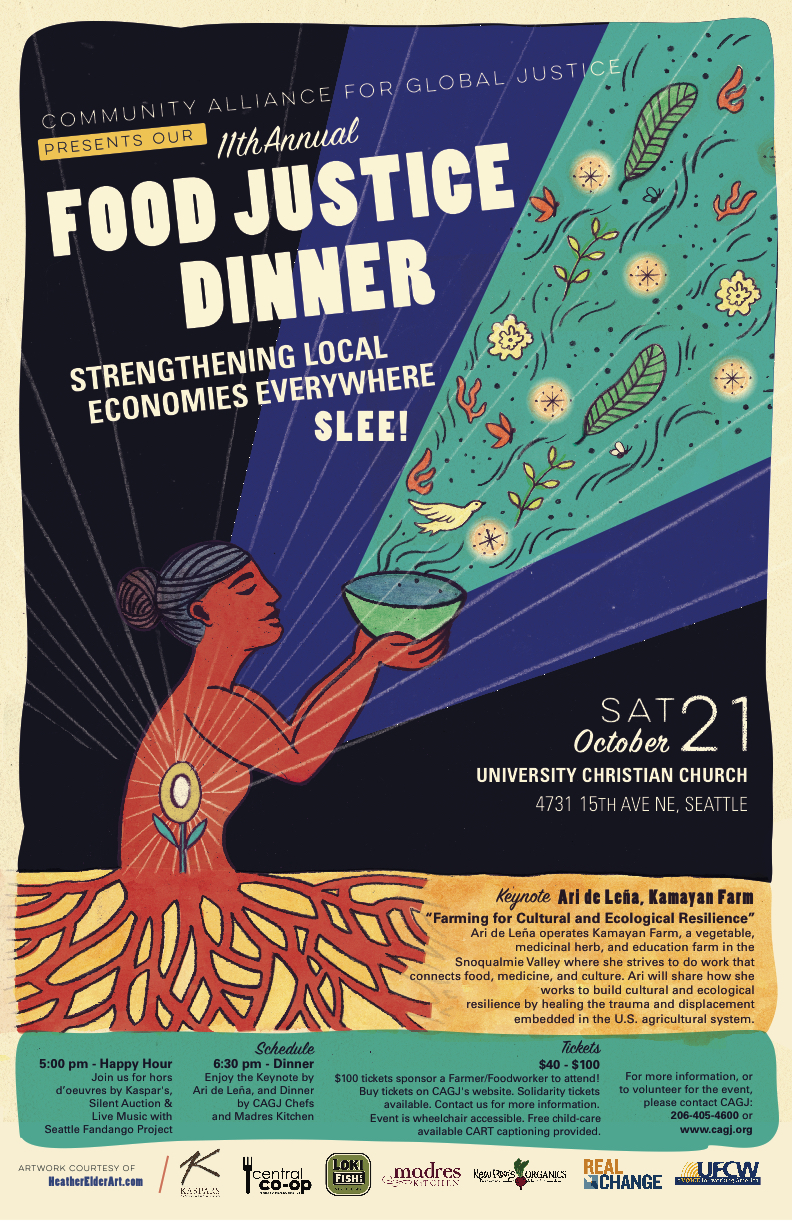 Keynote by local farmer Ari de Le
ñ
a, "Farming for Cultural and Ecological Resilience"
CAGJ's annual SLEE Dinner (Strengthening Local Economies, Everywhere!) is soon! Join us Saturday, October 21 at University Christian Church, where you will get to enjoy Seattle Fandango Project's beautiful music and dancing, Hors d'oeuvres by Kaspars, our fabulous Silent Auction, a delicious Fair Trade and locally-sourced meal, the luscious and fun dessert dash, and a great keynote by local farmer Ari de Leña: "Farming for Cultural and Ecological Resilience"! Watch this 1 minute video of Ari talking about why she farms.
Solidarity Tickets make SLEE accessible to all: Think you can't afford to attend? Think again! We strive to make our dinner accessible to all by offering Solidarity Tickets, ie pay-what-you-can! Or Volunteer and get in for free, and we will feed you. Contact Andrea for more info.
Volunteer in the office before SLEE: We don't have as many interns this year, and need help in the office Tues/Wed/Fri in the coming weeks: Can you lend a hand for a couple of hours? Or come to our SLEE Work Party 10/17 – details below!
Volunteer at SLEE: Dozens of volunteers are the engine of SLEE every year. Come help set-up (10/20 and 10/21), help out in kitchen, or be a server! No experience necessary. We will feed you and treat you well.
Donate to our Dessert Auction
Love baking or seeking out the best sweets in town? Love Food Justice? Great! Donate a dessert to the SLEE Dessert Auction!
---
CAGJ T-SHIRTS AVAILABLE NOW FOR PRE-ORDERS AT DISCOUNT!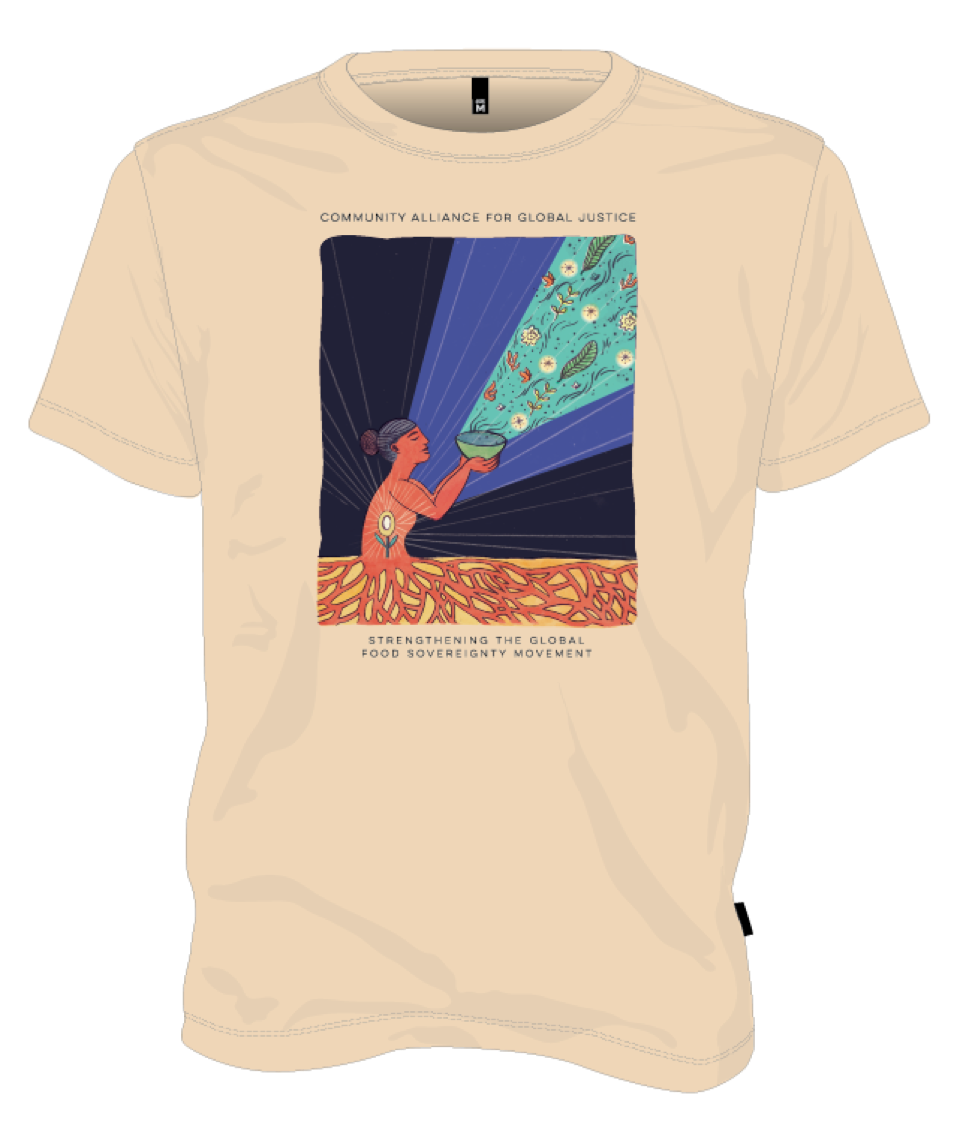 CAGJ is unveiling a new T-shirt at the October 21 SLEE Dinner, so you can show off your food justice pride! Pre-order your 2017 CAGJ shirts today to get $5 off! The price will go up to $25 after the SLEE Dinner.
The shirt's art and design is by Heather Elder, printed by TS Designs. Super soft, 100% certified organic cotton fiber, made in the USA. The text reads "Community Alliance for Global Justice" above the art, and "Strengthening the Global Food Sovereignty Movement" below. Order your shirts in two different styles from our website!
---
CAGJ HAPPENINGS
TUES OCT 17, 6:30 - 8:30PM
Viewing Party! Food Sovereignty Prize & SLEE Work Party
In place of our monthly Food Justice Project meeting we will celebrate the 9th annual Food Sovereignty Prize, an award that honors grassroots organizations challenging corporate control of the food system. We are excited to announce the honorees: Zimbabwe Small Holder Organic Farmers' Forum (ZIMSOFF) and the Northwest Atlantic Marine Alliance (NAMA). You may remember ZIMSOFF's Coordinator Elizabeth Mpofu from when she spoke at Town Hall during the Africa-US Summit, and NAMA's Coordinator Niaz Dorry gave the SLEE keynote in 2014! Read more about them here.
Join CAGJ at our office to watch the Food Sovereignty Prize Ceremony to honor ZIMSOFF and NAMA. Popcorn provided! You are also encouraged to watch the Live webinar of the Prize Ceremony earlier that day (at 9am PST Oct 17: Register to watch it live!).
After the viewing party, we will ask all-hands-on-deck to help us with some fun week-of SLEE prep! Join us at CAGJ's Office in the ID, 606 Maynard Ave. S. Rm 102, Seattle. All are welcome! Please RSVP (appreciated but not required) to Food Justice Project Co-Chair, Christina.
Seven African American and Latinx farmers and farmworkers from the US will be participating in the second South Africa-US Agroecology Exchange October 10-21. CAGJ is co-coordinating the Exchange with WhyHunger and South Africa-based Surplus Peoples Project as an outcome of the 2014 Africa-US Summit hosted by AGRA Watch. The purpose of the Exchange is to build transnational ties among agroecologists and grassroots organizations in order to strengthen the global food sovereignty movement. Delegates will be traveling around urban and rural South Africa to meet with small farmers, agroecologists and organizers to learn and exchange social, political, and technical aspects of agroecology.
We are thrilled that two leaders in Washington's local food sovereignty movement will be joining the Exchange: Edgar Franks with Community to Community in Bellingham, and Dean Jackson with Hilltop Urban Gardens in Tacoma. We look forward to hearing their report-backs – stay tuned for more!
Joint Statement: CAGJ and Muckleshoot Food Sovereignty Project Support the Genetically Engineered Salmon Labeling Act
CAGJ and the Muckleshoot Food Sovereignty Project support S.1528, Genetically Engineered Salmon Labeling Act, sponsored by Senator Lisa Murkowski (AK) and co-sponsored by Senators Maria Cantwell (WA), Dan Sullivan (AK), and Jeff Merkley (OR). As community organizations working toward food justice and food sovereignty, we support consumers' right to know about genetically modified and genetically engineered food. Labeling gives consumers and citizens the agency to make informed choices on what they put in their bodies. As citizens, we have the right to be cautious about buying foods that are produced by biotech corporations using social and technological modes of production that carry potentially far-reaching impacts on environmental sustainability, property rights, land justice, and food system equity.
Our support of this Bill reflects our commitment to thetribal sovereignty of Northwest Native peoples, and the legal status of Northwest Treaty Tribes as co-managers of Washington State fisheries, as secured by the 1974 ruling in United States v. Washington. Northwest tribes have organized to pass multiple resolutions urging federal agencies to restrain GE salmon distribution in U.S. markets until industry and state actors make good faith attempts to confer with Northwest treaty tribes. Labelling laws offer one necessary stopgap measure toward the prevention of biotech corporations proceeding without having made any such consultation attempts, or without adequately addressing the concerns raised by tribes, fisheries biologists, food system experts, environmental groups, food safety organizations, and citizens. Going forward, we hope our elected officials will center indigenous perspectives in debates about these new forms of resource privatization and their effects on tribes and indigenous homelands.
---
TAKE ACTION
Door-Knocking Day: Close the Food Security Gap Door
Come out to support Got Green's campaign to Close the Food Security Gap! Join us in doing community education about how the Sugary Beverage Tax (SBT) will reinvest in communities. After a training on the script for the day, we will break into groups and head out to neighborhoods in South Seattle to talk to community members about the SBT, Fresh Bucks, and how Got Green is working to close the food security gap. This is an important step in making sure communities are aware of the benefits of the tax. Read more background here. Meet at the community Room at Claremont Apartments (3333 Rainier Ave S.) for training and an overview of the day. Please RSVP by FRI OCT 6 to Simone.
Help us spread the word about SLEE! Can you give an hour of your time to leaflet at one these farmers markets?
Ballard, Sunday Oct 8, 10am-3pm

Columbia City, Wed Oct 11, 3-7pm

University District, Sat Oct 14, 9am-2pm
Let us know and we'll set you up with flyers and talking points! Email Andrea to sign up!
Senior trade officials have crafted a proposal for the upcoming round of North American Free Trade Agreement (NAFTA) talks that would eliminate the practice of having independent panels impose binding decisions in trade disputes. Please add your name to demand that any NAFTA renegotiation removes the corporate power grab known as Investor-State Dispute Settlement (ISDS). ReplaceNAFTA will deliver the signatures this month during the fourth negotiating round, set to take place in Washington DC.
---
FRI OCT 6, 7:30 - 10:30 PM
Night of Revolutionary Art & Music: A Seattle CISPES Fundraiser
5655 12th Ave NE, Seattle, WA 98105. This is a free event open to the public. CISPES will be raising funds through a silent auction and asking for donations throughout the evening. Join Seattle CISPES for a night of reveling, musical performances, and art. The Seattle chapter of the Committee in Solidarity with the People of El Salvador (CISPES) is raising money for our partners in El Salvador, including an association of women unionists and the youth secretariat of the leftist FMLN party. There will be a silent auction of visual art donated by local artists, and performances from talented local musicians who are in the CISPES community, playing music about struggle, social justice and radical history. Among the artists scheduled to perform are Kamal & Madeline of the Portage Babes, Rob Dubinski, Jenny McIntosh & CAGJ's Heather Day, Kaeley Pruitt-Hamm, and The Sissy Bas. For more info contact Seattle CISPES.
FRI Oct 6, 6-9:30PM
#SEATTLEMADEWEEK TASTE OF SEATTLE MADE PRESENTED BY CENTRAL CO-OP
- Fremont Brewing, Ghostfish Brewing Company, Lucky Envelope Brewing, Peddler Brewing Company, Pike Brewing Company, and Redhook Brewery are all Seattle Made and all will be at Taste this Friday! Your ticket gets you 7 alcohol pours. Sample each one and then go back to your favorite for seconds! Unlimited food samples, too! 21 + event. Location: Fisher Pavillion, Seattle Center. $35 - Tickets
TUES Oct 10, 6:30– 8:30PM
THE FUTURE OF URBAN MANUFACTURING: SEATTLE'S VIBRANT FOOD AND BEVERAGE PRODUCERS
- If you loved the Taste of Seattle Made and want to dive a bit deeper into the local food scene, join us on at MOHAI as we explore Seattle's food economy, from urban agriculture to urban manufacturing. Featured Panelist: Kari Brunson co-founded Frankie & Jo's with Autumn Martin of Hot Cakes Molten Chocolate Cakery. Frankie & Jo's is a plant-based ice cream shop that is 100% vegan and gluten free. The company has been featured in Sunset Magazine, Martha Stewart Magazine, Bon Appetit, and Tasting Table, and will open its second location in early 2018. Location: MOHAI, South Lake Union. $35 - Tickets
SAT OCT 14, 12 - 6PM
Anti-Racism Workshop: Allies to Immigrants
The second of three workshops 350 Seattle is hosting to advance us on ending racism in our work supporting climate justice. Led by Tara Villalba, Sweetwater, and others. In this workshop we will explore how our economy benefits from displacement and migration; the impact of displacement policies (including those in our past), war, colonization, and global poverty policies; and the current fronts of struggle for immigrants/migrants/refugees today. Location: Duwamish Longhouse
4705 W Marginal Way SW, Seattle, Washington 98106. More info.
SAT NOV 18, 6:30PM
Film Screening: "Promised Land"
Location: East Shore Unitarian Church, 12700 SE 32nd St, Bellevue, 98005.
Promised Land is an award-winning social justice documentary that follows two tribes in the Pacific Northwest, the Duwamish and the Chinook, as they fight for the restoration of treaty rights they've long been denied. In following their story, the film examines a larger problem in the way that the government and society still looks at tribal sovereignty. There will be a Q&A to follow with the producers, and representatives of the Duwamish and Chinook.
Thank you for reading CAGJ's e-newsletter!
Forward this E-mail | Unsubscribe | View E-mail in a Browser
CAGJ is funded by the community - Become a Member today!