June E-News:
Thank you for supporting CAGJ!
CAGJ HAPPENINGS
CAGJ NEWS & ANALYSIS
COMMUNITY CALENDAR
Get Involved! Upcoming CAGJ Meetings:

Food Justice Project:
3rd Tues/month, 6:30 - 8:30, at CAGJ's office - for more info email us.
 
AGRA Watch:
time varies, for more info email us

Contact us with any questions!
 
Join us on Facebook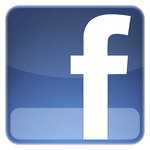 Follow us on Twitter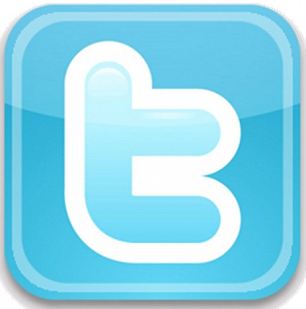 Blogs
CAGJ's blog
AGRA Watch's Blog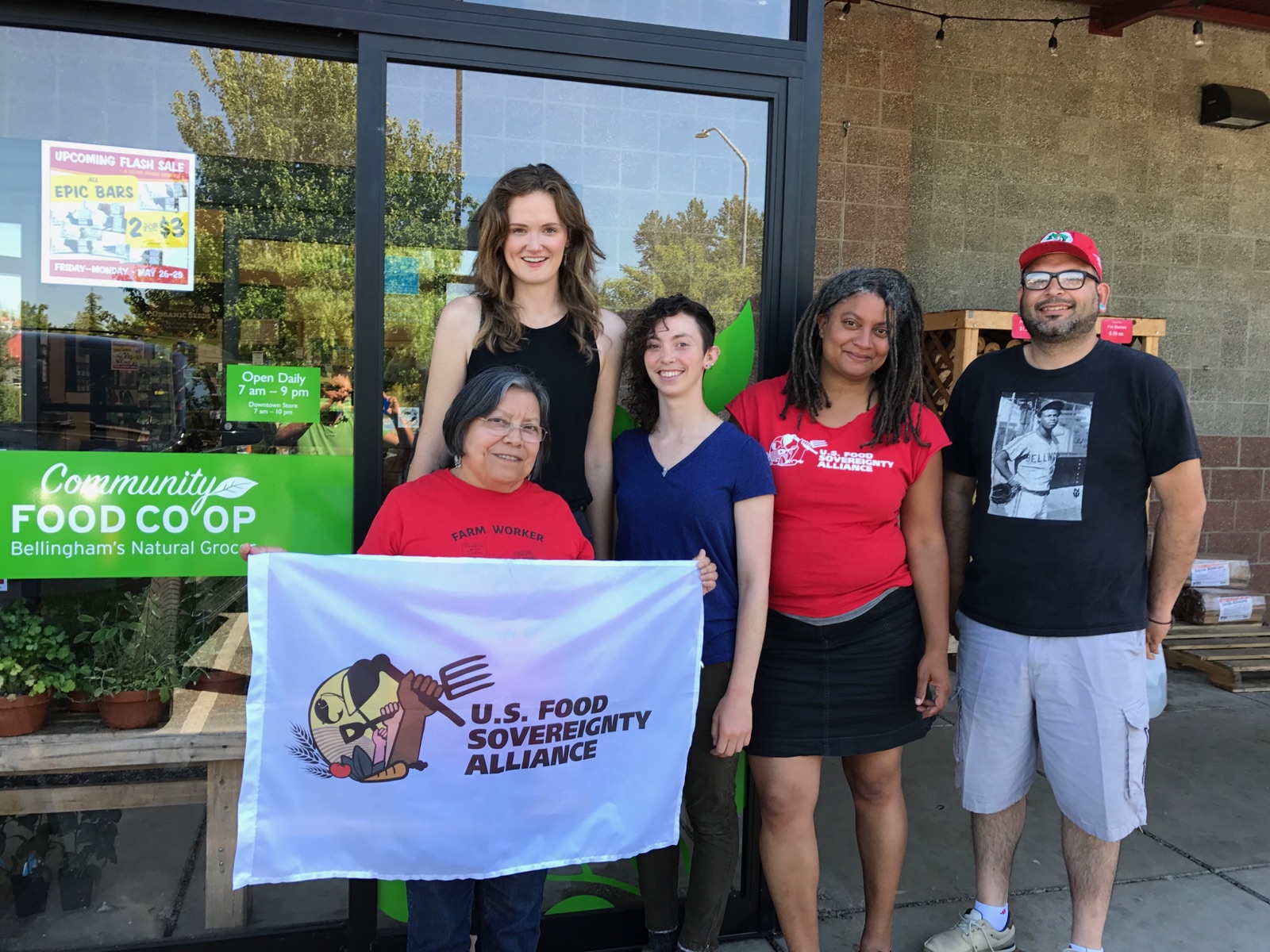 Photo from USFSA Western Regional Convening
Thank you for supporting CAGJ during Membership Month! 
We are so grateful to our community, comrades, and supporters for helping us surpass our initial $7000 membership month goal! Through your donations and a generous $3500 matching grant from UFCW 21 and CAGJ Members, we raised $9,500! THANK YOU!
---
CAGJ HAPPENINGS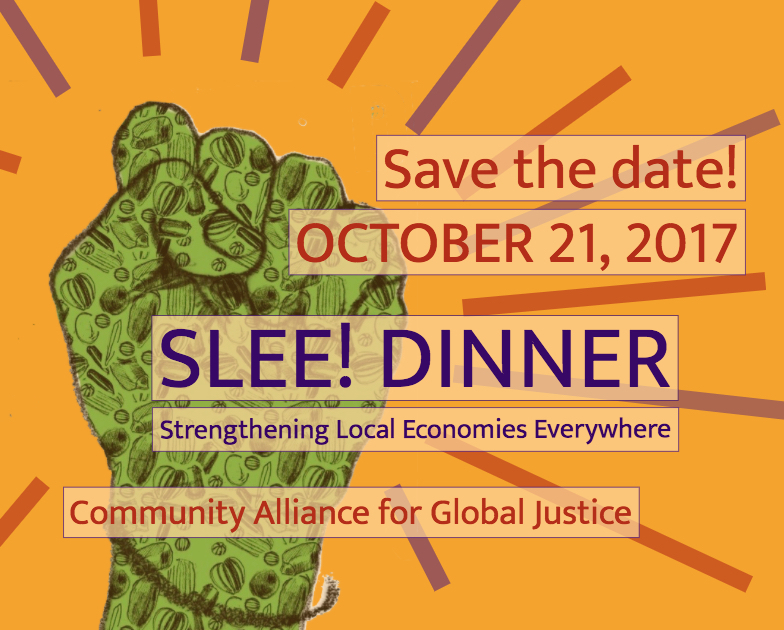 CAGJ's 11th Annual SLEE Dinner
The theme of this year's dinner will be the work of building resilience! Join us for a happy hour at 5:30 showcasing the work of featured local organizations, followed by a delicious meal cooked from locally-sourced Fair-Trade ingredients.
Keynote by Ari de Leña, Kamayan Farm
"Farming for Cultural and Ecological Resilience"
Ari is a queer, mixed filipina farmer who operates Kamayan Farm, a vegetable, medicinal herb, and education farm in the Snoqualmie Valley where she strives to do work that connects food, medicine, and culture. All produce at Kamayan is grown using agroecological methods to support the complexity and resilience of the land and the people it feeds. Ari will share how she works to build cultural and ecological resilience by healing the trauma and displacement embedded in the U.S. agricultural system.
We are now seeking Table Captains and Sponsors – please contact Heather if you would like to support this year's dinner – Thank you!
Educate for Action and Teach Out at Mother Earth Farm
CAGJ is thrilled to partner with Mother Earth Farm in Tacoma to organize two educational events! Our Food Justice Project leaders are working with farmers at Mother Earth Farm to create an Educate for Action workshop for the incarcerated women that come to the farm each week from Washington Corrections Center for Women. And in July, we will bring CAGJ members and volunteers to Mother Earth Farm, an 8-acre organic farm in Puyallup Valley that is part of the Pierce County Emergency Food Network. The farm distributes 80,000 pounds of fresh fruit, vegetables and herbs to food banks and meal sites fresh from harvest. Stay tuned for the Saturday or Sunday July date to come learn about the work of Mother Earth Farm and get your hands in the dirt!
New volunteer orientation at 6pm! Please RSVP.
FJP Meetings are a great way to get involved in CAGJ! At this meeting, we will work on the next steps of our GE salmon campaign, in solidarity with NW Tribes, and ways to support Got Green's campaign to Close the Food Security Gap in Seattle. Meetings are held 3rd Tuesday/month at CAGJ's Office in the ID, 606 Maynard Ave. S. Rm 102, Seattle. All are welcome! For more info, email Food Justice Project Co-Chair, Christina.
Last weekend we participated in the first in-person convening of our Western Region in the US Food Sovereignty Alliance. This new regional structure of the USFSA is an important and exciting transition in our national organizing to follow the leadership of grassroots organizations and better focus our work regionally. Community to Community hosted us in Bellingham, and we were joined by California-based groups Food First, Urban Tilth, and Community Alliance for Agroecology (by phone). We re-committed ourselves to the 2010 founding document of the USFSA, and to strengthening our regional core and clearly articulating our vision, particularly around economic cooperatives and agroecology.
The story-board and animation of our short film about Northwest tribal resistance to GE salmon is moving forward! This film is being co-produced with Muckleshoot Food Sovereignty Project and New Canoe Media, and will be used as an educational tool. 
We are strategizing in coalition on the next steps of our campaign to get a state resolution opposing GE salmon – stay tuned for ways to get involved and check out our report-back from the March 11 event here.
In June, AGRA Watch core member and researcher, Johanna Lundhal, stepped up in her leadership and presented in Professor Devon Peña's anthropology course at UW on "Watching AGRA: Grassroots opposition to the Gates Foundation and the Alliance for a Green Revolution in Africa". We received great feedback on the presentation and are excited about getting more student involvement in our work.
---
CAGJ NEWS & ANALYSIS
Agriculture is dependent upon nutrients found in the soil; humans have been supplementing soil nutrients with external sources such as animal manure very successfully for eons. However, there is a huge push for farmers in Africa to use inorganic or chemical fertilisers. Indeed, the use of inorganic fertilisers is central to the new Green Revolution push and technology package delivered to farmers in Africa. They are central to farm input subsidy programs that are being rolled on the continent via national programs. Their use is also strenuously and politically promoted through regional policies such as the Abuja Declaration on Fertilisers for an African Green Revolution (2006), which calls for an increase in average fertiliser use on the continent. Similarly, the Alliance for a Green Revolution in Africa (AGRA) and many other agencies, programs and projects scattered across the continent in various guises (such as proferring climate smart solutions) have placed increased inorganic fertiliser use at the centre of its activities. 
The African Centre for Biodiversity has created a set of 8 easy-to-read illustrated posters in 10 languages, on organic and inorganic fertilisers. These illustrated posters explain what inorganic and organic fertilisers are and their impacts on biodiversity, soil fertility and the farming systems of small- scale farmers. Check out this important educational tool and download the posters here!
Women own or co-own nearly half the farmland in the United States. The transformative potential of this fact gives us hope. Food First's recent issue brief, Changes on the Land: Gender and the Power of Alternative Social Networks by Angie Carter, explores how some women navigate farmland ownership and management in an ever-shifting farm economy, where women are oftentimes expected to cede power on the land to men. Further, this brief explores the alternative social networks that, together, build social and political power for landscape-level changes among women landowners. 
This brief is abridged from the forthcoming book Land Justice: Re-imagining Land, Food, and the Commons in the United States.
2017 Acequia Agroecology and Permaculture Field School 
If you're a student enrolled at University of Washington, there is an exciting opportunity this summer to work with one of CAGJ/AGRA Watch's esteemed colleagues, anthropologist Devon Peña. Students will work with Native American farmers in Tesuque Pueblo, NM and acequia farmers in San Luis, CO. Our focus is indigenous knowledge of soil biodynamics and seed saving practices. The Acequia Institute partnered with UW to subsidize lodging. Summer B Session. Enroll now; space limited. For add code email Professor Peña at:

[email protected]
---
THURS JUNE 1, 9AM - 3PM
On May 31, the long delayed numbers from the January 2017 One Night Count will be released. Please join us at Seattle City Hall to recognize that unsheltered homelessness in King County is UNACCEPTABLE, and to ring the gong for every person counted. Please come by City Hall Plaza between 9 a.m and 3 p.m. to take your five minutes with the mallet. A speak-out will occur between noon and 1 p.m. Email [email protected] for details.
THURS JUNE 1, 7 - 9PM
This event focuses on the very white Pacific Northwest's struggle with breaking up white hegemony. How can white allies self-examine to encourage more productive interactions with people of color, and how can they fight against racial injustice from a privileged position? Diana Falchuk, Sarah Lippek, Jon Greenberg, Emily Pothast, and Jim Jewell will discuss.   Central Library, 1000 Fourth Ave, Seattle, WA 98104
SUN JUNE 4, 12 - 6PM
Drop in anytime on this festival of social activist groups offering chances to engage in direct actions right away. Buy from socially conscious women vendors, hear music and spoken word, peruse a pop-up art gallery, unwind in the spa, and generally refresh your rebellious soul at this National Organization for Women-sponsored extravaganza. Bring toiletries, socks, and canned food to donate.    Hangar 30 in Magnuson Park 6310 NE 74th Street, Seattle, WA 98115
2ND TUES MONTHLY, 7 - 9pm
Meet with anti-racists for a free discussion with the Rainier Valley Historical Society, SouthEast Seattle Effective Development (SEED), and South Seattle Emerald. This time, the talk will focus on Seattle's status as a sanctuary city, with guest speaker Joaquin Uy of the City of Seattle Office of Immigrant and Refugee Affairs.    Rainier Arts Center, 3515 S Alaska St, Seattle, WA 98118
MON JUNE 5, 7:30PM
Langdon Cook, 'The Search for Wild Salmon'
Town Hall Seattle, 1119 8th Ave at Seneca. Seattle-based writer Langdon Cook writes about wild foods and the outdoors. This is the book launch for Upstream: Searching for Wild Salmon, from River to Table, which presents an in-depth and timely look at salmon—one of the last wild foods on our table. Cook introduces a variety of colorful people associated with this unique species, from Alaskan anglers to fish farm owners to four-star chefs. He discusses Salmon's remarkable place at the intersection of nature, commerce, cuisine, and human history. Tickets are $5 at at  or 888/377-4510. Doors open at 7pm. Downstairs at Town Hall; enter on Seneca Street.
SUN JUN 11 12 - 6PM
March in solidarity with the national Pride March happening in D.C. at the Seattle-wide protest march centered on establishing and upholding the rights of the LGBTQIA community. Beloved organizations like Gay City, the Gender Justice League, GSBA, PFLAG Washington State Council, and others will be in attendance, and all respectful allies are welcome.
THURS JUNE 22 7:30 - 11:55PM
STG Presents Resisting Trump's Shock Doctrine: An Evening with Naomi Klein at the Neptune Theatre on June 22, 2017. Reserved Seating. All Ages. Tickets are $10.00 or $23.50 with a copy of Naomi Klein's book "No Is Not Enough" (not including fees). 
Thank you for reading CAGJ's e-newsletter!
Forward this E-mail | Unsubscribe | View E-mail in a Browser
CAGJ is funded by the community - Become a Member today!