SLEE 2020 Keynote Speaker: Chef Tarik Abdullah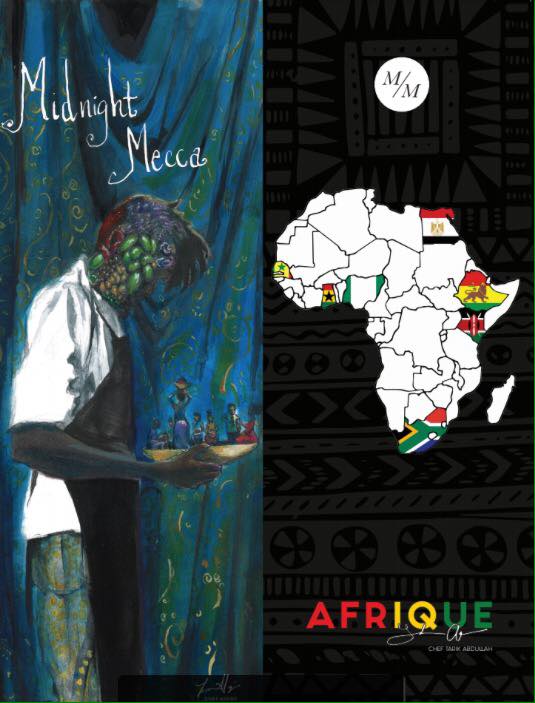 Tarik Abdullah is a chef, artist, innovator, and community activist. His culinary creations honor traditions and use spices spanning from North Africa and South East Asia to the Mediterranean. His cooking is also inspired by the tastes and flavors of his childhood. Growing up in a Muslim family and broader community where ethnic foods were the norm, his artistry comes through not only in his food, but in his everyday interactions with people – sharing his passion for cooking with the younger generation such as teaching at his current project, Midnight Mecca.
COVID-19 and The Seattle Kitchen Collective
In response to the widespread impacts of the COVID-19 pandemic, Abdullah joined The Seattle Kitchen Collective, a group of chefs and restaurants providing meals for free to those in need, no questions asked. Abdullah has been working out of Jimaine Miller's Soulful Dishes in the Central District as Feed The People. Working with Kryse Panis Martin, Chef Ariella Bangs, and Chef Kristi Brown of That Brown Girl Cooks, Feed The People provided 500 community meals in their first week alone. Abdullah has also organized delivery of meals to the elderly in the community who are isolated due to the pandemic.
So far, Feed the People has raised over $13,000! They are able to provide meals and employment to individuals helping keep the community kitchen running. Abdullah and his team, along with the others of The Kitchen Collective, are meeting a vital need in Seattle right now. Read more about The Kitchen Collective.
Abdullah and the Feed the People community kitchen will be taking a 1-week break and will return May 6th. Follow Chef Tarik on Instagram for the latest updates.
Want to donate to Feed the People? Right now, all donations can be made through the chef's personal Venmo accounts below. A new, unified Kitchen Collective Venmo account is coming soon.
Feed The People: @Tarik-Abdullah
More about Chef Abdullah
Abdullah appeared on ABC's "The Taste," a competitive cooking show on which he spent six episodes winning Anthony Bourdain's favor. Shortly after he appeared in "The MUNCHIES Guest to Washington State" on VICE, and a Visit Seattle and REVOLT TV co-production called "Turning Tables", a primetime series that connects music with food. In 2018 he received the Mayor's Arts Award for his passion for building community through food.
If you're hoping to catch a dinner by Abdullah this year, the current pop-up dinner series Midnight Mecca is where he shares love for spices (all events are currently postponed due to covid-19). He invites guests to go on a "spice journey", transcending the palettes of all diners. These monthly intimate dinners, which include cocktails pairing by Damon Bomar of That Brown Girl COOKS!, combine music and more for an amazing dining experience. He also recently started After Dark, a late night pop-up of food, drink, music and lots of smiles located on Beacon Hill.
Recent collaboration highlights include:
Local Seattle Chocolate's J.CoCo brand: a culinary inspired line of chocolates, creating a spice forward dark chocolate bar called "BOHORAT" which includes black peppercorn, cloves, cinnamon and cumin.

Central District Ice Cream Co. (CDICC): creating spice-centric flavored ice creams throughout the year with flavors such as "Mama's Pie" – a sweet potato ice cream with Tunisian five spice, otherwise known as qâlat daqqa, topped with a brown butter pecan granola.
Abdullah has been working with kids since 2000 between Los Angeles and Seattle, teaching them skills he continues to learn through cooking. After working with Coyote Central in Seattle's Central District for a few years as an instructor, he shifted to using his pop-ups as his classroom. In this setting he gives youth ages 10 -18 opportunities in fine dining for 25 guests, from plating to cooking.
#feedthepeople