CALL FOR VOLUNTEERS!
Every year volunteers make CAGJ's SLEE Dinner happen! If you can sign up for a shift on either Friday 9/28 or SAT 9/29, please contact our Volunteer Coordinator at volunteer@cagj.org  – Thank you!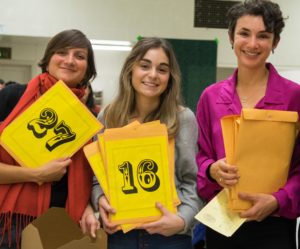 SLEE! Community Alliance for Global Justice presents our 12th Annual STRENGTHENING LOCAL ECONOMIES EVERYWHERE! DINNER and we need lots of help! SLEE! plays a pivotal role in CAGJ's organizing and fundraising efforts, and volunteers make it happen!
WHEN: Volunteers are needed the week before, the day before SLEE – Friday Sept 28 – and also the day-of, Saturday, Sept 29, 2018
WHERE: University Christian Church, 4731 15th Ave NE, Seattle WA 98105
KEYNOTE: Edgar Franks, "The Legacy We Inherit: Luchando por una Vida AgroEcológica"
Edgar organizes farmworkers with Community to Community Development (C2C) in Bellingham, WA. In his keynote, he will reflect on agroecology as a way of life and share their work to ensure the needs of migrant farmworkers are represented on the path toward food sovereignty. Amidst the current political context of deportation raids on workers at the backbone of our food system, we will uplift a liberatory vision that connects food justice and immigrant justice. Join us to celebrate farmworkers who are building community self-determination. Help us build community solidarity while also connecting local and global struggles for justice through this fun, engaging, and inspiring event!
VOLUNTEER NEEDS: We need volunteers for a wide variety of roles. You can choose which role(s) you prefer, or let us know when you are available, and we can assign you where we need people most.
—
WEEK BEFORE SLEE! VOLUNTEER ROLE: SEPTEMBER 24-29
Donation Pick-ups: Anyone with access to a vehicle who has time to help us with silent auction, dessert, and food donation pick-ups! Please LET US KNOW WHICH DAYS/TIMES you are available.
—
DAY BEFORE SLEE! VOLUNTEER ROLES: FRIDAY, SEPTEMBER 28
Dining Room Set-up: 10 – 4pm, (10 people). Come for part or the whole time, but folks are needed especially 10am – 12pm to set up tables and chairs and hang decorations using a tall ladder. It's fun!
Food Prep: 10 – 4pm, (10 people). It's fine if you can only help out a couple of hours!
—
"DAY OF" SLEE! VOLUNTEER ROLES: SATURDAY, SEPTEMBER 29
Food Prep: 2 shifts (10 people/shift)
Shift 1: 9am – 3pm, no experience necessary

Shift 2: 3pm – 9pm, food prep experience would be helpful, but not required
Set up: 12pm – 2pm (8 people): Help set-up the Dining room and other spaces, and make them beautiful!
Registration: Arrive promptly at 3pm to get oriented (very important!), and start welcoming guests at 5pm when Happy Hour starts.
3pm – 7pm (4 people) Enjoy dinner when you're done with check in!

3pm – 10pm (4 people) Enjoy dinner at 7pm, and return by 8:30 for check out.
Bartending: Seeking PEOPLE W LIQUOR HANDLING PERMIT.
Shift 1: 3:30pm – 6:30pm — Set-up and bartend during Happy Hour (2 people)

Shift 2: 6:30pm – 9pm (2 people)
Servers: 4pm – 9:30pm (20 people): No experience or fancy outfit required. Orientation takes place at 4pm, and is necessary to fill this role! Each server will have 2 or 3 tables, and will be serving the same platters of food to every table.
Child Care: 6pm – 9pm (2 people): Help with small group of kids, ages 2 – 11.
Clean Up: 9pm – 11pm (8 people): All hands on deck to clean up after the dinner is over! People with vehicles needed to transport supplies back to office in the International District.
—
Any help is appreciated! Please contact volunteer@cagj.org for more information or to sign up for a shift. Thank you!
Photo credit: Sharon Chang