December E-News:
CAGJ HAPPENINGS
TAKE ACTION
CAGJ NEWS &
ANALYSIS
COMMUNITY CALENDAR
Get Involved! Upcoming CAGJ Meetings:

Food Justice Project:
3rd Tues/month, 6:30 - 8:30; for more info email us.

AGRA Watch:
time varies, for more info email us

Contact us with any questions!

Join us on Facebook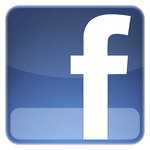 Follow us on Twitter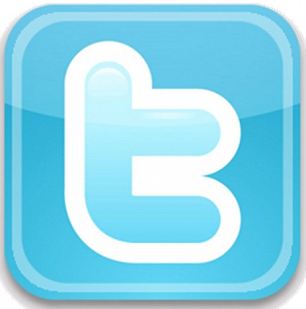 WTO+20 Week of Action: TUES Lisa Fithian, SAT March & Workshop with CAGJ & hear Joseph Stiglitz!
Thank you: WTO+20 was Magical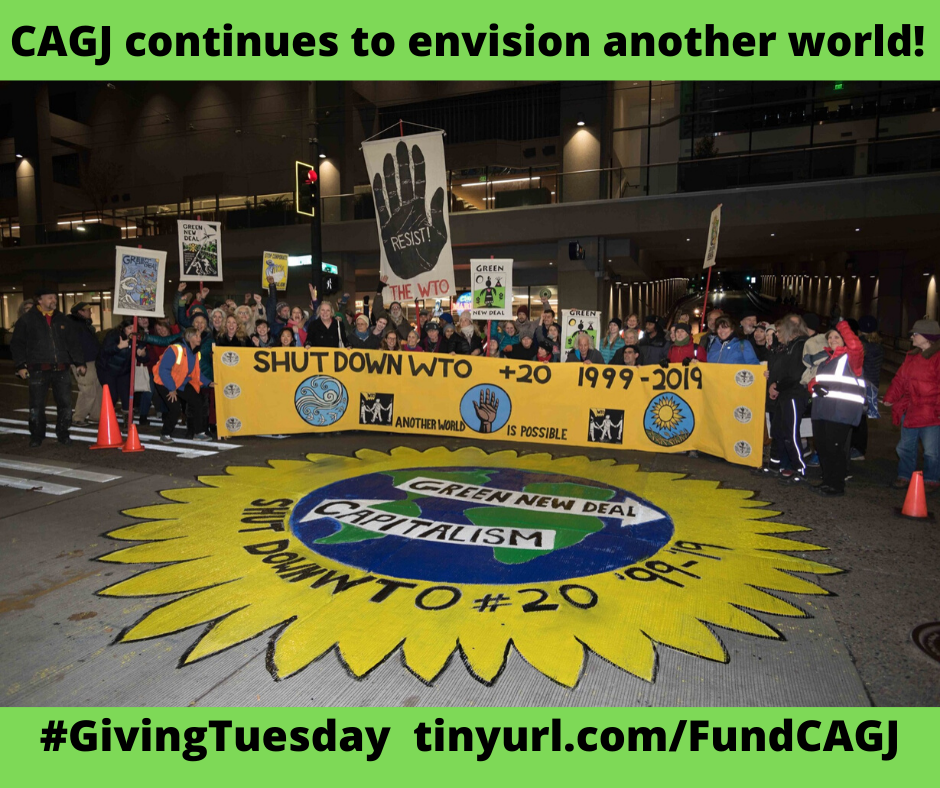 From Vision to Reality: To mark the 20th anniversary of the 1999 WTO protests, CAGJ had a vision: Host a forum with local and international partners to celebrate our victories, and strengthen today's movements, and channel that energy into an action. We are so grateful to everyone who helped make our vision a reality!
Saturday was truly a very special day, with hundreds of participants in our Town Hall Seattle forum, engaging in dialogues, story-telling, and workshops to make our vision of another world possible. David Solnit led us in screen-printing for a Green New Deal, weaving art into our organizing. Then we marched to one of the strategic intersections in front of the Convention Center, and took it over again, painting a giant mural. As Jim Page played his iconic song, "Shut It Down, Didn't We", we felt collective joy while watching footage from the 1999 protests projected onto the site we shut-down 20 years before! A longer report-back is coming; enjoy photos from Elliot Stoller & live-stream videos on CAGJ's Facebook page.

WTO+20 is about remembering, but it's also about celebrating that CAGJ is still here. As one person told me on N30, it's incredible that CAGJ still exists!
On this #GivingTuesday, we invite you to join the magic: Donate to CAGJ to ensure that we can continue to put our visions into practice!
We have a big goal of raising $10,000 by the end of the year. We have worked hard this past year to ensure CAGJ will continue to grow for many years to come. And we can't do it without our Members, who donate 75% of our budget.
Your #GivingTuesday gift strengthens CAGJ and the global food sovereignty movement. Become a Monthly Sustainer at $20/month, or make a one-time donation today! Venmo us @CAGJ-Seattle, or mail a check to our office at 1322 S Bayview St, Seattle WA 98144. #CAGJVision2020
Thank you! Never stop struggling to make another world possible!
-Heather Day, CAGJ Director
---
CAGJ HAPPENINGS
SAT DEC 7th WA Fair Trade Coalition Presents
WTO+20 Rally, March, Workshops, Joseph Stiglitz & Lori Wallach
10AM-12PM Rally at Occidental Park & March - Join CAGJ!: Speakers, street theater, music, and a short march to the Federal Building.
3:30-6PM Trade Justice Workshops at Town Hall Seattle:
Session 1
Environment with Selden Prentice, 350 Seattle and Manuel Pérez Rocha, Institute for Policy Studies

Labor Issues in Trade Policy with Motthida Chin, Verité and Barbara Byrd, Oregon AFL-CIO

Public Health with Leigh Haynes and Julia Robinson, Peoples' Health Movement and Health Alliance International

Immigration with Ricardo Ortega, LELO
Session 2
Indigenous Sovereignty and Extractive Industries with John Sirois, Colville Tribes

Labor Activism That Crosses the Border: Past and Future, Oregon Fair Trade Campaign

Food Sovereignty vs Free Trade with Karen Hansen-Kuhn, the Institute for Agriculture and Trade Policy and Heather Day, Community Alliance for Global Justice

WTO Tech, Data, E-Commerce Expansion with Deborah James, Our World is Not For Sale

Trade and Militarism with Carly Brook, Washington Physicians for Social Responsibility
7 PM Keynote by Joseph Stiglitz and Action orientation with Lori Wallach. Lori Wallach is Director and Founder of Global Trade Watch, a division of Public Citizen. Stiglitz is a Nobel laureate in economics, Professor at Columbia University, and chief economist of the Roosevelt Institute. His latest book is Globalization and Its Discontents Revisited: Anti-Globalization in the Era of Trump. Stiglitz will describe a better way forward - an approach to globalization that balances interests of workers, communities, and the environment with business interests. General admission for the keynote is $20.
Register for FREE & $20 tickets. Contact Hillary for more information: [email protected]
CAGJ Annual Holiday & Member Appreciation Party
Dinner & Libations Provided: Get your Holiday Gifts!
Join us for our annual celebration of all that we have accomplished together in 2019! We want to appreciate our many members who donate their time and funds to make CAGJ's organizing possible! We will provide dinner & libations; please bring something to share if you wish. We will have on hand our Zine & Book, Nikki McClure Food Justice Posters & beautiful T-shirts, to help you fill your gift needs, while also supporting a cause. Location: CAGJ Member Jenny McIntosh's home in Ravenna: Register for location & accessibility info.
Monthly Food Justice Project Meeting
Join the first FJP meeting of 2020!
Location: Our office at Welcome Table Church, 1322 S Bayview St
Click here to RSVP to the meeting!
Coming out of our November meeting, FJP members have some exciting new political education ideas brewing. Join us as we kick off the new year collectively organizing our 2020 FJP topics. Stay tuned for details!
FJP Meetings are a great way to get involved in CAGJ, and are held the 3rd Tuesday/month; note that we will not be meeting in December. New volunteers are invited to our orientation at 6pm: Please RSVP. POTLUCK: Please bring food or drink to share, if you are able. All are welcome! For more info, email the Food Justice Project.
CAGJ Membership Gathering Part 2: Vision & Theory of Change
Location:

Our office at

Welcome Table Church, 1322 S Bayview St, Seattle 98144
. Breakfast, lunch & snacks provided – Register today!
Join us for the second of three membership gatherings during our Strategic Assessment & Planning Process! Together with our consultant Scott Winn, we will focus on developing CAGJ's vision - where do we want to go as a grassroots organization? With a clear vision in mind, we will develop our Theory of Change, and identify the necessary strategies and tactics to get us there. This process will build off our September gathering, the results of our Member Survey, and the consultations we are doing with our campaign partners. YOU are an important part of this process – please join us to help determine how we will transform the food system! Please register today!
Organize with CAGJ! Join CAGJ Leadership
CAGJ is membership-led and driven by leaders in our community. Right now is an exciting time to plug into CAGJ's organizing by stepping into a volunteer leadership role. No experience needed; we believe all members have the ability to become leaders in our organizing. We will support you in developing grassroots organizing and leadership skills as you support the organization's goals and growth. And your role in CAGJ contributes to strengthening the food sovereignty movement! We are currently seeking At-large Co-Chairs for our Steering Committee and Membership and Fundraising committee members. We are also seeking to revive our Advisory Board. Please read role desriptions on our website, reach out to Heather if you want to discuss getting more involved.
---
TAKE ACTION
WTO+20: Rally, March & Workshop with CAGJ!
Join CAGJ at WA Fair Trade Coalition's events this Saturday!
10AM: Help us carry our WTO+20 banner and Green New Deal signs silk-screened on NOV 30!
Email Heather if you can join our contingent.
4:30PM
Food Sovereignty vs. Free Trade
Workshop
: In this interactive session, we'll discuss the food and farm system we want and how corporate-led free trade agreements create obstacles to it in the U.S. and around the world. Led by Karen Hansen-Kuhn, Program Director at the Institute for Agriculture and Trade Policy, and Heather Day, Director of CAGJ.
Tell Rep. Jayapal: NO ON HR 5038
Familias Unidas por la Justicia is calling for action to stop HR5038, the Farm Workforce Modernization Act because it:
creates a false illusion of a pathway to citizenship
further entrenches exploitation, wage theft, and blacklisting that H2A farmworkers face by expanding the H2A guestworker visa program
does not contain a provision for the right to organize
could trigger panic in rural communities without access to advocacy and legal support because Homeland Security would be mandated into payrolls
injured farmworkers are left out of any benefits or rights
farmworkers were not consulting in drafting this bill
benefits larger corporate agricultural interests over human and labor rights
This bill is currently in the House Subcommittee on Immigration and Citizenship. Rep. Jayapal is Vice Chair of this committee, and just last week voiced support on this bill.
Call Rep. Jayapal TODAY and ask her to OPPOSE HR 5038 and support farmworker justice! 206-674-0040
Sample Script:
"I am calling to ask Representative Jayapal to urge her to oppose House Resolution 5038 because it is expands the H2A guestworker program, which creates a false illusion of a pathway to citizenship, and further entrenches the exploitation, retaliation, wage theft, and blacklisting that H2A farmworkers currently face. There is no provision in the bill supporting farmworkers' right to organize, strike, form a union, or collectively bargain. Injured farmworkers are left out of any benefit or rights. This bill benefits larger growers and corporate agricultural interests over human and labor rights. I am following the lead of farmworkers in Washington state denouncing this bill, and ask Representative Jayapal to also follow their lead and oppose this bill."
Support Sustainable Economies for Coal-Impacted Communities: Tell Congress to vote YES on RECLAIM Act
National Family Farm Coalition, Climate Justice Alliance, and other national groups are taking the lead from communities in the Alliance for Appalachia and asking for public action to support the RECLAIM Act, an opportunity to create jobs, empower local communities, and build long-term opportunities for working families in communities where coal has historically been the backbone of the local economy. If passed, the RECLAIM Act will distribute more than $1 billion to states and tribes starting in 2020. This urgently-needed bill is getting lost in the noise of Congress. Call your Members of Congress now to tell them to create jobs by supporting the RECLAIM Act. Learn more.
Call 844-672-5067 to hear a script and be connected with your Representative to tell them to pass the #RECLAIMact.
---
CAGJ NEWS & ANALYSIS
Twenty Years Later the "Spirit of Seattle" Lives On! How the Food Sovereignty Movement Helped Bring Down the World Trade Organization By John Peck, Executive Director, Family Farm Defenders
"This is what democracy looks like!" – that was but one of the many chants heard on the streets of numerous cities during the recent Global Climate Change Strike – a slogan that originated on the streets of Seattle almost two decades ago. When the images and voices of 50,000+ people shutting down a global convergence of wealthy elites rippled across media outlets in late Nov. 1999, the "Battle of Seattle" caught many by surprise. Corporate free trade apologists were quick to disparage the protesters as part of a misguided "anti-globalization" movement, apparently unaware that the forces behind the direct action had been cultivating north-south solidarity for quite awhile – a new more powerful form of globalized resistance from below. Family farmers/fishers, migrant farm/food workers, and indigenous communities were critical to this grassroots victory – in particular, La Via Campesina (LVC) and its many U.S. allies such as Family Farm Defenders (FFD) and the National Family Farm Coalition (NFFC). It was in such epic struggle that the seeds of food sovereignty found fertile ground. I was but one of many who helped organize this historic encounter that brought together a vast array of radical environmentalists, labor unions, anarchists, global justice advocates, and – of course, family farmers, farm/food workers, and other supporters of global food sovereignty. In fact, my very first night in Seattle – Mon. Nov. 29th – I was able to link arms with Vandana Shiva outside the corporate-sponsored WTO welcome celebration. This action was in part organized by Jubilee 2000, a largely faith-based grassroots campaign to expose and eliminate odious debts that had come onto the scene at the huge protest surrounding the G8 Summit in Birmingham, Scotland in 1998. In Seattle, the citizen blockade meant many elites were not able to get to the kick-off "cocktail party", and all those uneaten hors d'ouevres were later dumpster dived to feed hungry protesters at the convergence space. Read the rest of John's reflections.
GGJA Statement Condemning US-backed Coup in Bolivia in Solidarity with the Indigenous Resistance Struggle We share this statement from Grassroots Global Justice Alliance, a fellow member of the US Food Sovereignty Alliance.
Grassroots Global Justice Alliance stands firmly with the Bolivian people to condemn the recent military and rightwing coup against the Indigenous leadership of President Evo Morales Ayma and the Movement Towards Socialism (MAS) party. We support the call of President Morales for a national dialogue and peace, as well as for new elections with fair, transparent, and independent oversight free of US intervention and involvement of the Organized American States (OAS). We demand the safety of MAS party members like Adriana Salvatierra, the chair of the senate who holds the Bolivian constitutional mandate to be interim president and was brutally beaten by the police when she tried to enter the senate chamber. We call for the safety of masses of supporters who have been attacked for mobilizing on the streets opposing the coup and call for an end to the violence in general.
..
We also demand no US intervention inside Bolivia and Latin America. The real intention of the Trump administration's support of the coup in Bolivia is to ensure US neoliberal economic interests in the region including plundering of hydrocarbon and other mineral resources that President Morales had instead nationalized to fund social programs for poverty relief for Bolivians.
Read the rest of the statement.
---
TONIGHT, TUES DEC 3, 7PM
Lisa Fithian - Shut It Down: Stories from a Fierce, Loving Resistance
In case you missed CAGJ's NOV 30 WTO+20 event, here is another opportunity to hear Lisa Fithian - go!
Seward Park Third Place Books: 5041 Wilson Ave S, Seattle WA 98118. Join Third Place Books in welcoming Lisa Fithian with her new book, Shut It Down. Fithian is an anti-racist organizer who has worked for justice since the 1970s. Using creative, strategic nonviolent direct action and civil disobedience, she has won many battles and trained tens of thousands of activists while participating in a range of movements and mobilizations, including Occupy Wall Street, anti-WTO and corporate globalization protests all over the world, the climate justice movement, and more. Fithian has shut down the CIA. She has occupied Wall Street, disrupted the World Trade Organization, and stood her ground in Tahrir Square. She has walked in solidarity with tribal leaders at Standing Rock and defended communities in the wake of Hurricane Katrina. Described by Mother Jones as "the nation's best-known protest consultant," Fithian has been involved in nearly every major protest event for the past four decades. She is living proof that the best way to radically and rapidly transform the ills of our society is through nonviolent direct action grounded in strong beliefs, creativity, and sheer, unwavering courage. Her new memoir, filled with instruction, inspiration, and no shortage of wisdom, argues that civil disobedience is much more than an act of resistance. It's a spiritual pursuit that allows us to reclaim our humanity and protect what we love.
THURS DEC 5, 6 PM – 8 PM
LNG Resistance Gathering
Join 350 Seattle, Sierra Club, Power Past Fracked Gas and others for an LNG Resistance Gathering designed for Seattle area volunteers to help us keep up the pressure on decision makers and spread public awareness about the proposed Tacoma LNG refinery and storage facility. Located at The University Friends Meeting & Friends Center: 4001 9th Ave NE, Seattle. Please RSVP for this free event here; more info.
SUN DEC 8, 2PM
FILM Do the Math: Bill Mckibben & the Fight Over Climate Change
Come for a showing of "Do the Math," which follows author and environmental activist Bill McKibben and 350.org, the organization he co-founded, as they hit the road to raise awareness about climate change and the fossil fuel industry, followed by a discussion. Federal Way Library 34200 1ST Way S Federal Way, more info.
TUE DEC 10, 6:30 – 8:00PM
Invasion: A film about the Unist'ot'en struggle for sovereignty
Community screening and discussion of the film "Invasion." Guest speakers this include Matt Remle, Rachel Heaton, Paul Chiyokten Wagner, and Dakota W Case to discuss local Indigenous struggles such as the LNG facility in Tacoma, and some folx who have spent quite a bit of time at the camp. This event is hosted by 350 Seattle and Mazaska Talks Located at Washington Hall, 153 14th Ave, Seattle, WA 98122, USA. More info.
TUES DEC 10, 2019, 7:30PM
Erika Lee: A History of Xenophobia in the US
Come to hear Erika Lee speak towards the irrational fear, hatred, and hostility toward immigrants which have been defining features of our nation from the colonial era to the Trump era. She is a Regents Professor, Rudolph J. Vecoli Chair in Immigration History, director of the Immigration History Research Center at the University of Minnesota, and Andrew Carnegie Fellow. She is the author of The Making of Asian America and other award-winning books. Located at Town Hall, The Forum: 1119 8th Ave (Entrance off Seneca St.), Seattle, more info.
MON DEC 16, 11AM – 12PM
House On Fire: Sunrise Demonstration for Climate Justice
Join Sunrise Movement Seattle in the fight for climate justice. We will gather at the Federal Building to flood the senators' offices and show them what climate change is taking away from us now and will destroy in the future. Charred and burned diplomas, photographs, and other items of personal significance will represent important and cherished things that have been or will be destroyed in the fire of climate change. Located at The Henry M. Jackson Federal Building, 915 2nd Ave, Seattle. Register; more info.
SAT JAN 18, 2020, 11AM – 2PM
Womxn's March on Seattle 2020
Seattle Womxn Marching Forward, an affiliate of Women's March, and March On, has been organizing the Womxn's March on Seattle, since November 2016. On Saturday, January 18th, we will come together again for the 4th anniversary of the Womxn's March. Beginning with a rally at Cal Anderson Park, ending with a march downtown. This event is hosted by Seattle Womxn Marching Forward and will begin at Cal Anderson Park Capitol Hill. More info.
MON JAN 20, 9AM – 3PM
HUG Food Sovereignty Day of Action
Hilltop Urban Gardens in Tacoma will be hosting its annual MLK Food Sovereignty Day of Action on January 20th. Come out for MLK Day and do some work in your community! Snacks and lunch provided for all volunteers. This is a multi-generational event and very family-friendly. There will be indoor activities in case of stormy weather. Location: Peace Community Center in Tacoma. Please register here.
Thank you for reading CAGJ's e-newsletter!
Forward this E-mail | Unsubscribe | View E-mail in a Browser
CAGJ is funded by the community - Become a Member today!