July E-News:
Join our Summer Membership Gathering TUES Aug 4!
CAGJ HAPPENINGS
TAKE ACTION
Finance the Frontlines!
CAGJ NEWS &
ANALYSIS
COMMUNITY CALENDAR
Get Involved! Upcoming CAGJ Meetings:

Food Justice Project:
3rd Tues/month, 6:30 - 8:30; for more info email us.

AGRA Watch:
time varies, for more info email us

Contact us with any questions!
Social Media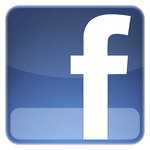 Join us on Facebook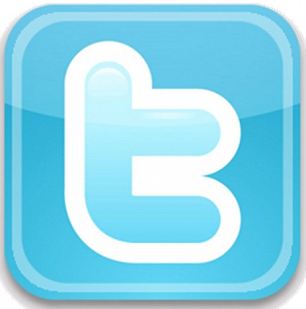 Follow us on Twitter
TUES AUG 4, 6:30 - 8:30 PM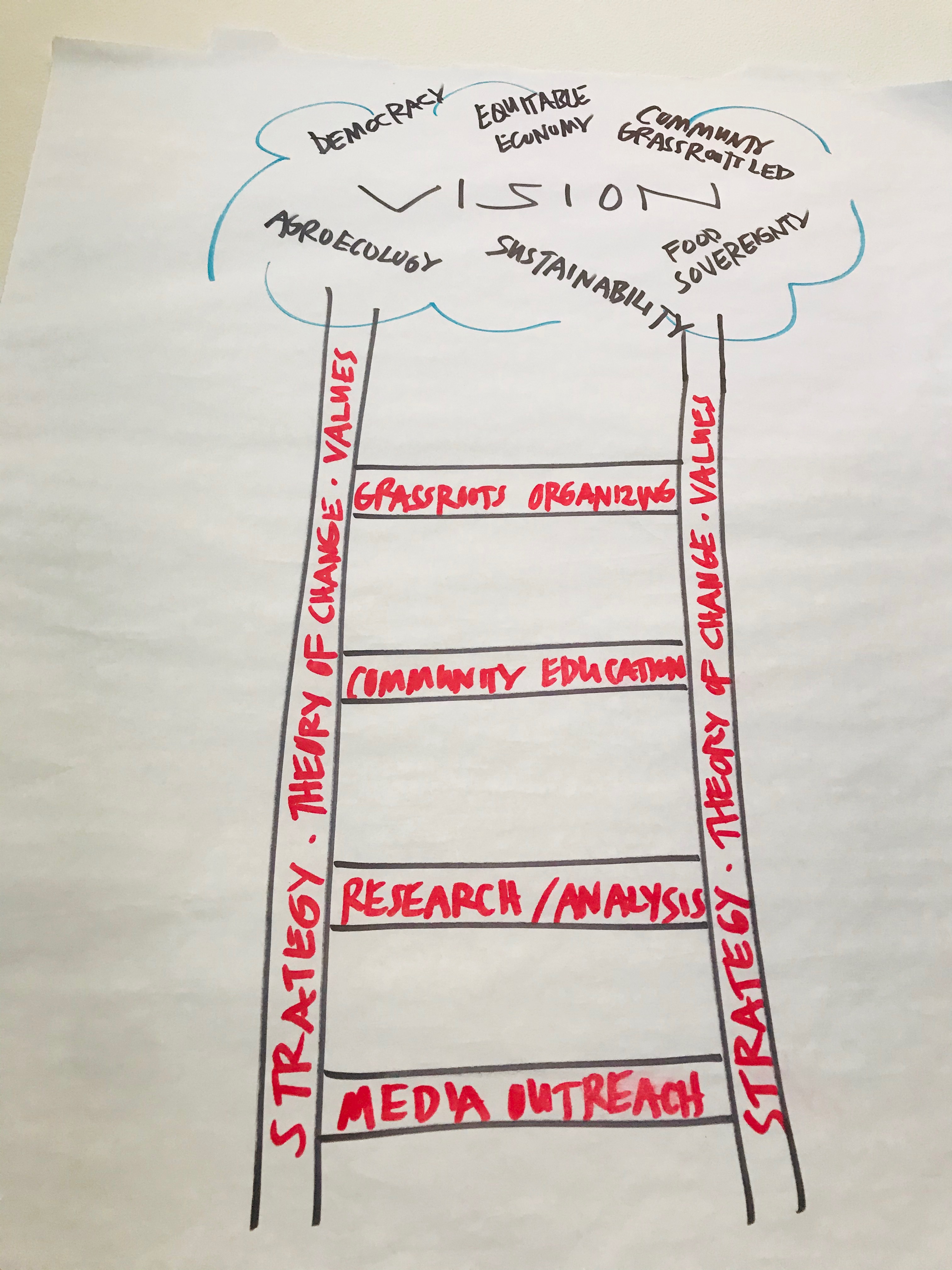 Summer CAGJ Member Gathering: Be Part of Deciding CAGJ's Future!
Over the past year, CAGJ has engaged in a strategic assessment and planning process, led by our Dream Team - a dozen committed members. We are excited to present the fruit of our collective labor - our updated Vision, Mission and Theory of Change - for our Members' approval! The process has been guided by our consultant Scott Winn, who will facilitate the August 4th gathering. This will be the fourth Membership Gathering since our strategic planning began in June 2019. The goal of this process has been to reinvigorate CAGJ by engaging our members in reflecting on our purpose in the food sovereignty movement and our role in the current political moment, with a commitment to leading with a racial equity lens. We hope you will join us to help decide CAGJ's future, and to learn about how you can get involved in the next steps of our organizational assessment. For more info, contact Heather.
CAGJ/AGRA Watch Solidarity Webinar with African Food Sovereignty Movement & Launch of New Publication!
Registration is required:
click here
. The Zoom link will be sent the day before the event.
Join us as CAGJ's AGRA Watch campaign presents our new publication, "Messengers of Gates' Agenda: A Study of the Cornell Alliance for Science Global Leadership Fellows Program"!
Our illustrious panelists will respond and contextualize the report:
Mariam Mayet, Founder and Executive Director,

African Centre for Biodiversity

Elizabeth Mpofu, Farmer, founder of

ZIMSOFF

and General Coordinator of La Via Campesina
Raj Patel, Author, activist, and

research professor

in the LBJ School of Public Affairs at The University of Texas at Austin and a senior research associate at the Unit for the Humanities at Rhodes University.
Farmworker Organizing in the Face of the Pandemic: Update from Familias Unidas Farmworker Union
At the end of June, CAGJ hosted a well-attended webinar for Rise Up! Summer School participants and others, "Farmworker Organizing in the Face of the Pandemic". We were joined by Edgar Franks, Organizing Director with Familias Unidas por la Justicia farmworker union, and Angie Lara, member of the organizing committee at Allan Brothers Fruit in Naches, WA. Angie gave moving testimony on the working conditions in fruit-packing plants, what it's like to risk your life as an essential worker, and lose one of your co-workers, and the organizing struggle for safer conditions. Due to the lack of emergency measures in place to protect Farmworkers, the pandemic continues to peak in rural areas. Yakima County now ranks third highest in single-county infection rate of coronavirus on the West Coast; Los Angeles County is first. Watch the video on CAGJ's YouTube channel, and donate to CAGJ's Finance the Frontlines fundraiser for Familias Unidas por la Justicia today; we aim to raise $20,000 by the end of the summer (learn more in Take Action below)!
Cultivating Resilient Food Systems in Times of Crisis
CAGJ is hosting Rise Up! Summer School during the summer of 2020. Registration is now full. However, we are making all curriculum available to everyone interested! This month we are focusing on the current state of food system, and addressing these topics: Corporate control of the food system, Agribusiness impact on climate crisis, Food workers' rights and food security in a pandemic, and Philanthrocapitalism.

Our highlighted CAGJ Campaign is solidarity

with the African food sovereignty movement. Check out our amazing resources on our website!
Monthly FJP meetings will resume in September
The Food Justice Project will not meet in June, July or August, while we host Rise Up Summer School. We will resume our monthly meeting schedule - 3rd Tuesday/month - in September. However, there are many other ways to get involved in CAGJ! For more info, please contact CAGJ's Director Heather, who can help to plug you into our organizing!
14th Annual SLEE will be virtual
We can now confirm that SLEE! 2020 will be held VIRTUALLY on October 17! The health and safety of our community is incredibly important to us. CAGJ is committed to providing you and your guests with the information, connections, and experiences that have made SLEE such a powerful event year after year. We are currently in the process of transitioning all of the amazing elements of SLEE to a virtual setting and will provide updates as soon as we are able.
Check out our Facebook event page for the latest updates.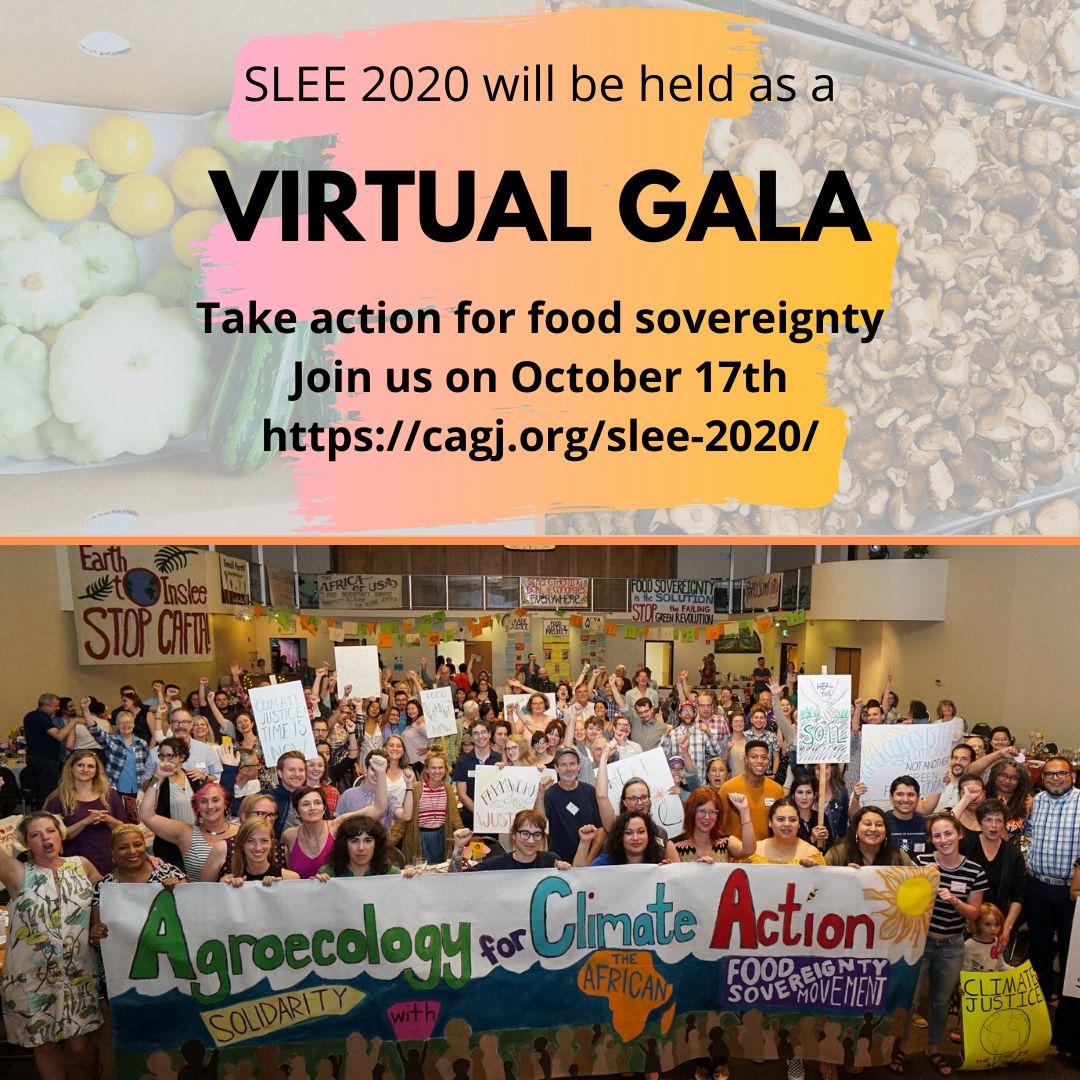 Support the SLEE Virtual Gala!
Purchase Tickets online! Learn about our Keynote, Chef Tarik Abdullah. His keynote, "Feed the People: Food, Kids, Community" will highlight the hope embodied by youth on the front lines of the food justice movement.
Donate to Silent Auction! Personal services (we can help you come up with social-distancing adaptations!), a unique community experience, cabin get-away, massage, gift certificate, garden kit… the possibilities are endless! The Silent Auction is a central part of SLEE, and your donation will help us create amazing auction packages that anyone would want to bid on. If you're ready to donate to the auction, you can use this form.
Be a Virtual Table Captain! Table Captains will still play a vital role in our virtual gala! Help bring new people into the work of food sovereignty and build CAGJ's base! Invite as many people as you would like; tables are $400 – $1000 sliding scale. Learn more here!
Sponsor SLEE! Sponsors give a financial or in-kind donation to help make this event happen. You will receive recognition at the event, on our poster, website, and in the event program.
Please see this flyer for more information about the benefits for financial or in-kind donations.
To support SLEE, please contact this year's coordinator, Sara Lavenhar: sara(at)cagj.org - Thank you!
---
TAKE ACTION
Donate to Support Familias Unidas por la Justicia (FUJ)
CAGJ has been organizing in solidarity with Familias Unidas por la Justicia (FUJ) for many years. An independent farmworker union formed in 2013 by workers at Sakuma Berry Farms in Burlington, WA, FUJ is only the third independent farmworker union formed in Washington state in 30 years and the first union led by indigenous workers, representing over 500 Triqui, Mixteco, and Spanish speaking workers.
When COVID-19 started impacting fruit-shed workers in Eastern WA, FUJ staff traveled over the mountains, ultimately supporting striking workers at six fruit packing plants in Yakima County. While conditions improved due the worker organizing, there are still many challenges, and FUJ continues to provide on the ground support. (Learn more in our recent webinar with FUJ.)
Despite the critical leadership role played by FUJ in these and many other worker struggles, their organizers often go months without pay due to funding shortfalls. They have been hit especially hard over the past several months due to members losing income after berries froze late in the season, and the ripple effects of COVID-19. In particular, while their members are "essential workers" and pay taxes, they are not eligible to receive CARES Act relief.
This summer, as part of Rise Up! Summer School, CAGJ has a goal of raising $20,000 for FUJ - 10K from individual donations, and 10K from organizational matching gifts; we have already raised close to 10% of our goal in the past week. Join CAGJ in demonstrating that workers' lives are more important than profit!
How you can help Finance the Frontlines:
Reach out to your friends: Join CAGJ's grassroots fundraising team - it's easy! On CAGJ's page, click "I want to fundraise for this" and create your own page, to share on social media. If we can get 100 people to raise just $100 each, we will reach our 10K goal. CAGJ will provide sample social media posts, memes, and talking points.

Make an individual contribution: Even if you can't organize your friends to donate, you can contribute directly to our goal today: Click here to donate to FUJ - Thank you!

Ask your group to make Matching Gift: Are you part of a congregation, union, or community group? Please ask them to help match the 10K being raised by Summer School members, and donate online to our campaign!
Contact Heather if you want to help out with the campaign - Thank you!
---
CAGJ NEWS & ANALYSIS
Uplift BIPOC Food Sovereignty Leadership
CAGJ has created a new web-page for Anti-Racism Resources. In the age of COVID-19 and the global uprising for Black lives, resource lists abound; we hope ours will be useful to our members and the broader community for raising consciousness to take action. The resource list includes: Anti-Racism & Black History Articles/Resources; BIPOC Farms & Food Sovereignty Organizations; Anti-Racism & Black Liberation Organizations. Our focus in compiling these resources is to highlight how racism shapes our food system, and to uplift the leadership of Black, Indigenous and People of Color (BIPOC) who are organized and building food sovereignty in resistance to racial capitalism. CAGJ has previously shared information about Black-owned farms with whom we have had the privilege to collaborate, with the intention of encouraging our members to redistributing resources their way. Here we expand that list: SUPPORT THESE FARMS & ORGANIZATIONS - Thank you! Check it out and please share widely.
An excerpt of a powerful statement written by Million Belay, Coordinator of AFSA - Alliance for Food Sovereignty in Africa on June 8, 2020, after witnessing the murder of George Floyd: "The knee on George Floyd's neck is the same knee that is on our neck. It is the same knee that justified colonialism on Africa. It is the same knee that sees Africa not for what it has, but for what it's lacking. Those who are putting their knee on our neck look at us as stupid, uncivilized, barbaric, clueless and disease ridden, to be controlled and directed by the all-knowing and powerful human race. We cannot breathe in Africa as policy spaces in the continent are crowded by outside actors and their cohorts, the bell boys. They create a powerful narrative, they design our policies to suit their needs, they influence our legislations, they formulate our education system so that the products of the system serve their purpose, and they denigrate our culture so that we lose ours and become subservient to their cultures." Read the full statement.
This week CAGJ/AGRA Watch added our name to a sign-on letter circulated by HOMEF, an ecological think tank advocating for environmental and climate justice and food sovereignty in Nigeria and Africa at large. "According to the Director of HOMEF, Nnimmo Bassey, the said regulatory pathways for genetically engineered vector control of mosquitoes are actually rigged pathways to make our environment the test ground for the risky and needless experimentation. "From our experience with genetically modified food crops in Nigeria, having the provisions in place to regulate the release of such organisms is equivalent to express permits for their introduction as the agency responsible for this regulation acts more like a promoter of the technology than a regulator. Nigeria must show leadership in the protection of African biodiversity and not allow an agency of government run amok with whatever technologies promoters suggest to it." Bassey added that tampering with genetic materials of living organisms is already creating problems in the world with the emergence and spread of zoonotic infections occasioned largely by loss of genetic diversity and habitat losses due to such manipulations." Read the rest of the article

.
Must pay for Environmental Damage
As reported by Komo News
"

Monsanto will pay $95 million to resolve a lawsuit by the state Attorney General's Office over the company's manufacturing, marketing and distribution of toxic polychlorinated biphenyls (PCBs). Attorney General Bob Ferguson says it is the state's largest independent state environmental recovery against a single entity. In 2016 Washington was the first state to file a lawsuit against Monsanto over its PCBs, asserting that the company produced PCBs for decades while hiding what they knew about the toxic chemicals' harm to human health and the environment. Monsanto was the only U.S. company to produce PCBs from 1935 until it was banned in 1977." Read the rest of the article.
---
SAT July 11, 2:00pm-4:00pm
The River That Made Seattle: A Natural and Human History of the Duwamish
Join author BJ Cummings for a short talk featuring slides of historic and contemporary photographs and reading of excerpts from the book. Discussion and Q&A with the author and guests from the river's native, immigrant, and industrialist histories.
Learn more
.
Activized | Meaningful Movies
"Activized" (36 min.) follows the stories of seven ordinary Americans who, for the first time in their lives, have left their comfort zones and become involved in gun violence prevention, voting rights and immigrants' rights. Learn more and sign up
here
. Review the Meaningful Movies calendar
here
for many social and racial justice movies and discussions screening in July.
Ibram X. Kendi on "How to Be an Antiracist"
2019 Guggenheim Fellow and New York Times bestselling author Ibram X. Kendi will discuss his renowned book "How to Be an Antiracist". Praised as "The most courageous book to date on the problem of race in the Western mind" (New York Times), Kendi's groundbreaking work has provided a major new counterpoint in the national conversation about race in America and resonates in this, our collective moment of reckoning. Learn more and sign up
here
.
November 13-15, 2020, in Lynnwood, WA
The Tilth Conference
The Tilth Conference takes place in November to celebrate the slowing down of the production season. Over the course of three days, farmers, food system professionals, researchers and educators have the opportunity to learn from one another and share best practices, catch up with old friends, and make new connections. Covering a range of scales, experience levels, and interests, knowledgeable presenters speak on topics such as crop and livestock production, pest and weed management, marketing, certifications, land access, and opportunities and challenges in sustainable and organic agriculture. An industry trade show takes place throughout the weekend as well as a farm tour, keynote speeches and social events providing attendees with numerous networking opportunities. More information on Tilth Alliance website.
Thank you for reading CAGJ's e-newsletter!
Forward this E-mail | Unsubscribe | View E-mail in a Browser
CAGJ is funded by the community - Become a Member today!