June E-News:
SLEE is July 9!
CAGJ HAPPENINGS
TAKE ACTION on the TPP!
COMMUNITY CALENDAR
Get Involved! Upcoming CAGJ Meetings:

Food Justice Project: 3rd Tues/month, 6:30 - 8:30, for more info email us.

AGRA Watch:
time varies, for more info email us

Contact us with any questions!

Join us on Facebook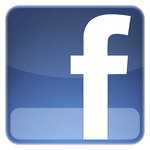 Follow us on Twitter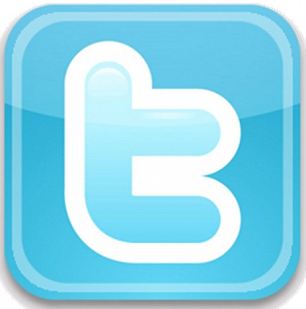 Blogs
CAGJ's blog
AGRA Watch's Blog


Celebrate 15 Years of CAGJ at our SLEE Dinner on July 9th!
Get your Tickets now for CAGJ's 10th Annual Strengthening Local Economies Everywhere Dinner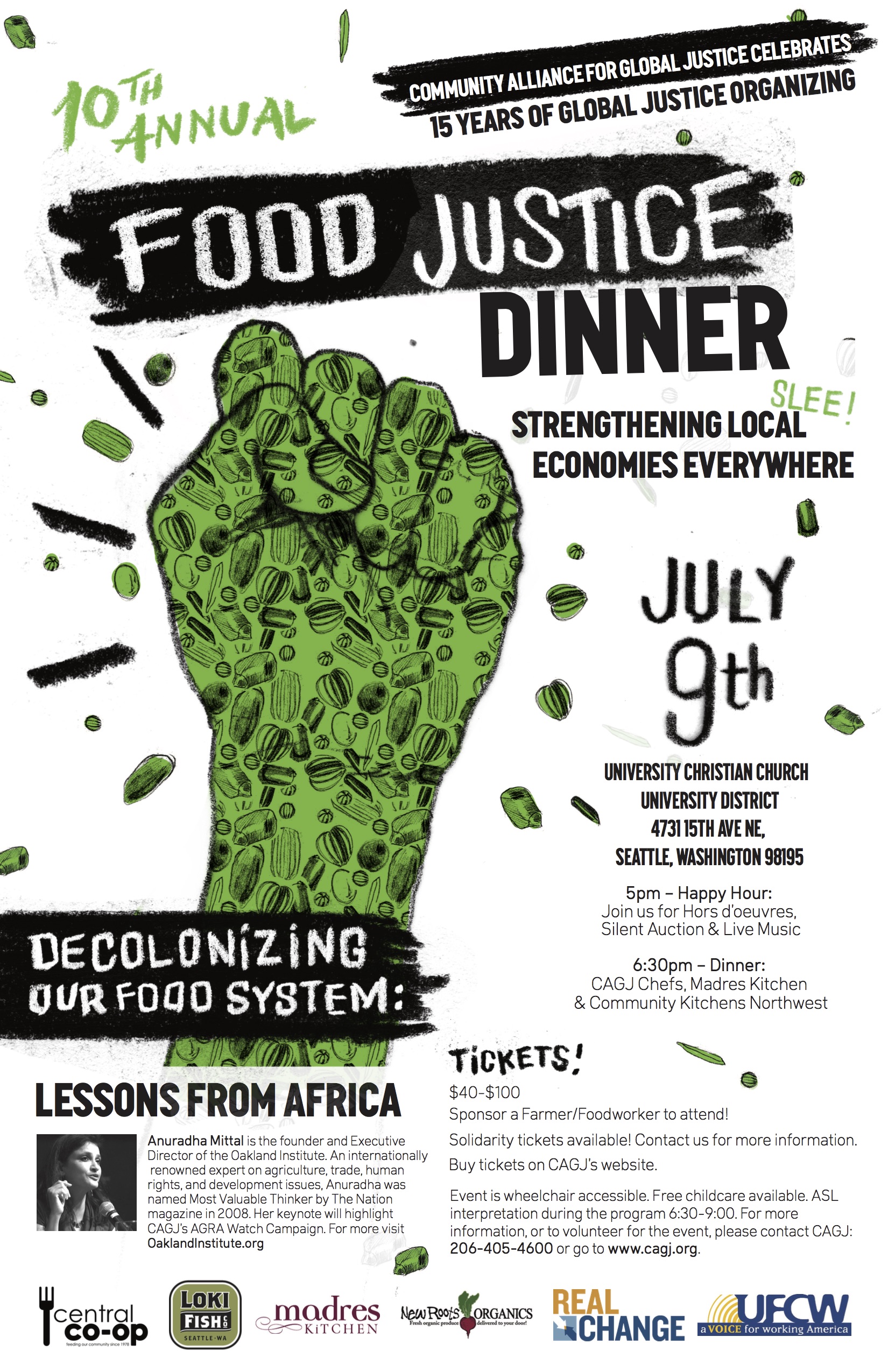 Featuring keynote and world renowned global justice author Anuradha Mittal, who will give the keynote, "Decolonizing our Food System: Lessons from Africa"! Music by local artist Wren, sumptuous fare from local farms, Loki Fish Co, Madres and Kaspars, and desserts and a silent auction will make for a delectable evening not to be missed! Tickets for sale at Brown Paper Tickets: $40 - $100 Sliding Scale. Solidarity Tickets also available: contact us for more info!
Want to hear more about our SLEE Dinner and get involved? We'll be having an informal potluck and meet and greet June 16th at CAGJ Executive Director Heather Day's home. We encourage all interested in volunteering to join us and see what SLEE is all about!
RSVP to Erika
.
Already know you want to Volunteer for the SLEE Dinner? GREAT!
Volunteers needed! Last year we had 75 people that helped make the dinner happen. We still have volunteer needs for servers, assistant cooks, photographers, and many other roles. Volunteers are well-treated and well-fed! Please
email Coral
if you are interested in helping out.
Looking to build up your experience and resume in fundraising, events planning and nonprofit development? CAGJ is looking for a few lovely summer interns to help us bring our SLEE Dinner to life. AGRA Watch is also seeking research and event planning interns. If you're interested, please
email us
and learn more about our current needs
here
.
---
CAGJ HAPPENINGS
MON June 20, 6:30 - 8:30pm
Farmworkers Fighting for Justice: Report-Back from Familias Unidas West Coast Tour
Note: This event was re-scheduled due to a scheduling issue last month.
Location TBA. Join us to hear directly from the local independent farmworker union Familias Unidas por la Justicia about the exciting outcomes of their recent tour of the West Coast and how their organizing is strengthening the farmworker justice movement nationally and internationally. Suggested Donation: $5 - 20 but no one will be turned away for lack of funds! Light refreshments provided. All funds raised will help FUJ members offset tour expenses and support their continued organizing throughout the upcoming season. Hosted by Boycott Sakuma Seattle & Community Alliance for Global Justice. For more info,
contact Jenny
.
TUES June 21, 6:30 - 8:30pm
Monthly Food Justice Project Meeting with Guest Talk: "Tribal Food Sovereignty in the Pacific Northwest
"
New volunteer orientation at 6pm! Please RSVP.
Location: CAGJ Office, 606 Maynard Ave S, Seattle 98104. Join us to organize for food justice and sovereignty in 2016! To deepen CAGJ's knowledge for our GE salmon campaign, Janna Lafferty will give a presentation at our June meeting, "
Tribal Food Sovereignty in the U.S. Pacific Northwest
". Janna is a FJP volunteer, and is pursuing her Ph.D. in Cultural Geography. More about her talk: "Northwest tribal communities are revitalizing their traditional foods, and engaging the global politics of food sovereignty. How does tribal food sovereignty organizing intersect with the broader alternative food politics movement? How can settler alternative food activists be an ally to indigenous communities and their food and nutritional struggles? This talk will review tribal food sovereignty efforts in the northwest, and will address the challenges and opportunities raised by these efforts for those committed to a just, healthy and sustainable food system in Washington State."
RSVPs appreciated
, but not required, and our meetings are always potlucks - bring something if you are able!
Thanks to new grants from Small Planet Foundation and Swift Foundation, who also funded our 2014 Africa-US Food Sovereignty Summit, CAGJ will be hiring for both our Co-Director position and AGRA Watch Organizer position later this summer! We will post job descriptions as soon as we are able. For more info, please
contact Heather
.
There were a few obstacles, but regardless CAGJ's awesome Members pulled through and delivered an amazing Membership Month (extended to two months due to website challenges!). Thank you to everyone who donated directly to CAGJ and during our biggest Give Big day of giving ever! We raised over $5000, thus meeting our Matching Grant goal! Thanks again to UFCW Local 21 and our anonymous Members for making the Matching Grant possible!
Every year CAGJ fundraises for Got Green, one of our Food Justice Project Solidarity Campaign partners. We are $240 away from reaching our goal of $1000 for this Saturday's Green-a-Thon.
Can you donate $10 - $100 to help CAGJ's team reach our goal?
Why should you donate? Got Green leads the movement for climate justice in WA state! Got Green moves youth and people of color into the center of the most important social justice struggles in our city. Got Green's organizing with low-income women of color in South Seattle for food sovereignty shows we can ensure good food is accessible to everyone when we fight for it. CAGJ learns so much from Got Green's grounded community organizing, we want them to be as strong as possible! The Green-a-Thon is this Saturday June 4. You can still
RSVP here to join the fun
, 10am-3pm.
---
TAKE ACTION on the TPP!
Help us reach 500 signers on TPP Food Petition: only 67 to go!
Come to June 25 Tacoma Rally & Festival for Trade Justice!
CAGJ is using this petition to draw attention to what the Trans-Pacific Partnership (TPP) would mean for food justice, both globally and in our local community. We have gathered 433 signatures on the
petition
, launched by 350Seattle with the support of CAGJ and WA Fair Trade Coalition, urging our WA Reps to vote NO on the TPP due to the threats it represents to healthy food and farming. The petition will be delivered in meetings we're organizing this summer with our undecided Reps – Kilmer and Del Bene! Please sign and then post on Facebook or Twitter: here are a few sample posts: You have a right to know what's in your food! Support transparency by saying NO to the TPP #NoTPP. The TPP will make it harder to keep our food safe. Support food safety by saying NO to the TPP: #NoTPP. Support local farmers by saying NO to the TPP #NoTPP. Don't forget to include this link!
http://350seattle.nationbuilder.com/tpp_foodletter
Location: Wright Park, Tacoma
. Join hundreds of South Sound residents to demonstrate your opposition to what would be the largest trade deal in history, the Trans-Pacific Partnership (TPP). NOON: Rally against the TPP, with short speeches from labor, environmental, and community organizations. FOLLOWING THE RALLY: The rally will be immediately followed by a trade-themed festival. Bring your families and friends for live music, performances, craft stations, and free food. Play for prizes in our Carnival of Corporate Greed and compete with your neighbors in the Three-Legged Race to the Bottom and Democracy Tug-of-War. Sign up here for updates, to volunteer, or to put together a team.
---
COMMUNITY CALENDAR
FRI June 10, 6 PM - 8:30 PM
Location: Duwamish Longhouse, 4705 W Marginal Way SW, Seattle, Washington 98106. Women of Color Speak Out on "Climate Change and Systems of Oppression". We connect capitalism, colonialism, racism and the prison industrial complex to climate change. We will discuss subjects of war, corporations, banks, slavery, private prisons, poverty, and white supremacy. Women of Color Speak Out are four Seattle local climate justice activists: Sarra Tekola, Afrin Sopariwala, Yin Yu, and Zarna Joshi. They were at the forefront of the Shell No protests and have presented at community centers, women's prison, universities and high schools. Members are associated with various environmental justice grassroots collectives such as Got Green and Rising Tide Seattle. We will be saying farewell to Sarra Tekola as she prepares for her next chapter, grad school. We will celebrate all that she is and has offered to us. Hosted by Race and Climate Justice and 350 Seattle; Co-sponsored by CAGJ, and many others! Carpool: Limited parking. Help spread the word on Facebook.
SAT June 11, 7pm
"Just Eat It" - This is a movie about food waste in America
Location: Sanctuary Covenant Church, 4502 Rucker Ave Everett 98203. See this free documentary on May 20, May 26 & June 11! Check out the Just Eat It website. Watch the trailer! About the film: We all love food. As a society, we devour countless cooking shows, culinary magazines and foodie blogs. So how could we possibly be throwing nearly 50% of it in the trash? Filmmakers and food lovers Jen and Grant dive into the issue of food waste from farm, through retail, all the way to the back of their own fridge. After catching a glimpse of the billions of dollars of good food that is tossed each year in North America, they pledge to quit grocery shopping and survive only on discarded food. What they find is truly shocking. Produced by Peg Leg Films' Jenny Rustemeyer; 75 min run time. A facilitated discussion with a speaker/panel follows the film-screenings. Sponsored by Meaningful Movies, Co-sponsored by CAGJ.Learn more from Meaningful Movies!
TUES June 21, 7:30PM
Gary Paul Nabhan: Biodiversity in the City
Town Hall, Great Hall, entrance $5. National Pollinator Week is a time to celebrate pollinators and spread the word about what you can do to protect them. Seattle's 2016 Pollinator Week keynote address, by Gary Paul Nabhan, Ph.D. (Ethnobiology for the Future, The Forgotten Pollinators), offers a broad-ranging and visionary perspective on bringing food biodiversity back into the city. Agricultural historian Peter Hatch of Monticello has called Nabhan "the lyrical scholar of genetic diversity." He has been been named as a pioneer and creative force in the "local food movement" and seed saving community by Utne Reader, Mother Earth News, New York Times, Bioneers and TIME Magazine. Nabhan is the recipient of many honors, including a MacArthur "Genius" award, and several honorary degrees and lifetime achievement awards.
SUN June 26, 4:00 PM
Film Screening and Conversation with Migrant Youth
Location: Central Cinema, 1411 21st Ave, Seattle, WA 98122. Advance Tickets $8 - Purchase from Central Cinema. Watch the Trailer. Share the event on Facebook. Seattle Premiere of Every Row a Path, Documentary Film. In the berry and tulip fields of Washington State's Skagit Valley, migrant teenage girls struggle to balance family and school with back-breaking agricultural work. Statistically, they are destined to fail, but five young women are determined to beat those odds. In 2015, in collaboration with Reel Grrls and filmmaker Jill Freidberg, five young migrant women set out to document their lives. They wanted to educate others about the challenges of being young, female, and migrant in Washington State's Skagit Valley. Join those same five women for a screening of the short film, Every Row a Path, followed by a conversation with migrant youth. This event will be an opportunity to learn more about the migrant experience. Educators who work with migrant and/or undocumented youth are especially encouraged to attend. All screening proceeds go to the Dreamfields Project and the Migrant Leaders Club of the Mount Vernon School District.

Thank you for reading CAGJ's e-newsletter!
Forward this E-mail | Unsubscribe | View E-mail in a Browser
CAGJ is funded by the community - Become a Member today!