41 Legs Urban Farm Dinner with Eric Holt-Giménez
On Saturday October 24, CAGJ's Director Heather Day and her husband Travis English will host special guest Eric Holt-Giménez, Director of
Food First
, for a fundraising dinner for CAGJ. REGISTRATION REQUIRED - Please click "Register" button!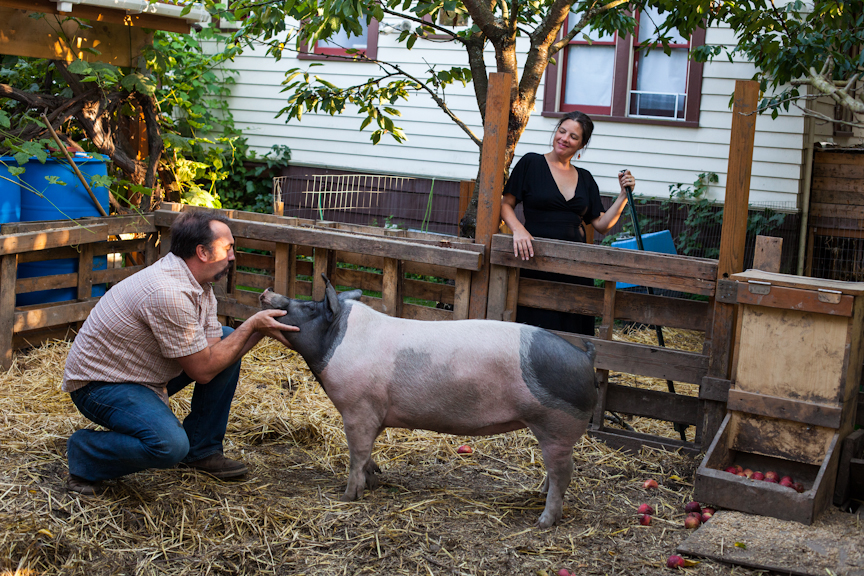 You are invited to enjoy a memorable seven course meal, with ingredients sourced from local producers, including Heather and Travis's own home in Madison Valley, where they operate 41 Legs Urban Farm. Come to support CAGJ and experience an intimate dining experience with 14 other guests. A few of the likely courses:

Chestnut Vermouth Soup, Smelt with Smoked Paprika Corn Cakes, Labneh and Ikura, Baked Oysters and Seasonal Sorbet (all-vegetarian menu upon request).
TICKETS & REGISTRATION
Tickets are $250 per person, and space is limited to 14 people. Funds raised will guarantee that CAGJ can continue to play a leading role in our local, national and international food sovereignty movements! Registration and pre-payment required (Click Register button).
ABOUT 41 LEGS URBAN FARM
Heather and Travis live on a double-lot in central Seattle that they named 41 Legs Urban Farm. They have grown food and raised animals there since 2006 (including Babette the pig, pictured in photo). They are dedicated to building community through regular Farm Dinners at their home. Both had long careers in restaurants. In addition to being the lead Chef at CAGJ's annual SLEE Dinner, Travis recently created Loki Fish Co.'s Kitchen, cooking wild salmon at farmers markets. To support her organizing, Heather worked front of the house for twenty years in many well-known restaurants in Seattle, including Maximilien in the Market, The Pink Door, The Virgina Inn and The Hi-Spot Cafe.
ABOUT SPECIAL GUEST ERIC HOLT-GIMENEZ
Eric is Executive Director of Food First, celebrating 40 years of food activism this year. Eric has long been at the forefront of the food justice movement. In addition to being an accomplished researcher and author, he has been involved in many organizing efforts, and was one of the participants in CAGJ's Africa-US Food Sovereignty Strategy Summit in October 2014. On October 27 this Fall, CAGJ is hosting his talk at the UW, entitled "Climate, Food and Race: Challenges for the Food Movement".
Eric is a firm believer in the power of social movements to be the catalysts for transformative change.
In his own words, "Successful social movements are formed by integrating activism with livelihoods. These integrated movements create the deep sustained social pressure that produces political will—the key to changing the financial, governmental and market structures that presently work against sustainability."
Reserve promptly to not miss out on this opportunity! Please click "Register" button - Thank you!
October 24th, 2015 5:30 PM through 9:30 PM
403 29th Ave E




Seattle

,

WA

98112
| | |
| --- | --- |
| Dinner Guest | $ 250.00 |
| Dinner Guest | $ 200.00 |
| Dinner Guest | $ 150.00 |
| Dinner Guest | $ 100.00 |