Book Group
Join us for lively book and article discussions the 4th Wed of every month. We have read many amazing books on food and agricultural issues, and there is much more to learn . . . so please bring your thoughts and book suggestions! Contact us at bookgroup@cagj.org for more info.
Next Book Group Meeting
August 2012
Messages from Frank's Landing: A Story of Salmon, Treaties, and the Indian Way by Charles Wilkenson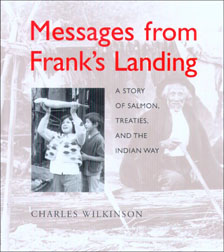 When: August 22, 6:30-8:30pm
Where: Meridian Park – Meridian Ave N & N 50th St, in the Wallingford Neighborhood
Bring a picnic item to share, and come early to catch the end of the farmer's market!
"Billy Frank, Jr., has been celebrated as a visionary, but if we go deeper and truer, we learn that he is best understood as a plainspoken bearer of traditions, a messenger, passing along messages from his father, from his grandfather, from those further back, from all Indian people, really. They are messages about the natural world, about societies past, about this society, and about societies to come. When examined rigorously — not out of any romanticism but only out of our own enlightened self-interest — these messages can be of great practical use to us in this and future years'" — Charles Wilkinson, from the Introduction.
In 1974 Federal Judge George H. Boldt issued one of the most sweeping rulings in the history of the Pacific Northwest, affirming the treaty rights of Northwest tribal fishermen and allocating to them 50 percent of the harvest able catch of salmon and steel head. Among the Indians testifying in Judge Boldt's courtroom were Nisqually tribal leader Billy Frank, Jr., and his 95-year-old father, whose six acres along the Nisqually River, known as Frank's Landing, had been targeted for years by state game wardens in the so-called Fish Wars.
By the 1960s the Landing had become a focal point for the assertion of tribal treaty rights in the Northwest. It also lay at the moral center of the tribal sovereignty movement nationally.The confrontations at the Landing hit the news and caught the conscience of many.
Like the schoolhouse steps at Little Rock, or the bridge at Selma, Frank's Landing came to signify a threshold for change, and Billy Frank, Jr., became a leading architect of consensus, a role he continues today as one of the most colorful and accomplished figures in the modern history of the Pacific Northwest.
In "Messages from Frank's Landing", Charles Wilkinson explores the broad historical, legal, and social context of Indian fishing rights in the Pacific Northwest, providing a dramatic account of the people and issues involved. He draws on his own decades of experience as a lawyer working with Indian people, and focusing throughout on Billy Frank and the river flowing past Frank's Landing. In all aspects of Frank's life as an activist, from legal settlements negotiated over salmon habitats destroyed by hydroelectric plants, to successful negotiations with the U.S. Army for environmental protection of tribal lands, Wilkinson points up the significance of the traditional Indian world view — the powerful and direct legacy of Frank's father, conveyed through generations of Indian people who have crafted a practical working philosophy and a way of life.
Drawing on many hours spent talking and laughing with Billy Frank while canoing the Nisqually watershed, Wilkinson conveys words of respect and responsibility for the earth we inhabit and for the diverse communities the world encompasses. These are the messages from Frank's Landing. Wilkinson brings welcome clarity to complex legal issues, deepening our insight into a turbulent period in the political and environmental history of the Northwest.
Charles Wilkinson is Moses Lasky Professor of Law at the University of Colorado, Boulder. In addition to the standard law texts on Indian and Federal public land law, he is the author of numerous books, including the recently published "Fire on the Plateau: Conquest and Endurance in the American Southwest".
March 2012
Bringing it To the Table by Wendell Berry
Details:
Where: Marisa's House (4725 5th Ave NE, 98105)
When: March 28, 2012 at 6:30-8:30pm
Bring something edible to share!
Book Description:
Only a farmer could delve so deeply into the origins of food, and only a writer of Wendell Berry's caliber could convey it with such conviction and eloquence. Long before Whole Foods organic produce was available at your local supermarket, Berry was farming with the purity of food in mind. For the last five decades, Berry has embodied mindful eating through his land practices and his writing. In recognition of that influence, Michael Pollan here offers an introduction to this wonderful collection.
Drawn from over thirty years of work, this collection joins bestsellers The Omnivore's Dilemma, by Pollan, and Animal, Vegetable, Miracle, by Barbara Kingsolver, as essential reading for anyone who cares about what they eat. The essays address such concerns as: How does organic measure up against locally grown? What are the differences between small and large farms, and how does that affect what you put on your dinner table? What can you do to support sustainable agriculture?
A progenitor of the Slow Food movement, Wendell Berry reminds us all to take the time to understand the basics of what we ingest. "Eating is an agriculture act," he writes. Indeed, we are all players in the food economy. (256 pages)
Available from the library and local bookstores!
February 2012
Food Movements Unite! Strategies to Transform our Food Systems
When: February 22, 2012 6:30-8:30pm
Where: Chaco Canyon Cafe, 4757 12th Avenue Northeast  Seattle, WA 98105
In the first half of  Food Rebellions: Crisis and the Hunger for Justice Eric Holt-Giménez, Raj Patel and Annie Shattuck provide a trenchant analysis of the root causes of the global food crisis. The second half of the book is dedicated to exploring solutions to the crisis; both the false solutions advanced by the managers of the global corporate food regime, and the grassroots solutions—both practical and political—being advanced by the world's food movements. Reflecting the transformative desire for just, sustainable, and democratically-controlled food systems, the book ends by stating: "The global food crisis has brought us together. We can end the injustices that cause hunger. There has never been a better time."
The 21 activists and practitioners contributing to this work write "from the trenches" of the food, fuel and environmental crises have much to say about our food future and the potential of this unprecedented "movement of movements." From the writings of Raj Patel, author of Stuffed and Starved and Olivier De Schutter, UN Special Rapporteur on the Right to Food, to João Pedro Stédile of the Brazilian Landless Worker's Movement, this insightful book is a window into the thinking and actions of the people committed to bringing us affordable, healthy food in ways that harm neither the planet nor its people. Read More
Purchase the book from Food First!
January 2012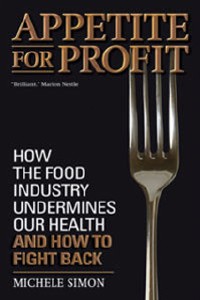 Appetite for Profit: How the Food Industry Undermines our Health and How to Fight Back
Facilitated by John Fawcett-Long:
A few years ago a small group of us associated with the Washington Sustainable Food and Farming Network (WSFFN) started to study the presence and impact of corporate agribusiness in Washington state. Al Krebs, now deceased and author of The Corporate Reapers, worked with us. I would like to restart that effort so that at a minimum we can report on what's going on in Washington and monitor these corporations.
Description from the Book's website (www.appetiteforprofit.com):
The United States is currently embroiled in a national debate over the growing public health crisis caused by poor diet. Many people are starting to ask who is to blame and how can we fix the problem, especially among children? The major food companies are responding with a massive public relations campaign. These companies, including McDonald's, Coca-Cola, Kraft, and General Mills are increasingly on the defensive. In response, they are pretending to sell healthier food and otherwise position themselves as "part of the solution." All the while, they continue to lobby against commonsense nutrition policies.
This book explains how to fight back by offering reliable resources. Readers will learn how to spot the PR, how to not be fooled, and how to organize, for example, to improve school food. Appetite for Profit, for the first time:
Explains why we cannot trust food corporations to "do the right thing"
Describes the local battles of going up against the powerful food lobbies
Offers a comprehensive guide to the public relations, front groups, and lobbying tactics that food companies employ to trick the American public
Provides an entertaining glossary that explains corporate rhetoric, including phrases like "better-for-you foods" and "frivolous lawsuit"

May 2011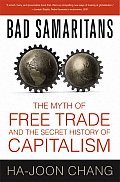 Bad Samaritans; The Myth of Free Trade and the Secret History of Capitalism, by Ha-Joon Chang, Bloomsbury Press, 2008. Ever tried to debate an economist on the merits of free trade? Ha-Joon Chang, renowned economist at Cambridge, 'uses irreverent wit, an engagingly personal style, and a battery of examples…to blast holes in the…orthodoxy of Thomas Friedman and other liberal economists who argue that only unfettered capitalism and wide-open international trade can lift struggling nations out of poverty.'  Trade justice activists who heard Ha-Joon speak in Seattle recently were blown away by the clarity of his arguments and strong historical perspective!  With the US Congress about to vote on the US-Korea Free Trade Agreement, now is the time to learn from a South Korean economist why "free trade" agreements don't make sense!  Contact us for location details! Buy at Powell Books here.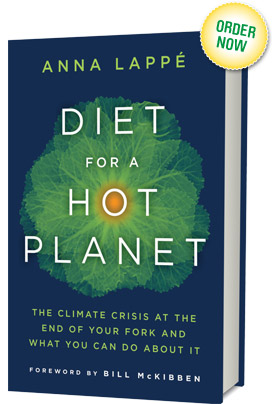 Diet for a Hot Planet: The Climate Crisis at the End of Your Fork and What You Can Do About It – by Anna Lappé. This 2010 nonfiction explores the connections between diet and climate change. Lappé discusses what a climate-friendly diet would consist of, what social and political changes would need to take place in order to permit people to consume such a diet, and the resistance to such changes on the part of politicians and industry around the world. Despite this resistance, there have been numerous climate-friendly diet success stories; Lappé celebrates these successes and explores just what allowed for their success.  Read more about Anna Lappe, the daughter of Frances Moore Lappe, and their Small Planet Institute here. Read her blog about the book here!
Jan 2011 Book: The End of Overeating: Taking Control of the Insatiable American Appetite, by David A. Kessler. Location of book group: Basil's home at 330 32nd Ave E, on the corner of 32nd Ave E and Harrison St. in Madison Valley. Bring something light to eat or drink. About the book and author: Kessler, former Commissioner of the Food and Drug Administration under George H.W. Bush and Bill Clinton who took on the tobacco industry, reveals how the food industry has created of a culture of overeating in America. Through personal stories and insider interviews he links the science of brain chemistry and food technology to reveal why it is exceptionally difficult to resist certain foods and so easy to overindulge. This book challenges the way we think about obesity. Michelle Obama has made this book a required reading for her food policy team.
You may buy a copy of the book from CAGJ! We will have them at upcoming meetings, or you can call our office at 206-405-4600 to get a copy, or email bookgroup@cagj.org
In October and November 2010 we discussed "Food Fight" by Dan Imhoff to learn more about the Farm Bill!  Click here to read more about this important book and organizing resource!
Food Fight by Dan Imhoff – 2007, A Watershed Media book, ISBN-0-9709500-2-0!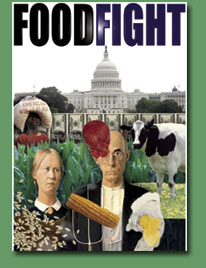 Here are some books we read in 2009:
Food Inc.: A Participant Guide: How Industrial Food is Making Us Sicker, Fatter, and Poorer-And What You Can Do About it
Edited by Karl Weber
"Food, Inc. is guaranteed to shake up our perceptions of what we eat. This powerful documentary deconstructing the corporate food industry in America was hailed by Entertainment Weekly as "more than a terrific movie—it's an important movie." Aided by expert commentators such as Michael Pollan and Eric Schlosser, the film poses questions such as: Where has my food come from, and who has processed it? What are the giant agribusinesses and what stake do they have in maintaining the status quo of food production and consumption? How can I feed my family healthy foods affordably?"
Everything I Want To Do Is Illegal: War Stories From the Local Food Front
By Joel Salatin
"Drawing upon 40 years' experience as an ecological farmer and marketer, Joel Salatin explains with humor and passion why Americans do not have the freedom to choose the food they purchase and eat. From child labor regulations to food inspection, bureaucrats provide themselves sole discretion over what food is available in the local marketplace. Their system favors industrial, global corporate food systems and discourages community-based food commerce, resulting in homogenized selection, mediocre quality, and exposure to non-organic farming practices. Salatin's expert insight explains why local food is expensive and difficult to find and will illuminate for the reader a deeper understanding of the industrial food complex."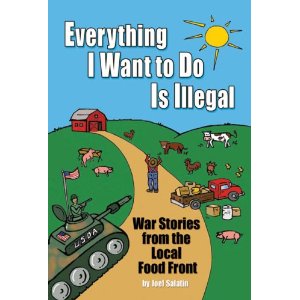 The Transition Handbook: From Oil Dependency to Local Resilience
by Rob Hopkins, Richard Heinberg
"This book happily describes the British grassroots "Transition Towns" movement. Meant to be a guide and motivator, the handbook discusses how several U.K. towns are preparing for the twin threats of climate change and peak oil. Hopkins, a teacher of permaculture and natural building and a cofounder of the Transition Network, urges a community response—local sustainability made fun—in which groups grapple with issues like food, transportation, energy, building materials, and waste and even develop their own local currency. Hopkins takes our "addiction" to oil literally, and so we will read of "post-petroleum stress disorder," and see applied addictions psychology helping to ease the townies' withdrawal symptoms. It's a handsome book, thoughtfully designed, which may make its message a little more palatable to oil addicts on this side of the Atlantic."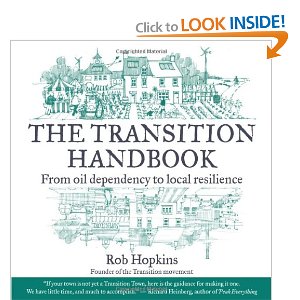 Dirty Gold: Indigenous Alliances to End Global Resource Colonialism
By Al Gedicks
"Many people know that the resource scramble is escalating, with the age-old quest for fuel joined by new determination to secure claims to seeds and minerals. This intensified multinational assault is largely waged against resource-rich indigenous lands. In the Philippines over the last two decades alone, foreign companies have gobbled up over a quarter of the land, mostly on indigenous people's territory.
But increased exploitation has been met with increased opposition: Indigenous peoples are fighting back. In Wisconsin, an Ojibwe tribe waged a twenty-eight-year battle against some of the world's largest mining corporations to preserve their sacred rice beds from mining pollution—and won. In Nigeria, indigenous women successfully shut down oil production as part of their fight to preserve their subsistence farming and fishing economy.
The triumphs of such struggles have inspired similar movements in communities around the world. Dirty Gold demonstrates how these movements' political demands have energized peasant and other non- indigenous communities. Indigenous peoples are working together to assert their sovereignty, using the language of human rights and the political might of transnational solidarity networks to challenge resource colonialism and environmental racism."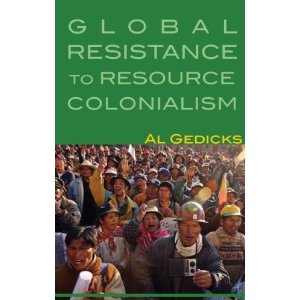 Shafted: Free Trade and America's Working Poor
by Christine Ahn (Editor), Dennis Kucinich (Foreword by), Anuradha
Mittal (Introduction)
"NAFTA. The WTO. Trade agreements are supposed to benefit us all. Instead, in the decade since they've been in effect, life has become much worse for millions of working Americans. In Shafted, working people-family farmers and farm workers, fishermen and seamstresses-describe the ruin free trade has brought to them, their families, and their towns. These aren't theorists; these are the voices of experience. And they're telling us, clearly and eloquently, that it's time to stop the madness that enriches a few corporations at the cost of justice, human rights, community, family, and the dignity of work and of workers."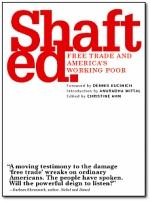 Soil Not Oil: Environmental Justice in an Age of Climate Crisis by Vandana Shiva
"A must-read for anyone who takes the future of the planet seriously, Soil Not Oil dares us to imagine a world where people matter more than profits. With Soil Not Oil, Vandana Shiva brilliantly reveals what connects humanity's most urgent crises—food insecurity, peak oil, and climate change—and why any attempt to solve one without addressing the others will get us nowhere. Condemning industrial biofuels and agriculture as recipes for ecological and economic disaster, Shiva champions the small independent farm instead. With millions hungry and the earth's future at peril, only sustainable, biologically diverse farms that are more resistant to disease, drought, and flood can both feed and safeguard the world for generations to come. Bold and visionary, Soil Not Oil calls for a return to sound agricultural principles—and a world based on self-organization, community, and environmental justice."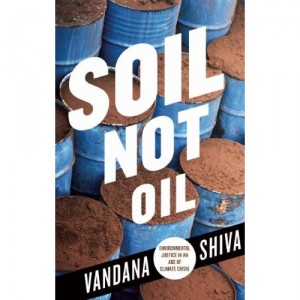 Late Victorian Holocausts: El Nino Famines and the Making of the Third World
by Mike Davis
"Immanuel Wallerstein says it best: "A major contribution to understanding how capitalists used the vagaries of the climate to create underdevelopment in the late-nineteenth-century world." An intense, depressing, but extremely important read."

Our Past Reads Include: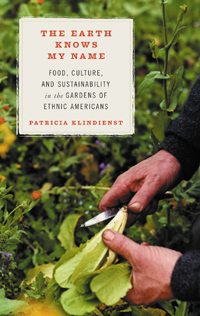 The Earth Knows My Name, by Patricia Klindienst
A collection of immigrants' agricultural narratives, this book intertwines history, politics, and beautiful descriptive prose to explore the ways in which identity is preserved and nurtured through farming.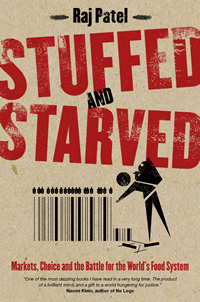 Stuffed and Starved, by Raj Patel
For more of Raj Patel's radical analyses of the global food system, check out his website and blog at http://www.stuffedandstarved.org/drupal/frontpage
The Omnivore's Dilemma, by Michael Pollan
A brilliant and at times infuriating dissection of four meals, from different production philosophies and paradigms. Pollan explores the ethical, environmental, and social consequences that occur in each of these food chains. Named one of the 10 best books of 2006 by The New York Times.
The Revolution Will Not Be Microwaved, by Sandor Katz
Discusses the myriad movements that resist corporate-driven industrial agriculture, including protests against genetically modified plants, the fight to legalize unpasteurized milk, slow food, veganism and supermarket dumpster diving. Includes lists of organizations to contact and recipes.