2012 Survey Results
Between November 7th and December 17th 2012, CAGJ solicited the input of our broad member and volunteer base through our first "Interest Survey". This survey had two goals. First, our goal was to determine how well we are serving our volunteers and members. We also sought to discover how we can better engage folks in ways that are rewarding to them through a broad survey of the skills they have and wish to develop. Second, we included an anonymous demographic portion of the survey to better determine who is involved with CAGJ. The results of the survey were impressive. Nearly 40 people responded, demonstrating their investment in our growth as an organization with the thoughtfulness of their responses.
Demographic Breakdown of Respondents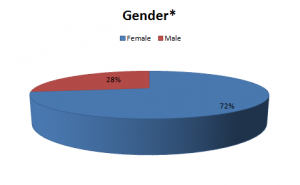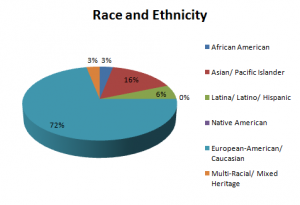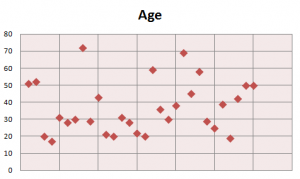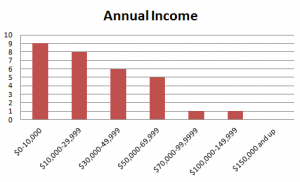 A Summary of Questions Pertaining to Volunteering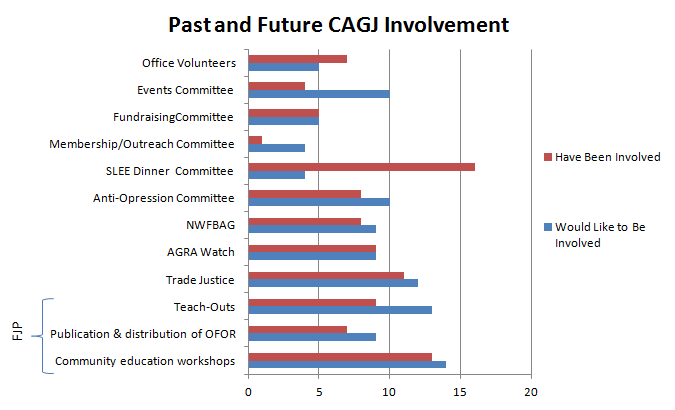 What is immediately striking about this chart is the high number of folks that have been involved with the Strengthening Local Economies Everywhere dinner (SLEE). SLEE is excellent not just as a fundraiser for CAGJ but as a recruitment tool that offers an easy way for folks to get involved. The question then becomes how we can retain folks that get involved via SLEE and provide opportunities for them to plug into CAGJ if they want to.
How did you hear about CAGJ? What drew you to CAGJ?
What stands out from the responses to these particular questions is the overwhelming amount of folks who got involved in CAGJ because of friendship with someone in CAGJ's networks or through knowing Heather herself. This clearly demonstrates how grassroots and community-based our movement really is, spreading from one friend to another: a viral infection of trade and food justice. It is also apparent what a group of nice, friendly people we are.
The Executive Director's embeddness within our community is also striking in these responses. Heather's expansion of CAGJ's networks through tireless promotion and community building has brought numerous people into the fold. However, this begs a question of sustainability. If Heather is a major factor in recruiting new members, how can we sustain this in her absence?
 How would you like CAGJ to support you as a volunteer?
There are two trends that become apparent in the responses to the volunteering questions. First, the majority of volunteers responding to the survey desire that the projects that they work be concrete with results that they can see. One volunteer described desirable projects as "discreet […] projects with beginning+middle+end". Volunteers also wanted greater clarity of the goals of the projects that they work on. This is very useful information in thinking about structuring volunteer engagement and support.  Secondly, volunteers value CAGJ as a space for positive social interaction. CAGJ's strength in community building again surfaces.
 Is there anything you have experienced in past volunteer or activist roles that was positive or negative?

Volunteers also identified negatives and positives about past volunteer and activist roles, including CAGJ. Respondents echoed sentiments from above, lauding past volunteer opportunities for their sense of fun and interpersonal relationship building. Further, volunteers appreciate a level of follow-through, citing "infrequent community connection" as undeniably negative.
*CAGJ recognizes the fluidity of gender identity and expression. Unfortunately, the limitations of our data capturing prevent us from being able to present this data in such a way that challenges the gender binary.